Book info:
Title: Ruthless King
Author: Maya Hughes
Series: Kings of Rittenhouse #3
Genre: Adult/NA Sports Romance
Release Date: January 10th, 2019
Cover Design: Najla Qamber, Qamber Designs
Source: E-galley from author which did not influence my opinion
My rating: 4 stars
Synopsis:
A STANDALONE second chance, enemies to lovers romance.

My dick never got me in half as much trouble as my heart…

We were high school sweethearts. I was head over heels for her and no one could tell me we weren't going to last forever. College? Going pro? My family's money? None of it mattered. She was all I needed.

Then she ripped my heart out. But I'm not going to let that happen again.

She's back. Invading my life and acting like she was the wronged one. The pain is still there, but I can't keep my eyes off her. I can't stop thinking about her and how much was left unsaid between us. Being this close is making me question everything I thought I knew about her.

This time everything will be on my terms. Everything…
My Review:
This is my first book by this author, and I know it won't be my last! If I hadn't had to go back to school after my winter break, I would totally have read this in one day. It was so good that I could barely put it down. The characters were intense, especially Emmett. But he was intense in a sexy way for sure. But, I had to have an issue with him and how he dealt with what happened to cause the rift between him and Avery. I know that what happened really looked bad, but for Emmett to not even demand to know what was going on, even knowing what Avery's life was like, and what kind of guy the drug guy was, I just don't get that. Then again, I feel like Avery should totally have been more open with Emmett about some things, which would have led to less problems, maybe. But their connection was like fireworks, lots of explosions, and I loved how they finally got things worked out, well, finally, but the first time in the book. All the characters and their friends were also ones that were well-written, and I need to go back and read the first two books so that I can find out more about them. I also look forward to future books, especially the next one I think, about Ford and a certain little sister.
About the Author: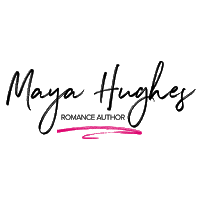 Maya Hughes can often be found sneaking in another chapter while hiding in the bathroom from her kids! 🙂 I'm a romance writer who loves taking inspiration from everyday life, namely my husband and biggest fan. Inspiration also strikes when I hear a song, meet someone new or daydream while at soccer practice.
I'm the mom of three little ones, the wife to an amazing husband and also work full time. Some of my favorite things are cinnamon rolls, white wine, laughing until I can't breathe and traveling with my family.