Book info: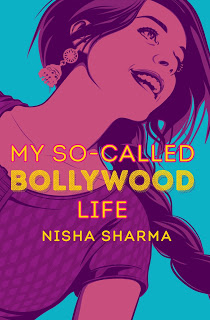 Title: My So-Called Bollywood Life
Author: Nisha Sharma
Genre: YA Contemporary
Release Date: May 15th, 2018
Publisher: Crown BFYR
Source: Physical ARC from publisher which did not affect my opinion in any way
My rating: 5 stars
The romance of Stephanie Perkins meets the quirk of Maureen Johnson, then gets a Bollywood twist in
MY SO-CALLED BOLLYWOOD LIFE by Nisha Sharma, a fate-filled YA debut that takes the future into its own hands.
Synopsis:
Winnie Mehta was never really convinced that Raj was her soulmate, but their love was written in the stars. Literally, a pandit predicted Winnie would find the love of her life before her 18th birthday, and Raj meets all of the qualifications. Which is why Winnie is shocked to return from her summer at film camp to find her boyfriend of three years hooking up with Jenny Dickens. Worse, Raj is crowned chair of the student film festival, a spot Winnie was counting on for her film school applications. As a self-proclaimed Bollywood expert, Winnie knows this is not how her perfect ending is scripted.

Then there's Dev, a fellow film geek, and one of the few people Winnie can count on to help her reclaim control of her story. Dev is smart charming, and challenges Winnie to look beyond her horoscope to find someone she'd pick for herself. But does falling for Dev mean giving up on her prophecy, and her chance to live happily ever after? To get her Bollywood-like life on track, Winnie will need a little bit of help from fate, family, and of course, a Bollywood movie star.

Like an expertly choreographed Bollywood dance scene, Nisha Sharma's off-beat love story dazzles in the lime light.
My Review:
For a YA contemporary to get 5 stars from me, I have to totally connect with a character in that I see myself in them. Or it has to have a topic that really is serious and gets me emotional, like an eating disorder or suicide, etc., which again are things that I feel a personal connection to due to my own personal life. So, you'd think a book about an Indian girl, in a film school, who loves Bollywood movies, would probably not be something easy for me to find a connection to. And in a way, you're right. But, despite the lack of a personal connection for me in that way, I loved this book. Why did I love this book? Because the characters were perfect! And in a way, there were a few, tiny, minuscule personal connections, but those are beside the point.
I loved Winnie, her determination, and honestly, I guess her utter obsession with her Bollywood films and how her life could relate to them does speak to me a little in how I reference things in my every day life to movies and tv shows I've watched, as well as books I've read.
I was reading a book with a similar theme, ex-boyfriend trying to get girl back, at the same time. And while in that other book, Airports, Exes, and Other Things I'm Over, I was rooting for the ex-boyfriend, in this one, I just was unsure. While there was the whole prediction thing, Raj didn't sit right with me as who she should end up with. I was rooting for Dev almost the whole time.
In the end, probably what bumped this book up from the 4.5 star rating I was planning to the full 5 stars was the way that it totally finished up just like an 80s movie would. And as I am such a huge fan of 80s movies, I do kind of relate them to my life in ways that are similar to Winnie and her Bollywood movies, that made me smile and want to put my hand in the air like Judd Nelson at the end of The Breakfast Club with the song "Don't You Forget About Me" by Simple Minds.
Instead, with my pretty embarrassing lack of knowledge of any actual Bollywood movies or songs, other than what I have learned from Raj on The Big Bang Theory, I will leave you with the song that was stuck in my head whenever I put this book down, a song and dance number from TBBT.