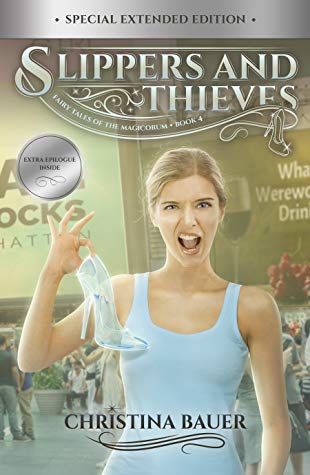 Book Info:
Title: Slippers And Thieves
Author: Christina Bauer
Series: Fairy Tales of the Magicorum #4
Published by: Monster House Books
Publication date: November 26th 2019
Genres: Paranormal, Young Adult
Synopsis:
Years ago, Elle—never call her Cinderella—escaped her evil step family in order to build a new life for herself in Manhattan. Today, Elle's awful past is a distant memory. In fact, Elle even attends West Lake Prep, an exclusive high school where regular humans mix with members of the Magicorum, such as fairies, shifters and witches. Although she still must live in hiding from her evil stepfamily, Elle has always found ways to get whatever her heart desires.
That is, until Alec Le Charme.
Alec is the heir to the Le Charme dynasty of high-end jewelers. He's also kind, charismatic, has a knee-melting smile. Elle has fallen for him, hard. Unfortunately, thanks to Elle's evil step family, Alec is absolutely off limits. In fact, if Elle and Alec so much as kiss, it will start a magical chain reaction that would end in powerful factions of witches and wizards going to war. As a result, Elle and Alec vow to stay friends, no matter what. Then West Lake Prep holds a masquerade ball. Identities get mixed up and forbidden kisses are finally shared.
Time for the Magicorum to go to war, and for Elle to confront her hidden past in ways she never thought possible.


Author Interview:

Christina
Bauer is launching a new book in her Fairy Tales of the Magicorum series.
Called SLIPPERS AND THIEVES, this
novel reimagines the Cinderella story. Christina stopped by to answer some
questions for us as part of her tour; take a look below…
1. What is your ideal
place to write? Do you have an office, or do you like to go sit in a
coffee shop/library, etc.?
Weirdly
enough, my ideal writing place changes depending on the book. For SLIPPERS AND
THIEVES, I wrote a lot of it while in bed. (Eep! Did I write that out loud?)
Here's
how it works. I prop up about seven pillows around me in a strategic way and
then write, write, write. That said, bed-writing is a relatively new thing. For
previous novels, I used to work in coffee shops a lot.
2. Do you keep a
"bible" to help you remember all the characters and details of your
world for writing a series? If so, how do you organize it? In a
notebook, notecards, Google Doc, etc.?
I
absolutely keep a bible for each series and I even call it by that name! Everything
goes in a word doc that I update both during and after writing new novels. I
also keep inspiration images for key characters and places in Pinterest. It's a
lot more visceral than a word doc and I certainly rely on that a ton. I
currently have more than 100 boards and 5000 pins.
3. As a former
teacher, one of then best parts of that is hearing back from my students that
they got something or learned something from me. Can you name one of your
teachers that you feel was important in your life in some way?
There's
one who jumps immediately to mind! In high school, I had an English teacher
named Mrs. Skoog. I'll never forget her, as Mrs. Skoog was the first person to
gave me a failing grade on an essay. That rocked my world. I'd always found
writing super-easy. And now? I sucked.
Her
honesty brought me to a crossroads. Do I love writing enough to work harder at
my craft? I debated for a time and then went back at it. After Mrs. Skoog, I
never failed another English paper.
4. Some fun
questions:
Gryffindor, Hufflepuff,
Ravenclaw, or Slytherin?
Gryffindor,
absolutely.
Lannister, Stark, or
Targaryen?
Targaryen.
Dragons, baby!
Captain Kirk or Captain
Picard?
Picard
forever.
DC or Marvel?
Marvel,
although DC deserves an honourable mention for Wonder Woman.
Physical book, ebook, or
audiobook?
Ebook.
I am vicious about reading a chapter and then deleting if I'm not thrilled.
Ebook is the only way I find new material without killing tons of trees.
Thanks
for having me by… I look forward to returning on a future tour!
-->
Author Bio:


Christina Bauer thinks that fantasy books are like bacon: they just make life better. All of which is why she writes romance novels that feature demons, dragons, wizards, witches, elves, elementals, and a bunch of random stuff that she brainstorms while riding the Boston T. Oh, and she includes lots of humor and kick-ass chicks, too.
Christina graduated from Syracuse University's Newhouse School with BA's in English along with Television, Radio, and Film Production. She lives in Newton, MA with her husband, son, and semi-insane golden retriever, Ruby.
Be the first to know about new releases from Christina by signing up for her newsletter: http://tinyurl.com/CBupdates