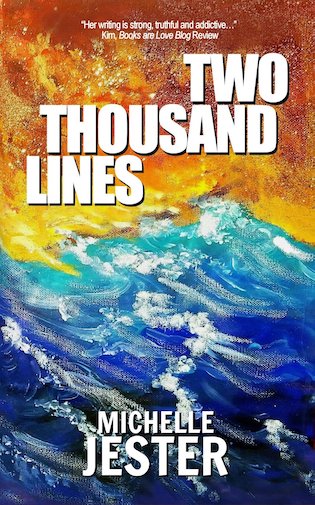 Book info:
Title: Two Thousand Lines
Author: Michelle Jester
Publication date: November 21st 2019
Genres: Contemporary, New Adult, Romance, Young Adult
Olivia Brooks has been able to keep her life in Sugar Mill, Louisiana held perfectly together, far away from the small town where she grew up. Even though her past still haunts her, she has found a perfect process of surviving, until a string of events brings Luke Plaisance to Sugar Mill and turns her organized life upside down.


While Olivia fights to hold on to the life she's created, unraveling it may be exactly what it takes for her to truly survive. She must accept her past in order to live, or let it threaten the only future she's ever wanted. Because some secrets can't stay buried… and shouldn't.


An inspiring and heartbreaking tale of abandonment, survival, and purpose. A harrowing journey of self-discovery and perseverance.


Author Interview:

1.
Do you always know how the story will end when you start?
Definitely! The ending is the most
important starting point for me.
2.
Where is your ideal place to write? Do you have an office, or do you like
to go sit in a coffee shop/library, etc.?
I write in different
locations, whatever inspires me; however I do a lot of writing at my desk,
outside, and at our breakfast table.
3. What are your favorite
romantic movies, books, tv shows? Do you have an all-time favorite
romantic couple?
Here's the short list in no particular order: (some don't
fall into the "romantic" category, but nevertheless are about love)
Favorite couple: Beauty and the Beast
Wow, I have a few: Karin Slaughter, Julie James, Harlan
Coben, Sarah Maclean, Lisa Jackson, Charles Martin, Mia Sheridan, Francine
Rivers, Lisa Kleypas, Julia Quinn, Brenda Jackson, Susan Wiggs, Nancy Bush, and
Linda Howard are a few tops.
I'm more of a music kind of person because I don't have a
lot of time to sit and watch, however I am open for suggestions.
Most all kinds, depending on mood!
Crackers, cheese, and chocolate
All – for different reasons. Facebook and FBMessenger seem
to be the most interactive with my readers (especially those in the United
Kingdom.)
Instagram is a visual favorite! I love how people pump up
their games on photos!
Twitter is a favorite because of the writing community and
the interaction I get there professionally!
-->
Author Bio:


Michelle Jester lives in Greenwell Springs, Louisiana with her husband, high school sweetheart and retired Master Sergeant. Together they have a son and daughter. She is a hopeless romantic and has been writing poems and stories for as long as she can remember.
One of her prize possessions is a bracelet with only a yellow, Rubber Duckie charm on it; which she wears every day to remind her to enjoy the fun and happy things of life!
GIVEAWAY!