Book info: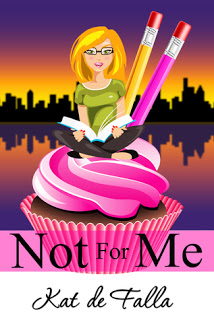 Title: Not for Me
Author: Kat de Falla
Series: The Windy City Chronicles #1
Genre: Adult contemporary romance
Release Date: May 24th, 2018
Source: E-book from YA Bound Book Tours for review which did not influence my opinion
My rating: 3.5 stars
Synopsis:
Manda Wolfgram is a struggling literary agent who is looking for the perfect manuscript to land in her lap and the perfect man to land in her bed. When the sixth-floor hottie finally asks her out, she get more than she bargained for. How can a girl wrap her brain around a Shakespearean actor who writes erotica?

Harry Sackes leads a double life: making a career as an author by day and dipping into the dark underworld of criminals at night. The moment he sees Manda in his twin brother's arms, his whole life becomes his personal Shakespearean trag-comedy of mistaken identity and unrequited love in this fast-paced chick lit romance.
My Review:
So, this story was a little different than I expected. In the end I did enjoy it, but it took a bit to get into. There were definitely humorous parts, a few that had me laughing out loud. There were some emotional parts as well, bringing a tear to my eye. But I wasn't expecting it to quite go in the direction it went. It sounds like it will be the usual romantic comedy from the synopsis. But if you read the synopsis carefully, you'll find the one line that kind of slipped past my attention on first glance. Now that I read back through it, I see where that came from. I wish maybe we'd gotten a little more background for Harry, earlier in the story, or maybe more throughout it. I feel like fleshing some of that out would have maybe made it a little better.
As I mentioned before, it was still good, and I loved the bit of adventure we had at the very end. As it seems to be a series, I can say I might be interested in reading on. The characters, what we got of them, were funny and endearing, and everything really did all tie together in a pretty bow at the end. It was an easy read, other than the few bits toward the beginning that I wasn't quite sure what was happening, until we got a little bit more filled in later in the story.