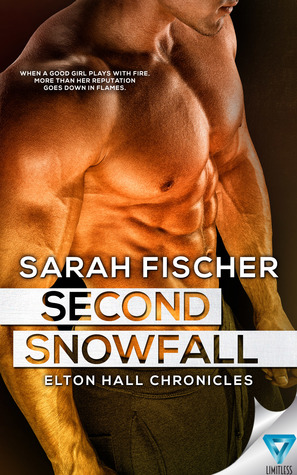 Book Info:
Title: Second Snowfall
Author: Sarah Fischer
Series: Elton Hall Chronicles #2
Published by: Limitless Publishing
Publication date: July 4th 2017
Genres: New Adult, Romance
Synopsis:
Last semester, Annabelle fell in love. There are just two problems. Jason is her best friend…and he's already taken.
Refusing to break up a relationship, Annabelle resigns to love him from afar—until a certain hot firefighter walks into her life.
Kingsley is the perfect catch. Rich, attractive, with muscles to boot, and he only has eyes for Annabelle. But things get complicated when he clashes with Jason.
With tensions running high and emotions spiraling out of control, Annabelle finds herself torn between her love for Jason, and her new desire for Kingsley.
The longer Annabelle tries to hold on to both men, the more she gets tangled up in a web of lies, secrets, and chilling revelations.
Now, things have gotten worse and Annabelle must do something—before things get ugly…


Excerpt:
I walked down the stairs and towards Kingsley. He was wearing a blue button-down shirt with a thick black jacket over it and dark jeans. His hair was brushed down and spiked slightly in the front and his eyes were shining. He must have been excited because he was practically bouncing up and down. I fed off his enthusiasm and walked quickly toward him.

When I opened the door, Kingsley walked up to me and gave me a light kiss on the cheek. "You look even more beautiful than the last time I saw you."

"Thanks." I took the flowers he offered to me and realized I had no idea what to do with them. Did I take them with me? I didn't have a vase or anything to put them in. I was going to kill the first set of flowers a boy had ever given me. As my mind started to swim, Kingsley held up his backpack.

"I thought you might need this."

I reached out to take his bag and he quickly pulled it away.

"Uh, sorry. I don't like people touching my bag. Just hold on a second." He unzipped the main pocket. Inside was a beautiful glass vase. "I didn't think you would have brought one of these to your dorm, so I went out and got one."

"You're right, I didn't have one. Let me take these upstairs and put the flowers in some water."

"Great, I'll come with you." He took my hand and opened the door for me. We walked hand in hand to the bathroom to fill the vase with water, and then to my room. Geez, was I grateful that I had nervously cleaned earlier, or this would have been really embarrassing.

"It's nice that you have a single. You don't have to worry about a nosey roommate or anything like that."

"I like that I can set everything up the way I like. For example," I said, and placed the flowers in the middle of my desk, "I like the flowers there and I don't need anyone else's opinion, well, expect yours. Do you think they look good there?"

He laughed lightly and ran his hand down my cheek. "Yes, they look perfect. I'm glad you like them."

I smiled up at him as my pulse raced. He was standing very close to me and I could feel his breath on me. He was going to kiss me. I held my breath and closed my eyes, willing myself not to panic. His lips brushed mine gently and the butterflies in my stomach settled. It felt right kissing him.

Kingsley pulled away before the kiss could heat up and he smiled at me. "I didn't want to wait until the night was over to kiss you. To tell you the truth, I've wanted to kiss you since I helped you got a hole in one last night. It was such a turn-on knowing I'd helped you do that."

I forced a smile. This was definitely not the time to remind him that I actually already knew how to play. Instead, I did the one thing I could think of to change the subject. I placed my hand on the back of his neck and pulled him in for another kiss.

His hands snaked around my waist and he pulled me closer to him. He licked my lip a little and begged me to open to him. As soon as I did, I practically melted in his arms. Kingsley took control of the kiss and taught me a thing or two. I fought desperately to keep up with him as the kiss became intense. It wasn't long before I caught up, realizing how easy it was to kiss him.

Suddenly, Kingsley pulled away but hugged me tightly. "If we continue this, I can promise you that we will miss our reservation, and that green dress looks too good on you to stay in. I want to show you off."
Author Bio:

Sarah Fischer works hard fighting the good fight one background check at a time. But before she got into the business of being nosy, she graduated with a degree in criminal justice and married the calm to her crazy. Then she had a scary health scare and needed heart surgery. While recovering, she finally had the time to write stories filled with passionate romance. Her first book, Elton Hall Chronicles: First Semester was published in April and book two, Second Snowfall, will be out shortly. In her spare time, she manages a review blog called, A Kiss At Midnight Reviews.
GIVEAWAY!