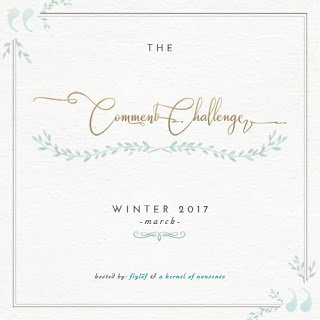 I ended up taking February off from this challenge due to a full calendar and what just seemed like I forgot to sign up! So when I got signed up this time, I decided to bump my number of goal posts down to just 5+ instead of the 10+ I had been doing. I may still get up to 10 or more, I just want to make sure I'm not putting myself under too much stress to get everything done. This fun challenge is hosted by Lonna @FLYLēF and Alicia @ A Kernel of Nonsense.
It's a way to increase comment activity on your own blog, as well as
meet some new bloggers and help them out! Here are the details:
This challenge will run January through March.
You are welcome to sign up for one, two, or all three months (a
sign-up post will go up a month in advance for each month and will be
open for three weeks).
Bloggers will be paired up for one month and will be required to comment on each other's blog posts.
If you sign up for more than one month, you will have a different comment partner each month.
To allow a bit of freedom, you will be able to choose how often
you would like to comment on your partner's blog (options include 5-10
or 11-20 posts).
Social Media Option: If you'd like to give your partner further
encouragement through social media, we will do our best to connect you
with bloggers who are active on the same platforms.

Giveaway

: at the end of March, we will be giving away two bookish prizes. Please note: this giveaway will only be open to participants.
Obviously it is a little late to sign up for the Winter Challenge, but I'm assuming/hoping there will be another one this summer! For March I've been paired up with Vedika at Poems and Poets. As I figured out last summer, I really need to mark it down in my calendar to make sure how many times I comment. 5 times means once a week for sure! Although I'm going to try to do at least twice a week as much as possible.