Well, tomorrow a new year starts. And everyone is hoping for 2017 to be better than 2016 seemed to be. I haven't quite figured up how I've done on all my 2016 challenges yet, I figure I'll do that tomorrow. I do know that I will not be hosting any challenges next year, probably not even my usual September is for Sequels. But today I want to share the different challenges I plan to participate in for the coming year for sure.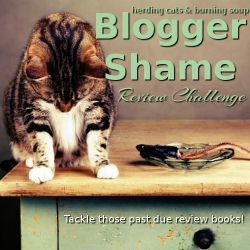 The Blogger Shame challenge is a cheeky way to admit our guilt…and go
about fixing it. Tackling those review books that have slipped through
the cracks over the years. Any review book over 4 months past due is
game! This is hosted by Herding Cats and Burning Soup. I am going to try to work on the books that I downloaded to Kindle from Netgalley, because they don't expire, and that way by participating in this, I will also help my Netgalley score! There will be two check-ins for this challenge:
Mid Year Check In: First week of June
Wrap Up Post: Last week of December
My goal is 4 books for 2017: Lair of Dreams by Libba Bray, Places No One Knows by Brenna Yovanoff, The Giant by Lex Thomas, Stealing Snow by Danielle Paige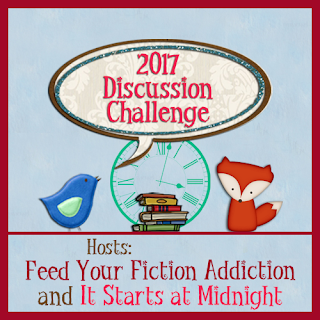 This challenge is to help get us discussing books and book blogging, so
talk about whatever you want as long as it's relevant to book blogging.
Discussions can be book related or book blogging related (or generally
blogging related—no discussions about things that are completely
off-topic like travel or fashion, etc). Discussions can also be about
you personally if it's a get-to-know-you type post. This one is hosted by Feed Your Fiction Addiction and It Starts at Midnight. I tried this one last year, but didn't quite reach my goal, so I'm going to set it a little lower this year.
My goal is to do 4 discussion posts throughout the year, which makes me working towards the Discussion Dabbler level of 1-10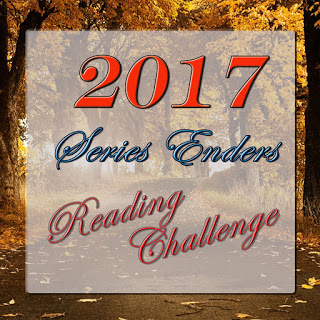 This challenge is hosted by Somewhere Only We Know and Words Fueled by Love and is for all of you series readers who are scared to death
of that last book in the series. You anxiously await it. You stalk it.
You get your hands on it as soon as possible. But then…you put off
reading it for fear that it might not be everything you thought it would
be. Or, maybe you just have a backlog of series started and you need to
finish that last book. I fall into the last group, I just never seem to get to the last one at times. Partly because of all the new books coming out.
I plan to do level 3 and get 12 done. Here are the series I'm hoping to finish: The Taking by Kimberly Derting, Covenant series by JLA, The Last Star (5th Wave series) by Rick Yancey, The Crown (The Selection series) by Kiera Cass, The Black Key (The Lone City series) by Amy Ewing, Untamed (Splintered series) by AG Howard, Dead Ever After (Sookie Stackhouse series) by Charlaine Harris, Eternally Yours (Immortal Beloved series) by Cate Tiernan, Fire and Ash (Rot and Ruin series) by Jonathan Maberry, Rogue (Croak series) by Gina Damico, Third Strike (The Slayer Chronicles) by Heather Brewer, Reborn (Altered series) by Jennifer Rush, and Library of Souls (Miss Peregrine's series) by Ransom Riggs
This challenge that is hosted by My Reader's Block ties in well with the fact that I have a whole 5 shelf bookcase that is full of TBR books. And not just nice even rows of books on each shelf, but books piled in until there is no room to set anymore books on the shelves. I have over 300 physical books, last time I counted, waiting for me to read. Books I've won, from past BEAs, books I HAD to buy when they came out, or books I found for a great deal at either Half Price Bookstores or Dollar Tree stores. I've decided to start out with the lowest level and if I do more, I do more. Some of these will be for another challenge too.
Pike's Peak

: Read 12 books from your TBR pile/s: Here are my proposed 12 books: The Countdown by Kimberly Derting, The Crown by Kiera Cass, Untamed by AG Howard, Dead Ever After by Charlaine Harris, Eternally Yours by Cate Tiernan, Fire and Ash by Jonathan Maberry, Rogue by Gina Damico, Labyrinth Lost by Zoraida Cordova, Queen of Hearts by Colleen Oakes, Lair of Dreams by Libba Bray, Tease by Sophie Jordan, and Maplecroft by Cherie Priest
If I can get more read than those 12, I definitely will.
I participated in this challenge last year. Hosted by Because Reading and Trips Down Imagination Road, it is a challenge where you can set different types of goals, blogging, writing, reading, and even personal. This year I've chosen blogging and writing goals.
Blogging: Label all post titles to whether it is an ARC, e-book, or an audiobook. Comment on at least 7 different blogs a week – which includes answering all my own blog comments every day instead of letting them add up. Get an image created to show the number of stars I give a book. I have an idea, just need an artist to do it for me. Had my sister in mind, but I suspect that is no longer an option after a falling out we had in November, not that I had any idea when/if she might ever get to it anyway.
Writing: Finish my NaNoWriMo story from several years ago, Digging Up Love, and see if I can also finish this past year's NaNo, Fault Lines. Write a short story every week according to a challenge my writing partner and I have thought about doing. Set up at least one hour a week that is dedicated to writing every week.
I will set up a Goodreads goal as soon as the website opens it up for the 2017 goals, and I plan to set it at 250 books for the year.
Whew! Those are all my challenges for 2017. While you're here, today is the last day to enter my Let's Get 2016 Over With Giveaway Part 4. But come back on Sunday for a new giveaway, Book of Choice, sponsored by FLYLeF.