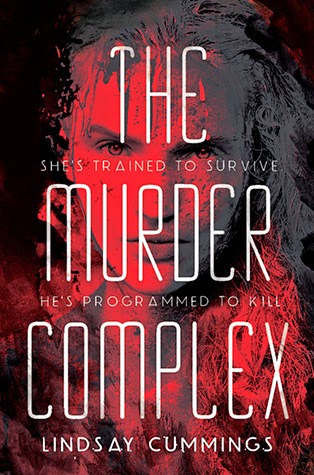 First thanks to Greenwillow Books, HarperCollins, and Edelweiss for allowing me to read an e-galley of this title. I have followed this author as a blogger for a while now, and was very excited to be able to read this book when I saw it was available.
This was a pretty quick read. It had lots of action, and not a lot of time spent explaining things when it wasn't needed. I think this helped the story move along very quickly, although I spent probably the first half of the book wondering, okay what is causing all this? That's not a bad thing at all though, that is what kept me turning pages, the need to know more.
The main character is Meadow, she is 15, and her whole life her father has trained her to be able to not only defend herself if needed, but to kill in the cases it might be required. The reason for this is that at a certain point she will try to jump on a train and be taken to the Initiative to get a job. Getting a job there means extra rations for her family. Her family is her father, her older brother, and her younger sister. Her mother was killed by the murders that seem to be happening during what is called the Dark Time, when all people are supposed to stay home and be safe. This is a future where no one gets sick. they have these tags in them that have nanos that cure any injuries. They don't necessarily save them from scars, but at least they heal quickly and don't get sick. Meadow's brother Koi didn't pass the test to work for the Initiative, because he was unable to kill, the final test. Meadow is sure she can do it, as she wants to get in and try to solve the murder of her mother.
The other main character is Zephyr. And he has killed. What he doesn't know is why he kills. He is a Ward, which means that he has no family and lives in a tent with other Wards. He works every day helping to pick up the bodies of the people murdered over night. He has dreamed of a beautiful girl with silver hair. And one day he will run into her, because she is Meadow. Meadow will be drawn to him, and together they will find there is a conspiracy of some sort. One that puts Meadow in trouble, so that she must go on the run. But she doesn't know if she can trust Zephyr, since he tried to kill her.
As they're on the run, you could use the old saying, "the plot thickens". More and more things are brought to light about this dystopian society. We learn things about Meadow's family that make even more questions for Meadow and Zephyr to try to answer.
While I got a lot of answers by the end, I still need to know more and what else is going to happen. So, I'll be waiting for another book, and also plan to read the novella, The Fear Trials.
A great dystopian read full of action and mystery, really hard to put down once you pick it up.