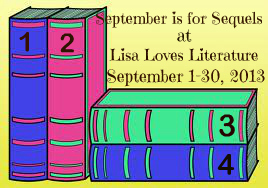 I know many of you have signed up for the September is for Sequels Giveaway Hop. But the reason this came about is because of the idea I had last year for a challenge, (well to give credit to who I got the idea from, it was Ems Reviews Books). I've really noticed that as i started getting more and more advanced readers copies of books, and now e-galleys, that often I'd get the first book in a series, love it, and then since I often didn't get the sequels as ARCs, I would buy them, or even not buy them, but they'd end up on my TBR pile. So seeing all the challenges that other blogs did, I thought I would set aside the month of September to try to get through as many of those sequels, whatever point of the series I was at, anywhere from #2 to #5, or beyond. I think last year I had about 10 people participate, not bad, but we'll see how this year goes!
Objective:
To read and review a minimum of 4 sequels between the dates of September 1st and 30th, 2013.

My goal is to read 12 books, that's three a week, which is one more a week than I set my goal for last year. Which ones I actually read may change, but here are the 12 I plan to read:
Sky on Fire (Monument 14 #2) by Emmy Laybourne
Monsters (Ashes Trilogy #3) by Ilsa J. Bick
The Elite (The Selection #2) by Kiera Cass
In the Age of Love and Chocolate (Birthright #3) by Gabrielle Zevin
City of Lost Souls (Mortal Instruments #5) by Cassandra Clare
The Dream Thieves (The Raven Cycle #2) by Maggie Stiefvater
Shades of Earth (Across the Universe #3) by Beth Revis
Storm (Swipe #3) by Evan Angler
Days of Blood and Starlight (Daughter of Smoke and Bone #2) by Laini Taylor
Everbound (Everneath #2) by Brodi Ashton
Light (Gone #6) by Michael Grant
Scorch (Croak #2) by Gina Damico
It would be good if you had a blog to post reviews, or you can be a Goodreads Member and post your reviews on the site.

The book must be a sequel – it can be any # in the series, just not the first book. Prequels can count if they came out AFTER the first one in the series. You can do e-books, even ARCs or e-galleys, as well as good old fashioned books. And, I'll even let you count the little 1.5 novellas that are often published as e-books only.

The deadline to sign up and participate is September 15th.

You must post on your blog an entry that has a list of the sequels you're planning to read, but it doesn't have to be complete, or you could even just post your goal, do you plan to read 8, or more? You can always go back as the month proceeds and enter the books as you read and review them.

Make sure you grab the button and put it in your entry post, or on the sidebar of your blog.
In the sign up form below, you need to give me your name and blog name, Ex: Lisa (Lisa Loves Lit) or just your blog name is okay, and then a link to your original post that set your goal or listed the books you were reading. If you are not a blogger, and can't do that post, if you only review on Goodreads, then leave me a link to your profile page on Goodreads so that I can follow you to see your reviews. Everyone who signs up to participate will be entered once into an end of the month giveaway of a $20 Gift card to Barnes and Noble or Amazon if you prefer, and I may increase the amount of the gift card if I get very many people signed up to participate! There will also be a way to post a link to each of your reviews in order to earn extra points into the giveaway, that will be with the Rafflecopter below the Sign Up form.
');