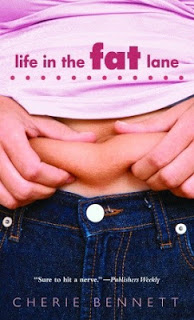 This is a book I got as a strip cover from the bookstore where I work. The premise sounded really interesting, and it was, to a point. The main character is Lara. Lara was a beauty pageant winner, she was thin, beautiful, and according to beauty pageant "rules", she was sweet to everyone, even the fat and the ugly. Then all of a sudden, she starts gaining weight. And it doesn't matter what she eats, or how much she exercises, she keeps gaining. One week, she doesn't even eat hardly anything, even using laxatives. And yest she still gains. It turns out to be a disease called Axell-Crowne Syndrome (not a true diesease), and it isn't her fault. But she goes from 118 pounds, to over 200 pounds. And it isn't just her weight, her popular friends? They turn on her. Her boyfriend? Even he says while he still loves her, he doesn't think he's "in love" with her. Even the fat girl at school, well, she even said to Lara's face that she hoped she got fat. Her mom and dad at first don't seem to care. Her dad doesn't seem to understand that it's not her fault, and keeps badgering her about not eating so much and making sure to exercise. Lara learns that her dad has been cheating on her mother, and when he said he'd quit, he didn't. Only Lara's friend Molly sticks by her side. At first, her brother seems sympathetic. He never liked his "perfect" family before. But soon when he is getting teased about Lara, he begins being hateful too.
Finally her parents decide that in order to get their marriage working again, they must move away from the woman that was the issue. So they move, making Lara have to move. Now she is the fat girl at the school, where no one knows she was the homecoming queen just last year, and that she was a beauty pageant contestant. She gets called names, but is taken in by a couple of the other outcasts. Here we see just how shallow Lara really is, even when before she was trying to hard to be "nice" to everyone. Her new piano teacher is really fat. And Lara tries hard not to be disgusted by her. She soon finds out that the piano teacher has a hot boyfriend, and she just can't understand it. But being around these new musical people, she soon finds a new group of friends, and actually begins to feel happy. Even when her family gets disrupted again. Her father leaves, saying that he's going to stay married, but go to his mistress. Her mother doesn't quite know how to handle it, and this leads to the music teacher, Suzanne, helping Lara, and becoming a bit closer friend.
At the end Lara does finally figure out how the way she's been thinking all along isn't right, and begins to change her thinking. Her Axell-Crowne disease may be going into remission at the end of the book, as she begins losing weight, but we're never given that for sure diagnosis. I wanted to hate Lara's shallowness. But I have to admit that I too have had those kind of thoughts. Wondering how someone could let themselves get so far along with weight. Not that I am in any way close to being a beauty queen, or skinny. And I hate when I think that way. Want to slap myself. So it's easy to see how realistic this book sadly is. A good read I think for people with weight issues, or even for kids who don't understand what they're doing is bullying.