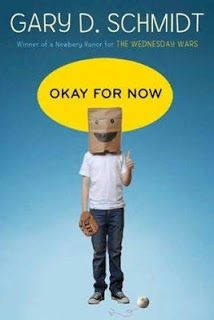 Wow, that is the first thing that comes to mind when I think of this book that I just finished. I loved this. Such a good story! I'm going to have to go back and read The Wednesday Wars now. Which won a Newbery Honor, so it must really be good.
We start out with our main character, Doug Swieteck. Doug's family is not great. His father is abusive, one older brother is away in Vietnam in the war after getting into trouble with the law. His other older brother is hanging around with delinquent types and is also abusive to Doug, even stealing one of Doug's most prized possessions, a hat autographed by Joe Pepitone of the NY Yankees. Their dad starts a fight with his boss, and of course gets fired, along with getting beat up. So they have to move, to Marysville in upstate New York.
To Doug this new place is a dump. It's smaller than their apartment in NY so he now has to share a bedroom with his brother. And his friend Holling gave him Joe Pepitone's jacket as a going away gift. So now Doug has to try to hide that so his brother won't steal that too. And already Doug can feel how people will treat him. As if he's a thug. In fact, the first girl he really meets, Lillian Spicer, or Lil as she prefers to be called, even calls him a skinny thug. but their relationship is a bit of a love/hate friendship. At school he can tell how the teachers feel about him, and he throws his brother's attitude right back at them too. But the first place he finds some acceptance is in the library. Not because he loves to read, but because he finds a book of Audubon pictures of birds, and he starts to learn to draw with one of the librarians, Mr. Powell. Not all the teachers are bad at first, his last teacher of the day, his science teacher, Mr. Ferris. And Lil's father gives Doug a job, delivering groceries on Saturdays. He meets a lot of people on his route. Some who think he needs more food and feed him. Some who want him to help out around the house with changing light bulbs and such.
But that all changes when the police accuse his brother Chris of breaking into Mr. Spicer's store. Now Doug knows he didn't do it because Chris was in bed that whole night in the same room that they share now. But the police don't seem to believe. And now the townspeople, including the principal have once again turned a suspicious eye on Doug too. First he refuses to read out loud in class, and he won't say why. But the librarian, Mr. Powell, figures out that Doug can't read. He lets Miss Cowper know, and she sets up a time to work with him, without making it known that is what is going on. He's also having trouble in PE. Coach Reed, who is back from the war, doesn't seem to be able to get away from his past. And he doesn't like the attitude that Doug gives him. He keeps trying to make Doug play on the skins team, but Doug doesn't want to, he keeps trading with people or sneaking over to the shirts team. but then, the coach has had it. And he rips Doug's shirt off in class. Only to find the tattoo that Doug's dad "gave" him for a birthday present. And while the other kids laugh at first, they soon feel like the Coach is being a bully.
And, to make things even more complicated, Doug's brother is coming home from the war. He's not written any letters himself, but the letters they do receive say that he's coming back and won't look the same. Turns out he's lost both legs, and his head must have been in a fire or explosion, because his eyes are covered with bandages. It's a lot for poor Doug to have to deal with, along with trying to be a normal boy, and have a crush on a normal girl.
I won't give anymore away. You have to read it. Really, you should. The title fits perfect. Every time Doug thinks things are going well, he knows that something bad is coming, so things are always "okay for now". And isn't that the way it always feels anyway? Like things seem good, but something bad always has to come along and mess it up? At least my life seems that way. But such a good story. Such good things happen even throughout all the bad things. Heartwarming, while tugging at your heart as well. Such a good read, I couldn't wait to pick it back up whenever I had to put it down.