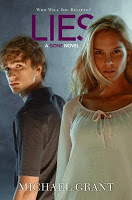 This is the 3rd book in the Gone series by Michael Grant. In this book it seems that we may actually find out what is going on outside the dome. It seems as if the parents are outside, all the adults, and they can see inside and kind of see what is going on. One of the "mutants" inside can talk to the parents in her dreams and sees that the kids should go ahead and leave on their 15th birthday when they have the chance. But it also seems maybe that when the kids "die" inside the dome, that they end up waking up outside the dome. So, we're not left knowing after this book if that is the absolute truth or not though. We also meet some new kids who live on an island. They are supposed to be the adopted kids of a "Brangeline" modeled couple. One of Caine's crew knows about this island, and thinks there may be food on it. Well, he's right, these kids living there have a lot of food, and no one but themselves to eat it. The bad thing is, they don't know quite how bad things are being stuck on their island, and one of them is sick. So the oldest one is going to try to fly a helicopter off the island for help.
And of course, the bad guy from before, Drake, who everyone thought was gone, is back somehow, along with another dead girl. So there is another enemy. Plus the "normal" kids are fighting against the mutants, setting fires and beating them up. And we find out that maybe this is all a big "video game" going on in Astrid's little brother Pete's mind. Pete is a mentally challenged kid, autistic, and may not know what he is doing.
I think this left off for yet another book in the series. Because it didn't really end anything, and it seems that our kids still need to get out of the dome.