Book info: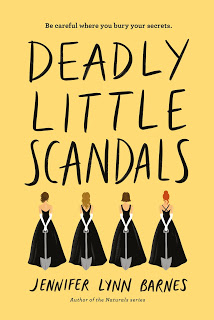 Title:  Deadly Little Scandals
Author:  Jennifer Lynn Barnes
Series:  Debutantes #2
Genre: YA contemporary thriller
Release Date:  November 5th, 2019

Publisher:  Freeform
Source: E-galley from Rock Star Book Tours which did not influence my opinion.
My rating:  5 stars
Synopsis: 
"Think
of the White Gloves like the Junior League-by way of Skull and Bones?"

Reluctant debutante Sawyer Taft joined Southern high society for one reason
and one reason alone: to identify and locate her biological father. But the
answers Sawyer found during her debutante year only left her with more
questions and one potentially life-ruining secret. When her cousin Lily ropes
her into pledging a mysterious, elite, and all-female secret society called the
White Gloves, Sawyer soon discovers that someone in the group's ranks may have
the answers she's looking for. Things are looking up… until Sawyer and the
White Gloves make a disturbing discover near the family's summer home–and
uncover a twisted secret, decades in the making.

No one is quite who they seem to be in this twisty, soapy, gasp-inducing sequel
to Jennifer Lynn Barnes' unputdownable Little White Lies. 
I really was looking forward to this one after reading the first book, and was a bit disappointed to not get a physical ARC, but once again, losing my contact at Disney has kept me from a few newer books.  Of course, the covers wouldn't have matched so I guess it's better this way.  I did get it on Netgalley, so I got the chance to keep up with the story. And boy am I glad that I did!  This book had even more twists and turns than the first one!  In fact, there was even one part at the end when we've finally sorted out all the sordid past betrayals and secrets that I had to repeat one character's line out loud to help myself keep all the new family lines and branches straight.  I loved how once again the author started the story with our main character, Sawyer, and her friends in a situation that you knew they needed to get out of, but that she kept only giving you bits of them maybe getting free in between all the chapters telling the past and what happened.  Not to mention we even had a further back part of the story, with Aunt Olivia and others of the parents in the story.  While I assumed we were just learning to be more sympathetic to certain characters through that, and while I wasn't sure exactly why we got the viewpoint of one of them, it all came together in the end, in such a way that totally had me in shock.  Definitely another great mystery with the snarkiness of characters that I grew to enjoy in the first book.
Book 1
:
Title:  Little White Lies
Author:  Jennifer Lynn Barnes
Series:  Debutantes #1
Genre: YA contemporary thriller
Release Date:  November 6th, 2018
Publisher:  Freeform
Source: Physical ARC from publisher which did not influence my review.
My rating:  4 stars - read my review HERE.
Synopsis:
"I'm not saying this is Sawyer's fault," the prim and proper one said delicately. "But."
Eighteen-year-old auto mechanic Sawyer Taft did not expect her estranged grandmother to show up at her apartment door and offer her a six-figure contract to participate in debutante season. And she definitely never imagined she would accept. But when she realizes that immersing herself in her grandmother's "society" might mean discovering the answer to the biggest mystery of her life-her father's identity-she signs on the dotted line and braces herself for a year of makeovers, big dresses, bigger egos, and a whole lot of bless your heart. The one thing she doesn't expect to find is friendship, but as she's drawn into a group of debutantes with scandalous, dangerous secrets of their own, Sawyer quickly discovers that her family isn't the only mainstay of high society with skeletons in their closet. There are people in her grandmother's glittering world who are not what they appear, and no one wants Sawyer poking her nose into the past. As she navigates the twisted relationships between her new friends and their powerful parents, Sawyer's search for the truth about her own origins is just the beginning.
Set in the world of debutante balls, grand estates and rolling green hills, Little White Lies combines a charming setting, a classic fish-out-of-water story, and the sort of layered mystery only author Jennifer Lynn Barnes can pull off.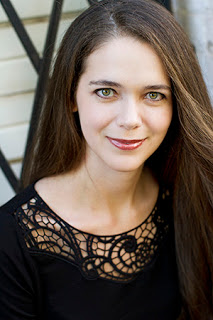 Jennifer Lynn Barnes (who mostly goes by Jen) is the author of more than a dozen critically acclaimed young adult novels. She has advanced degrees in psychology, psychiatry, and cognitive science, including graduate degrees from Cambridge University, where she was a Fulbright Scholar, and Yale University, where she received her Ph.D. in 2012. Jen wrote her first published novel when she was nineteen-years-old and sold her first five books while still in college. In additional to writing YA novels, Jen has also written original pilot scripts for television networks like USA and MTV, and she is one of the world's leading experts on the psychology of fandom and the cognitive science of fiction and the imagination more broadly. Jen is an Associate Professor at the University of Oklahoma, where she holds a dual appointment in Psychology and Professional Writing.
Giveaway
:
3 winners will receive a finished copy of DEADLY LITTLE SCANDALS, US Only.
a Rafflecopter giveaway
Tour Schedule
:
Week One:
Week Two:
Week Three:
Week Four:
Week Five:
-->