I was lucky enough to get this ARC and also meet the author this summer at BEA. This has been a great series, but I am left hanging a bit at the end of this book. I don't know if there will be a 3rd book. Technically, it did end in a way that it could be the end. But it also ended in a way that we could go on with the story. And I wouldn't be disappointed if they did! It's almost fun to try to think of what the name of the 3rd book could be if we continued in this trend. Again, if you haven't read the first one, there will of course be some spoilers here.
When we left our main characters from the last book, Jake and Amanda, and Cass, there had been a huge debacle at a farm house. Cass had thought she'd killed the evil boss, Alastaire, but no, he lived. And even though he'd been demoted in the NCD, Necrotic Control Division, he wasn't done with what he wanted to do. So he goes to Cass's mom and kind of takes her hostage, and then contacts Cass telepathically, telling her how she can get to where the supposed cure is, Des Moines, Iowa. If she gets that for him, he will help her get in, and spare her mother from anything bad. Cass is now with Jake and Amanda, and has been slowly gaining their trust for the most part with a promise of helping them get into Iowa. But hasn't had much luck until she is contacted by Alastaire. So she must in a way use their zombie-ness to help her get in and get the cure, and then get back out safely. And both Jake and Amanda want the cure too. But they get separated once in Iowa. And this leads to many issues for all of them. The cure may not be quite as it seems is what Jake finds out from the leader of the zombies. Amanda is worried about Jake being lost when he goes full zombie for a bit. And then she worries that maybe he has left her, and she knows that Cass has a crush on him. Cass must figure out how to get out alive, be honest with Amanda and Jake, and still save her mom.
A great story, we learn a lot more about the outbreak, well kind of. We learn about what has mostly happened in Iowa, and how the outbreaks have spread, Florida for one. Cass must struggle with her crush on Jake, who while they are very similar, he is definitely in love with Amanda. And she is in love with him, even with the last ditch effort Cass may make to steal Jake. While it pretty much turns out good in the end, there are still loose ends, and things that to me need solving! So Mr. Hart, hint hint, third book? Pretty please?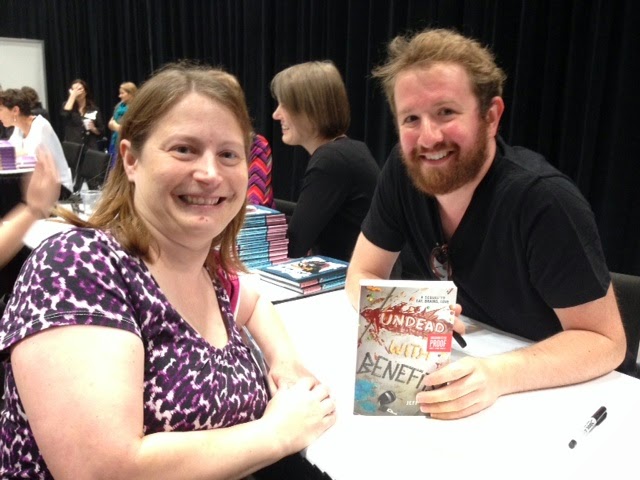 Me with Jeff Hart