THE BILLIONAIRE AND THE LIBRARIAN
SE Rose
Release Date: September 21
A stubborn librarian. A grumpy billionaire. Three giant dogs. And a surprise blizzard. Nothing could go wrong here.
Isa Garren is determined to save her small-town library. As the head librarian, she's nearly secured a grant, but she's just missing one key thing…a collection of first-edition books. Lucky for her, she's learned that a local billionaire happens to have one. Unlucky for her, she hasn't heard back from him after countless attempts to contact him. But in an act of desperation, she's about to go knocking on his door.
Adam Wellington just wants to be left alone. If he's learned anything, it's that life is easier with only casual relationships. He's resigned to his solitary life. He certainly would never fall for a woman who shows up on his doorstep.
When an unexpected snowstorm, wreaks havoc on both their plans, these two enemies are forced to stay warm under the same roof. Will Isa be able to thaw Adam's frozen heart, or will these two opposites let their feelings for each other melt away when the clouds clear?  
Grab Your Copy!
https://books2read.com/u/bxB1Dk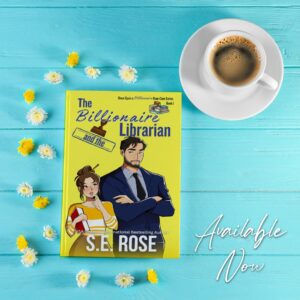 Meet SE Rose:
USA Today & International Bestselling romance author, S.E. Rose lives near Washington D.C. with her family.
When she's not wrangling her cats or keeping up with her kids, she's plotting her next story.
She loves all things wine, coffee, and cats.
In her non-existent free time, she enjoys traveling, going to concerts, binging on her favorite shows, and reading, especially if it's a good mystery or comedy.  
Keep up with SE Rose and subscribe to her newsletter: https://bookhip.com/LSMKWL  
To learn more about SE Rose & her books, visit here!  
Connect with SE Rose:https://linktr.ee/seroseauthor
Hosted by: