ALOHA: AN ANTHOLOGY FOR MAUI
Release Date: September 12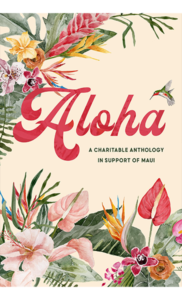 ALOHA is a charity romance collection of swoon-worthy, never-before-seen short stories from over FIFTY of your favorite bestselling authors, all with a twist of Hawaii. All royalties from the collection will be donated to Maui Food Banks and the Maui Fire Relief Fund to help support the survivors of the devastating fires. ALOHA will only be available for a limited time, so one-click your copy before it's gone.
AUTHORS INCLUDE: K.A. Linde, Adriana Locke, Alessandra Torre, Penny Reid, Rachel Van Dyken, Willow Winters, Brittainy Cherry, Aleatha Romig, Heidi McLaughlin, Crystal Perkins, Helena Hunting, Jessica Ashley, L.B. Dunbar, Ren Alexander, Skye Warren, Tara Brown, Tia Louise, Diana Peterfreund, Jamie K. Schmidt, Alexandria Bishop, Maria Luis, Kasey Metzger, Julia Kent, Karina Halle, Trilina Pucci, Carly Phillips, Aarti V Raman, Jill Ramsower, Amber Kelly, Eric R. Asher, Julie Leto, Lucy Eden, Kimberly Reese, Kayti McGee, Lauren Rowe, Pepper Winters, M. Robinson, J.L. Baldwin, Brittany Holland, Angelina M. Lopez, Jiffy Kate, Lex Martin, MJ Fields, Emma Louise, Catalina Snow, Dee Lagasse, Cary Hart, Aly Martinez, Fiona Cole, Jay McLean, Jana Aston, Emma Scott  
All royalties from this project will be donated to organizations working in Maui to bring relief to the survivors of the Maui fires. We aren't affiliated or endorsed by these charities. We are authors who are helping the best way that we can.
Grab Your Copy!
✦ Amazon → https://geni.us/AmazonAloha
✦ B&N → https://geni.us/NookAloha
✦ Apple → https://geni.us/AppleAloha
✦ Kobo → https://geni.us/KoboAloha
✦ Google Play → https://geni.us/GoogleAloha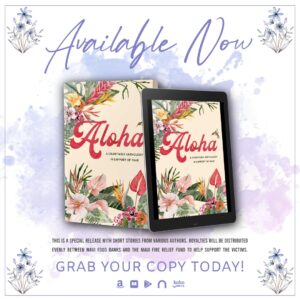 Hosted by: