Book info: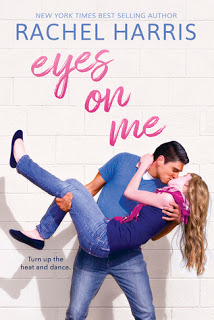 Title: Eyes on Me
Author: Rachel Harris
Genre: YA contemporary romance
Release Date: March 26th, 2019
Publisher: Entangled Teen
Source: Finished copy received from publisher which did not influence my opinion
My rating: 5 stars
Synopsis:
Look up the word "nerd" and you'll find Lily Bailey's picture. She's got one goal: first stop valedictorian, next stop Harvard. Until a stint in the hospital from too much stress lands her in the last place a klutz like her ever expected to be: salsa dance lessons.

Look up the word "popular" and you'll find Stone Torres's picture. His life seems perfect—star of the football team, small-town hero, lots of friends. But his family is struggling to make ends meet, so if pitching in at his mom's dance studio helps, he'll do it.

When Lily's dad offers Stone extra cash to volunteer as Lily's permanent dance partner, he can't refuse. But with each dip and turn, each moment her hand is in his, his side job starts to feel all too real. Lily shows Stone he's more than his impressive football stats, and he introduces her to a world outside of studying. But with the lines blurred, can their relationship survive the secret he's been hiding?
Add to Goodreads HERE.



My Review:
As you can tell by my rating of 5 stars, I adored this story! It was one I picked up and was immediately sucked into what was happening. The characters were extremely relatable, but also realistic. While we had the klutziness of our heroine like we see a lot of times, she was able to get over it when she wasn't spending so much time dwelling on it, and just worrying about what she was doing in the moment. And then there was our love interest, Stone, it was impossible not to adore him. Because even though he was sweet, and a perfect book boyfriend, he still was a teenage boy, and the way his character did things and reacted to situations was very realistic, in my opinion.
The one issue that I knew would be hanging over Stone's head and probably cause our big final bit of drama, while obvious, the money her father had paid him, played out in a such way that made what normally seems like an overreaction in this type of situation to me, made perfect sense. I still adored the way he made his grand gesture, loved Stone's sister Angela's movie love for this.
So much of this story had me smiling and happy, and I can't wait to share this book with my students, as well as other readers!
Also, in the interview below, I love that the author says "dude" in the way she does. It sounds so much like I talk sometimes! 🙂
Author Interview:

1. What does your writing process look like? Do you know the whole story when you start? Or do you just start writing and go with it (seat of the pants writing)? If you plan it out, how do you do that? Outline, notecards, post-it-notes, etc.?
My writing process is a bit wild. I have to know the whole story when I start—like, my plots? They're sometimes 40 pages long. I've actually started calling them Zero Drafts, because that's kind of what they become. Every plot point, every scene, even scraps of dialogue is in there. My characters are fully formed, with motivations and back stories and flaws.
I use a bit of everything during this phase. I have a printed calendar that is my timeline for the book, so I know when things happen. I have scraps of loose-leaf paper where I'm jotting down thoughts and ideas, I have post-it notes on my monitor with key words that hint at my theme, along with key character points. And then come the documents on my computer. Dude, I have a bazillion of them in the beginning—a document where my characters are being fleshed out, a document that has a list of all the major plot points I want to hit, a document with my working synopsis, and a document with a bunch of But/Therefore statements that sum up each scene in my working plot in one sentence and that shows either how the next scene results from that moment OR is in reaction to it. Then I have the bigger document that has the whole book broken down into three major acts along with the plot points and scenes I've figured out with a bit more detail and even dialogue. This is the document that gets up to 40 pages.
Plotting is my favorite part
2. Do you edit as you go, or wait till you're finished before you edit? How many times would you say you go over it yourself before having another set of eyes look it over?
I definitely edit as I go. I'm editing and figuring things out during the plotting phase big time, and then for writing the actual book, I edit the first three or four chapters much more than the rest, trying to get the voices right, but I'd say I personally go over each chapter once or twice immediately after writing it and then I send it to my readers. Once I get their feedback, I input their notes, read it over one more time, and then move on. At the very end, I read it through one more time from start to finish, making notes on any holes or questions that need answered, work those in, send it to one more reader, and then it's sent to my editor.
3. Are you part of a writers group that gets together and helps each other with their writing?
I used to go to monthly meetings for RWA (Romance Writers of America) as well as a smaller group just for YA authors, but Houston is such a big city and so spread out…I haven't gone in a couple years. My groups are now smaller and online and are more about encouraging each other and getting advice in general, but I definitely go to them when I'm stuck or need writing advice, too. Having core friends in the industry who get our own unique brand of weird is key
4. What are your favorite:
Books/authors/genres: I love everything. Seriously. I read about 5-7 books a week, which might not seem like a ton to some people, but with my very busy day of homeschooling my daughters and writing, that's me pretty much reading every free moment I have LOL. I read YA, NA, and Adult, and while I love all genres, I tend to go back and forth between Contemporary and PNR the most. I've been on a Reverse Harem kick for the past year, too, which has been fun.
Movies/TV Shows: I tend to read on the sofa while my family watches TV next to me (ha!) but I do love reality shows like Big Brother, Survivor, and occasionally the Bachelor/Bachelorette, and I also love The Gifted.
Music: Again I pretty much love it all—old and new, and everything from pop to rock, rap to country, Broadway tunes to Classical. When I hit Shuffle on iTunes, it's funny to hear the mismatch of songs one after another, but it makes me happy.
Food/Writing snack: Peanut M&Ms are key, as is some form of caffeine like Diet Mountain Dew or Coke. And when I've had a great writing day, a glass of red wine
About the Author: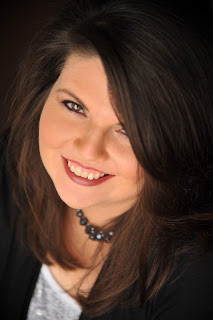 New York Times and USA Today bestselling author Rachel Harris writes humorous love stories about girls-next-door and the hot guys that make them swoon. Vibrant settings, witty banter, and strong relationships are a staple in each of her books…and kissing. Lots of kissing. An admitted bookaholic and homeschool mom, she gets through
each day by laughing at herself, hugging her kids, and watching way too
much Food Network with her husband. She writes young adult, new adult,
and adult romances, and LOVES talking with readers! Rachel's books have been featured in USA Today and Glitter Magazine, and her stories have been finalists in the National Reader's Choice Award, the Holt Medallion Award, and The Golden Quill.
For the latest news and exclusive excerpts, visit her website at www.RachelHarrisWrites.com and sign up for her NEWSLETTER: http://eepurl.com/olH75
Giveaway:
One (1) winner will receive a physical copy of Eyes on Me by Rachel Harris (US Only)