As I mentioned on Sunday, I am behind again. I actually just saw on Goodreads that I'm behind by 18 books on my goal for the year as well! Gah! But, once I do these two reviews, I'll be on track for the month. These are two advanced reader copies I got, but I wasn't part of a tour for them so they didn't get scheduled.
Shatter (Glitter #2) by Aprilynne Pike: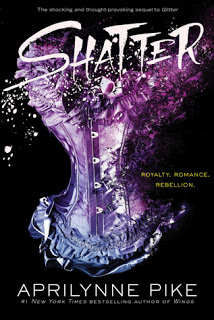 Genre: YA Science Fiction/Dystopian?
Published: February 13th, 2018
Source: E-galley from Netgalley
My rating: 4 stars
I liked the first book, Glitter, a lot. I loved this futuristic world where this rich population tried to live like the historical era of Marie Antionette, yet had the latest technology despite that. This second book was a good conclusion to the story, although it didn't quite have the little extra for me that the first book did. For awhile in this one I thought that the main character, Danica, might actually turn out to go down a different path to finish the story. In the end though, she went where she should have gone. And the way that she was able to outsmart her enemies was a little bit of a surprise, I didn't quite see it coming in some ways. And I like that in a book. Still a great series, and there were even more historical bits spiced throughout this one as well as the first one. A duology I've purchased for my school library, as I think my students will enjoy it. And, as with the first book, a beautiful cover!
Here is the blurb from Goodreads:
Danica planned to use beauty, blackmail, and a glittering drug to control her own fate. Her escape from the twisted world of the Palace of Versailles was perfectly orchestrated and paid for. Or so she thought.

Betrayed by the man who had promised her freedom, Dani is now married to the murderous King. It's a terrifying position to be in…and yet it's oddly intoxicating. Power may be an even stronger drug than Glitter–a drug Dani can't resist, in the form of secrets, manipulation, and sabotage.

In her new position at the head of the court, Dani must ask herself who she really is. Can she use her newfound power to secure her real love, Saber's freedom and a chance at a life together outside the palace? Or is being Queen too addictive to give up?
Now a Major Motion Picture by Cori McCarthy: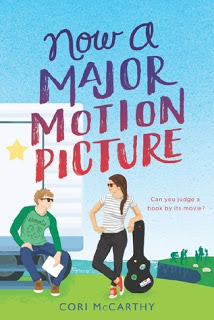 Genre: YA contemporary romance
Published: April 3rd, 2018
Source: ARC from publisher
My rating: 5 stars


Once again I've proved my belief that I don't like YA contemporary romance books wrong because I LOVED this story! Yeah, yeah, it could be because it took place in Ireland, a place I am so obsessed with getting to visit some day. But, that's not all. This story made me laugh, cry, and I couldn't put it down! I was a little unsure at first, because even though it sounded like one I'd enjoy, I'd had another book by the author that I'd had to DNF when I couldn't get into it. By page 26, though, I was hooked. Something that I realized when reading this is how much I connect with sullen, snarky teens these days. Which is weird, because that is not at all what I was like as a teenager myself. I was the cheerful, sweet, naive girl. There was one kissing scene with Julian, the movie star, that was the funniest thing, but the best thing. I won't say which kiss, or who it was with, but I loved that scene. This book just made me smile so much! I'll definitely be purchasing it for my school library.


Here is the blurb from Goodreads:
Fandom and first love collide for Iris on the film set for her grandmother's famous high-fantasy trilogy—perfect for readers of Fangirl!

Unlike the rest of the world, Iris doesn't care about the famous high-fantasy Elementia books written by M. E. Thorne. So it's just a little annoying that M. E. Thorne is her grandmother—and that Iris has to deal with the trilogy's crazy fans.

When Iris gets dropped in Ireland for the movie adaptation, she sees her opportunity: if she can shut down production, the Elementia craze won't grow any bigger, and she can finally have a normal life. Not even the rascally-cute actor Eamon O'Brien can get in her way.

But the crew's passion is contagious, and as Iris begins to find herself in the very world she has avoided her whole life, she realizes that this movie might just be amazing…