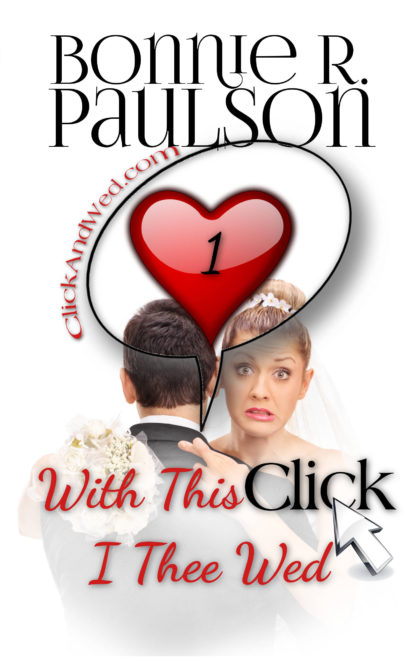 With this Click, I Thee Wed by Bonnie R. Paulson
"Uh, oh, what did I do?"
A lonely divorcee…
A rancher who can lose everything…
One website that matches them for marriage…
They have to learn about the importance of decisions and family or lose their one shot at love.
Stuck in a town where everyone knows her and her ex-husband, Rachel is distinctly aware of who chose his side – everyone – and who chose her side – no one. Even her hairstylist won't schedule her.
But when she finds herself alone with a bottle of chianti and the internet, Rachel stumbles upon Clickandwed.com. The survey is easy and clicking "I Do" seems to be the magic button she's been searching for.
Before she can snap out of her decision, she finds herself packed and flying across the country to meet her new husband.
Would her new life be better or worse than the hell she left behind?

Praise
First, there is no cliffhanger!! That is important to me so I am assuming it is important to others as well. This is a very unusual story. it starts off with the heroine being recently divorced from her dirt bag, cheating, lying ex-husband. She has moved back home since she has nothing to show for the years of marriage – he got everything and she is depressed. She moved back in with the two people who should love her and support her no matter what. That is not the case. I have never seen two more hateful and unloving parents as these two. They belittle and do everything in their power to let her know she is nothing more than an embarrassment and a disappointment. It is very easy to hate these two.
I will start by saying that I have not read a book by Bonnie R. Paulson that I did NOT like. I love the way she writes and I love the things she writes about. I find that when I read her books that I get pulled into them and can't stop until I reach the ending.
Being afraid that happiness is something not for either of them, yet finding it. In the most delightful way makes this a fun read.
Excerpt:
It was amazing what a good night's sleep could do. I stretched my arms above my head and straightened my legs, stretching my toes. Linen sheets cradled me in smooth warmth. My bare toes slid between the material.
But wait, I had fallen asleep on the chair.
My eyes snapped open and I stared wide-eyed at the foreign room with a country-style of decorating.
Peach and cream wallpaper graced the walls until it hit an Oak wainscoting. Fluffy cream carpet spanned the length of the room which was lightly furnished with an oak dresser gilded with brass handles, an oak nightstand with a brass lamp and cream lamp covering, long cream and peach-lined curtains hung to the floor over the window, oak-paneled doors led to a large closet, and the bed was four-poster with a peach and cream duvet. Four fluffy pillows and who knew how many other blankets hid under the duvet, creating a cloud sensation around me.
My bags rested neatly beside the dresser, stacked there by size. My shoes and socks had been placed neatly beside them and my coat draped on the handle of the closet. My jeans were folded and resting on the dresser top.
My jeans.
I didn't take my jeans off.
In fact, I hadn't taken anything off. I hadn't even come upstairs.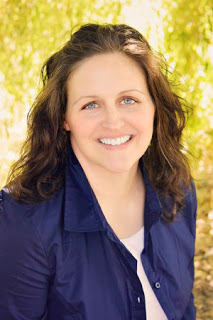 Real people, real loss, real love.
USA Today Bestselling author, Bonnie focuses on the emotional thrill of the romance, the discovery of self and the dynamic forces at play to both pull and push love growth.
With 6 children and her own eternal romance at home, Bonnie lives her own dream every day. She's spoiled with blessings and wants to share the joy of ever-after possibilities with others.
Whether it's a happy-ever-after or a happy-for-now, the emotions will leave you story drunk for days, if not years.
Feel good romances with sweet twists. Or is it Sweet romances with bold twists?
You decide.
You'll be able to say where you were when you closed the book.
Surviving all things real and coming out better on the other side.
Some of her favorite authors are Robyn Carr, Pamela Kelley, and Christine Kingsley!
$50 Amazon Gift Card or Paypal Cash Giveaway
Ends 3/18/18
Open only to those who can legally enter, receive and use an Amazon.com Gift Code or Paypal Cash. Winning Entry will be verified prior to prize being awarded. No purchase necessary. You must be 18 or older to enter or have your parent enter for you. The winner will be chosen by rafflecopter and announced here as well as emailed and will have 48 hours to respond or a new winner will be chosen. This giveaway is in no way associated with Facebook, Twitter, Rafflecopter or any other entity unless otherwise specified. The number of eligible entries received determines the odds of winning. Giveaway was organized by Kathy from I Am A Reader and sponsored by the author. VOID WHERE PROHIBITED BY LAW.