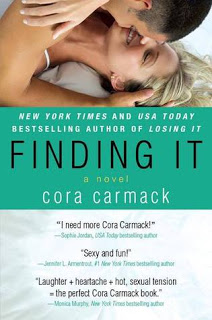 Book info:
Title: Finding It
Author: Cora Carmack
Series: Losing It #3
Genre: NA Romance
Published: October 15th, 2013
Source: Digital audiobook download from public library
While this was probably not my favorite book of this series, it still was pretty good. In fact, it started out with one of the best lines ever: "There was no room for unhappiness when squeezed between two sets of washboard abs. New life motto, right there." p. 7. Later in the book there is another awesome line, "If I couldn't seduce him in Italy, then take away my vagina, because I didn't deserve it." This book was a lot of fun for the most part, but really was kind of slow. It would go on for chapters about basically the same night, and not that it doesn't work, but sometimes there was just too much detail and thoughts, and I was needing more action, more story. Overall it was a good read still, but it was a little too slow for me.
Unlike in book 2, Faking It, we were back to just one narrator like in the first book, Losing It. The main character this time is Kelsey, she was Bliss's best friend in the first book. After graduation she wasn't sure what she wanted to do, and while we know that Bliss and Cade went on to go to graduate school. Kelsey goes to Europe to try to decide what to do. She comes from a rich family, and so she is able to just go and travel as she wants. When we start the story she is heading out to an underground club with friends from the hostel where she is staying in Budapest. At the club she is surrounded by hot guys, who don't speak but a few words of English. As the first quote I shared above shows, she was okay with that. But when one of them goes to kiss her, and it is a horrible, horrible kiss, things get a little bit off track. Especially when she sees a really attractive guy across the bar who has noticed the horrible kiss and is laughing at it. She goes over and talks to him, irritated that he is acting the way he is. When she ends up leaving the bar alone later, he seems to be following her, almost stalking her. He walks her back to her hostel, saying he only wants to see her home safely. At another club another night, she runs into him again. This club is like a giant swimming indoor swimming pool. When she decides to leave the guys she's with and hang out with the guy, Jackson, who has shown up again, her drink gets drugged. He takes her out of the club, back to a hotel, and takes care of her. There's definitely sexual attraction between the two, but Jackson refuses to give into it. Of course this irritates Kelsey, as she is not used to being turned down by guys.
Kelsey is over in Europe to not think, to get away from the things that make her unhappy. The bad memories of things that happened when she was younger. Something that was part of the reason she became the way she is with guys, all about a good, but casual time. Jackson tells her that she hasn't really had an adventure yet, only drinking and picking up guys. And when she thinks maybe she should just go home and face her father, he convinces her to give an actual adventure, with him, for a week, a chance. So she does. They travel to several places, Germany, Italy, Switzerland. And in each country they have lots of fun, and also seem to get closer and closer. But not only is Kelsey hiding her problems, it seems that Jackson has a secret as well. Now, it was pretty clear to me from the very beginning what his secret was, but that's okay. The story still worked. At one point, they choose to give into the attraction and try that. Until the secrets come out, and things change. In the end, Kelsey must decide if she should go home, if Jackson deserves a chance even after his secret, or if she wants to start a new life without either of those things in Europe.
I definitely enjoyed the book, the main issue was the slow pace of the story. Kelsey's skeleton in the closet was one that definitely made me emotional to read about, and totally made sense for why she became the way she did. I feel like she should have figured out Jackson's secret herself sooner. And also that she freaked out a bit too much in my opinion. But yeah, I know that is part of what gives the story suspense. I look forward to meeting this author in October at NOLA StoryCon.