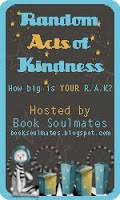 Well, I signed up to do RAK last month, and got 3 different books! It was awesome! I'm sure a lot of that was because it was my birthday month. However, I'm a little ticked at myself because I can't find the emails to remember the people that sent me the books. And I know I saved them just to have for this blog post! Well, I did send a book, a Nook e-book to one of the people that sent me a book. So you'd think I'd still have their information somewhere, but no, again, something happened and I can't find it. I wonder if when I was trying to save my school emails as they were changing our system at the district where I teach, if somehow they got mixed up in those emails and I'll have to search through that mess. Hopefully at some point I can find them, and come back and edit this post to give thanks publicly to those people who made it a great birthday month.
And my top 5 that I'm hoping for this month are:
Dark Eden by Patrick Carman
Crossed by Ally Condie
Darker Still by Leanna Renee Hieber
The Future of Us by Jay Asher and Carolyn Mackler
The Death Cure by James Dashner.
If you're interested in participating this month, here are the links you need:
Hope you'll join in as this is a great thing to be a part of.