Saw several books on Tuesday night that I would be interested in reading. Even actually saw one in the young readers that sounded pretty good.
First is Timeless by Alexandra Monir. Our main character is named Michele Windsor, who is from a famous blue blood family. She discovers her great-great-grandmother's diary, and as she reads through it, she gets transported back in time to the Gilded Age. She meets the man of her dream in the past, but also learns some family secrets, and must try to deal with both of her lives. This is a teen book.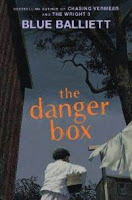 Second is the young readers book: The Danger Box by Blue Balliett. Now this author has had several bestselling kids' books in the Chasing Vermeer series. None of which I've read, although they sound like they have a decent plot. But this book sounds really good. The main character is named Zoomy, a 12 year old with pathological myopia, and at the beginning of the story, his absent alchoholic father shows up and leaves a box for him. Inside the box is only an old notebook, but it leads to lots of adventures. It is a journal that Zoomy goes through and then tries to find out more history about the author.
Third is a grown up book called Madame Tussaud: A Novel of the French Revolution by Michelle Moran. Her other books have been about Nefertiti and Cleopatra. Both people that I enjoy reading about. I haven't read her books, but if this one is good, then I'll put them on my list. As you can tell by the title, it is about Madame Tussaud, she who is famous for the wax museum, but she was also an eye witness to the revolution. The royal family is impressed with her talent and invite her to the palace. But as tides turn, she is now considered a traitor for this favor she has been shown. And to save herself she is commissioned to make the death masks of the beheaded royal family.
Fourth is the book Living Hell by Catherine Jinks, a teen novel. Again, this author has many teen books, none of which have quite appealed to me when I picked them up to read the summaries on the jacket flaps. However, I picked it up anyway, and it sounds very intriguing. The main character is a 17 year old boy named Cheney. He has lived his whole life on a spaceship searching for an inhabitable planet. The spaceship hits a radiation wave, and at first it seems everyone is okay, there is no damage. But what has happened is the ship is now an organic organism, and it thinks the humans living in it are parasites and sends things to kill them, just like white blood cells would in our body. The science teacher in me LOVES this story idea!