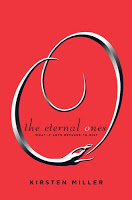 This is part of a boxed set that Penguin publisher sent to the bookstore. I actually received 2 of the other books singly through a Shelf Awareness giveaway, but when I saw that the store had all 5 they had advertised to give away that week, I took the whole box home. (After some convincing by Mary at the store) I chose to read them in order of when they are going to be published, and this one is supposed to be due out this August.
As I first began reading it, I was immediately reminded of a book by Suzanne Weyn that I purchased a recent book fair at the school I work at. It was called somewhat unoriginally titled Reincarnation. So I guess that gives you an idea what The Eternal Ones is about. In Reincarnation we go through several different times, cavemen, ancient Egypt, ancient Rome, World War II, Salem witch trials, all kinds of famous time periods. And some we barely touch on. Also the characters in this book sometimes change, like the girl is a guy sometimes and the guy is the girl. I did enjoy the history, and if you look back on my blog, I'm sure I reviewed this book at some point in the past year.
Unlike the Weyn book, Miller's book is much more detailed, and has actual evil involved. Our main character's name is Haven, in this life at least. Ever since she was a little girl Haven has been having visions, and talking about needing to find someone named Ethan. Her grandmother Imogene believes she has a demon and enlists the town preacher to help her. It seems Haven has been cured, the visions seem to stop, until Haven is a senior in high school and sees a young celebrity on the news who has been accused of murder. Haven knows/feels that this is the Ethan she has been looking for. He lives in New York though, and after Haven's latest vision, her grandmother has tightened back up Haven's life, and has now told her she may not go to college in the fall.
Haven's mother gives her a box of things her father had collected before he died in a car accident. Her father had contacted a society in New York called the Ouroboros Society, because he believed his daughter may have been reincarnated, and that was their specialty. In fact, I believe you can even go check out this group as part of the marketing campaign for the book at
http://www.theouroborossociety.com/
.
Once I got into this, I didn't want to put it down. I will definitely be handselling at the store, put it as my staff rec, as well as recommending it to students at school. I will also suggest my library media specialist look into purchasing it when she has funds. Another website to check if you're interested is
http://www.theeteralones.com/
.