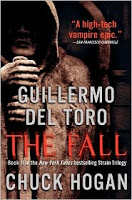 Waiting on Wednesday was created by
Jill
over at
Breaking the Spine
. It's a weekly post for you to share what upcoming books you can't wait for!
As I get ready to blog about The Passage by Justin Cronin, I remember that I am waiting for the sequel to The Strain by Guillermo Del Toro called The Fall. In the strain, vampires are created by a virus. This is the 2nd installment in what is supposed to be a trilogy. New York city has been taken over by the virus, and soon it will overtake the country and the world. The master's plan to get new world and old world vampires into a war seems to be working. And it is up to our team from the CDC to fight this virus. Our team leader is Eph, who is also dealing with ex-wife, who has been turned, trying to turn their son. They are also relying on help from the holocaust survivor Abraham Setrakian.
Since it's been awhile since I read The Strain, I'm hoping I'll be able to jump in pretty quickly and get back to speed when this comes out in September.