Join us this Halloween for the exclusive Once Upon a Halloween Night bash in the New Orleans Warehouse District for an evening of fun, costumes, and romance. The Indie Pen PR and Beyond the Bookshelf Publishing are excited to kick off spooky season with eight brand-new, fun and sexy novellas from Lauren Helms, Kate Stacy, Mel Walker, Susan Renee, Kartina Marie, Courtney W. Dixon, and Louise Lennox.
Buy Now: https://books2read.com/u/3k2QKG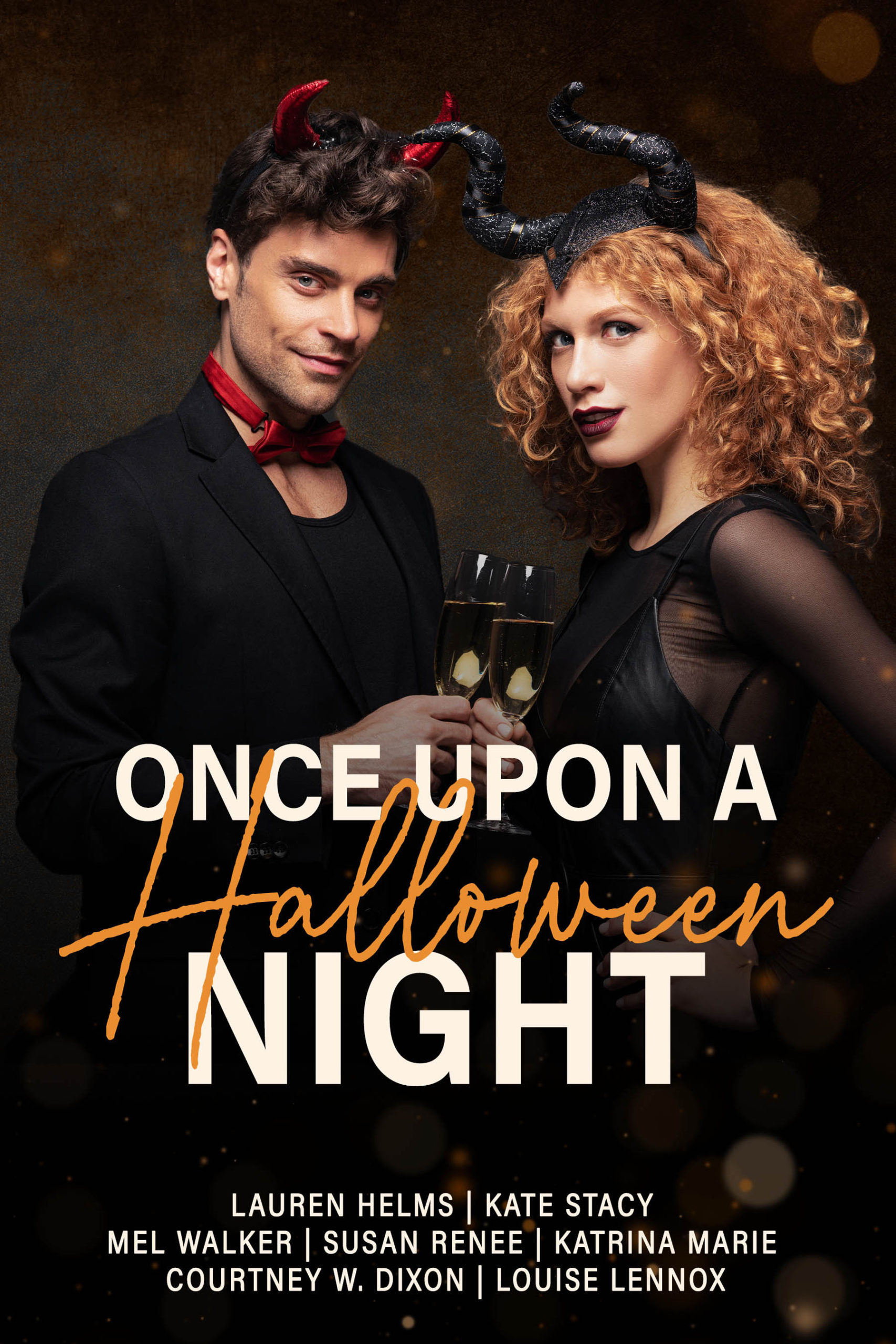 Congratulations!
You've been invited to attend the exclusive Once Upon A Halloween Night bash.
This year, join us in New Orleans Warehouse District on Halloween Night for an evening of fun, costumes and…
romance?
Wait. What?
That's right.
The Indie Pen PR and Beyond the Bookshelf Publishing is proud to host Lauren Helms, Kate Stacy, Mel Walker, Susan Renee, Kartina Marie, Courtney W. Dixon, and Louise Lennox – in this fun Halloween romance anthology.
So, throw on your best costume and get ready to sit back and enjoy seven brand new novellas to celebrate spooky season with a romantic twist.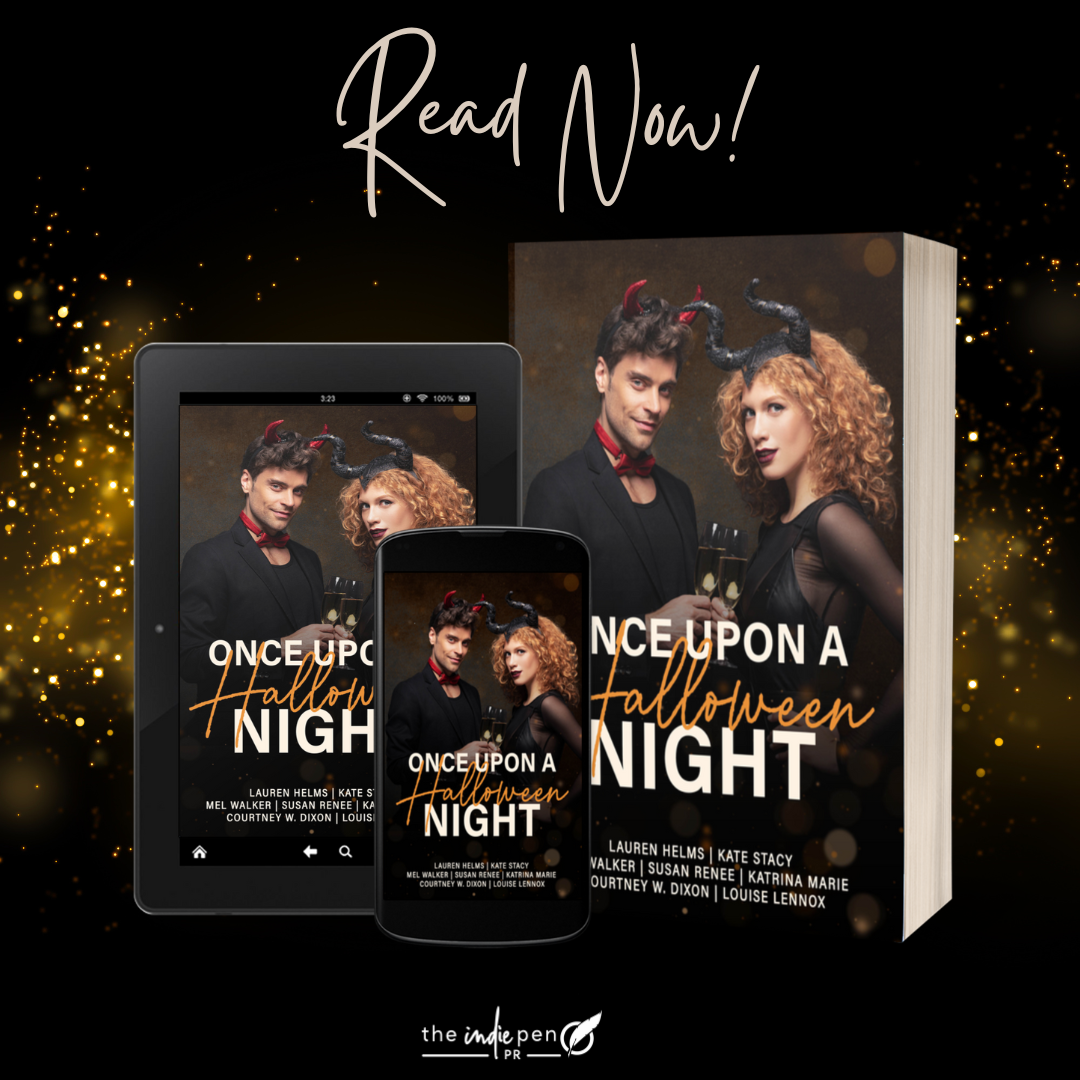 Excerpt- Copyright 2023 Dating in Disguise by Lauren Helms
She sets the drink down and turns to me. "You must love Robin Hood if you're willing to invest."
"Robin Hood and I have a lot in common, actually." I inform her.
Her nose scrunches. "Oh really? How so?"
"Well, for starters, I'm a master archer"
"Nope. I don't believe it." She giggles.
"I am. Really. I learned at summer camp when I was twelve. Hooked ever since." I tell her almost defensively.
"Ah, okay then. What else do you have in common?"
"I'm glad you asked. See, I'm also a master of disguise."
Her eyes widen playfully, "Oh my. I can see that. Is this even your real face?"
I lean my head back and smirk at her. "Everything about me is real, baby. Truth is, I'm not worried about disguising myself tonight, so what you see is what you get."
"I've heard that he's also a charmer. A ladies' man. Obviously, that checks out." She grins.
I nod. "I was born a charmer. It's in my blood."
"Right." She nods in understanding, laughter dancing all over her face. "So what you're saying is that you are the embodiment of Robin Hood."
"Oh, I like that. The embodiment of Robin Hood." I snap my fingers. She's brilliant and beautiful.
Her brows furrow, "Does that make you an outlaw then?"
"Nah, I mean, if stealing from the rich and giving to the poor is considered breaking the law…"
She huffs out a laugh. "Stealing is totally considered breaking the law."
I shrug, "Meh, maybe, but I've got a heart of gold, so that's all that matters."
"I suppose that's true." She reaches for her drink and sips it, keeping eye contact with me over the glass. She's flirty and I'm digging it, but she's not getting all touchy-feely with me, so I'm a little unsure of where this is going.
Excerpt- Copyright 2023 Haunted Melodies, Kate Stacy
"Come with me," I say, grabbing hold of her hand.
Remi's laughter rings through the night air as I lead her between the cathedral and museum, slipping into one of the alcoves there. The joy in her voice mirrors the twinkling stars in the sky, and her eyes sparkle with a mix of amusement and excitement. Fuck, she's beautiful.
Carefree looks incredible on her.
Shrouded in shadows, I watch Remi as her laughter subsides into a contented sigh. She looks at me and smiles, so I kiss her again, pressing her body against the hard stone behind her.
I can't get enough.
The way she tastes.
The feel of her body against mine.
"Luke," she murmurs breathlessly against my lips.
I trail kisses along her jaw, groaning when she tips her head back, giving me access to more of her soft, silky skin.
"Luke," she says again, and I want to hear her say it a thousand times more. "We can't do this here."
"Afraid of things that go bump in the night?" I murmur, smiling as I kiss down the column of her throat.
She sucks in a breath.
"No. Just charges for indecent exposure, public lewdness, or—"
Chuckling, I take her mouth with mine, kissing her deeply.
Excerpt- Copyright 2023 Love on the Halloween Dance Floor by Mel Walker
"You promise to wait for me?" She asks the question, already knowing the answer. At a concert in Detroit that had technical issues with the lighting and sound equipment, Aaliyah spent nearly an hour reaming out the organizer. She came out an hour later and was shocked to see me waiting for her. I committed to her that day that I would never leave a venue without her.
"The rest of my life if I have to." The words slip from my heart to my lips without thinking. My chest thumps heavily with my misstep. She twists to read in my eyes the meaning of my words.
Lights bounce off her glasses, and I fail in my attempt to read hers. An explosion of cheers erupts in front of me, and I look up to investigate. Ali is bowing at the front of the stage. The performance has ended.
The house lights rise in the theatre, and Poppy leads the girls back to their families. Whistles and cheers continue to float in the air.
A warm set of lips land on my cheek. I hold my breath and record this moment, stored alongside a treasure trove of protected memories.
Aaliyah's lips linger for a heartbeat longer than normal, a hesitation I pick up on because when it comes to her, I notice everything. "Really good work today. Congrats. See you in ten."
"Here, let me …" I take her hand to help her out of the pit. I chew on my tongue to distract myself from the spark that shoots through my body.
"Such a gentleman. Someday, some lucky woman will …" She doesn't complete the sentence. The words hang like a challenge.
A challenge I've yet to answer.
My eyes linger on Aaliyah as she navigates the narrow aisle. She moves with a purposeful stride, a woman on a mission. My eye refuses to look away until she disappears out the exit. Only then do I take a breath. Only then do I realize I hadn't.
Like I said, I got it bad.
She has work to do. But I'll wait. I'll always wait for her. I whisper the words I don't have the courage to say to her face. The words I pray may come true someday. "Someday. Someday that lucky woman will be you."
Excerpt- Copyright 2023 Ghosted by Susan Renee
"How do you make it so easy to breathe, Scarlett?" Oliver asks me, his forehead pressed to mine.
"Because I don't expect you to be someone you're not, Oliver. You're free with me. Zero expectations. Consider me your safe space."
"I'm finding myself overwhelmingly attracted to you," he says. "And I'm sorry if that's too much. Maybe Rowena was right. I'm not good at hiding my feelings."
"It's perfectly fine to have feelings. I have them too." I bring my hands to his cheeks. "I wasn't sure how this day was going to go, but somehow, you've managed to make every moment perfect. You let me take the lead instead of treating me like your personal arm candy. You've asked about my feelings. My desires. What I want for myself and for my future. Do you know how long it's been since a man has asked how I feel? Hell, I could marry you right now and have no remorse given what I was about to walk into."
"I'm really fucking glad you didn't marry him."
"Me too."
Excerpt- Copyright 2023 Hurricanes & Halloween by Katrina Marie
"My bad." He doesn't look sorry at all. The wide grin he's sporting as he watches the people still staring at us says he's pretty proud of himself. I don't blame him, though. He never would have had the confidence to do that at eighteen. Now, in our mid-thirties, he's sure of what he wants. Even if that person lives hours away from him, and has no idea how we are going to make this work.
"It's all good." I lean my head on his shoulder. "I'd say it was more than worth it."
We sit in silence as the DJ continues to play music downstairs. There are still a couple of hours until this thing ends. And as much as I want to ditch the rest of the party and head straight to our hotel room, I know we should stay a little longer. Especially since our tickets were essentially free. I know the payoff will be fine with Kelly, though. This was her moment to play fairy godmother. Her way of making my wildest dreams come true.
"Want to see what else this party has to offer?" Patrick squeezes my knee. It might be my imagination, but I think his hand moved further up my leg. There's a good chance he's having the same thoughts I am. Both of us are too polite to voice them aloud.
"Sure." I stand and he does the same. Grabbing my drink, I hook a finger into his belt loop. Not so accidentally grabbing his butt in the process.
"You keep doing that and I'll carry you out of here."
The drinks are working their way through my system because what falls from my lips next is something I'd never say. "Don't make promises you can't keep."
Excerpt- Copyright 2023 Masked Love by Courtney W. Dixon
Greyson sat back in the seat and stared out the window. We were almost there despite the heavy traffic. "How did we meet?" he asked.
"Hmm, how about at my favorite coffee shop? You spilled coffee on me."
He waved a hand at me. "Ugh. Please. That trope has been done to death."
I huffed a laugh. Seriously, I was going to give him wine more often. "And what would you suggest?"
"Let's keep it relatively realistic and almost the truth since it will be easier to remember the lie."
"Good at lying, are we?"
He smirked and leaned closer to me. "Did you just make a joke?"
"I never joke." Which was also a lie.
"Anyway! Let's say I applied to Nomadology, and you found me so hot and irresistible that I swept you off your feet, and you refused to hire me so you could date me."
For the first time since I could remember, I barked out a laugh and enjoyed watching him blush.
"What? It could happen."
Excerpt- Copyright 2023 Hot Hex on a Platter by Louise Lennox
At this point, I have tunnel vision. I'm focused on taking out the piece of shit who had the nerve to violate my woman. No one touches or hurts what's mine and gets away with it.
I maneuver around him while he continues cursing and swinging, matching his speed and intensity as he advances closer to me with every step. As he reaches out with both arms to grab me, I take a chance, knowing I need to knock his big ass out and get this over with.
I hit him with a powerful uppercut that sends him sprawling onto the ground below.
He lies there motionless as I stare down at him with disgust; the power of my punch had been enough to knock him out cold, and between that and his intoxication, he'll be down for a while.
Tessa rushes over to me, her face filled with worry as she glances at the man's condition and grimaces.
"Thank You. But I had him under control. The violence wasn't necessary."
Her voice has a bite of annoyance, but the relief on her face is evident. She didn't want to admit it, but she liked being rescued, but I'll gladly admit that saving her has made my dick impossibly hard. I want to love. Protect, and fuck her until she passes out in equal measure.
Maybe there was a chance of staying out of her life if I hadn't seen her in the flesh. However, now that she's within arm's reach, I know I'll never let her go.
Her sister steps over the unconscious man, who is now snoring loudly and shakes her head. The man she was with was long gone. "Tessa, are you kidding me? You couldn't control him, and I swear if I had known he was that disrespectful, I would have never dragged you up here."
Tears well up in her sister's eyes. "I'm sorry; I should have listened to you."
Yeah, she should have.
Tessa gives her a sweet smile and pulls her into a hug. "It's OK; you didn't know how bad he could be because I never told you how he harassed me in high school. I was too ashamed and thought I was leading him on or something."
"This fool harassed you in high school?" I roar. "He doesn't deserve to breathe the same air as you."
Both women look at me like I'm crazy, but I don't care. The idea of him hurting my sweet girl in any way makes me want to wake him up to knock him out again.
Tessa looks at me warily. "Umm, thank you, I guess."
She looks back at Foolio lying on the ground and ponders something before returning to me. I hate the look of worry on her face, and all I want to do is kiss every stress line away.
"Look, Marcus, it's been a long night. We're heading home, and you should probably get home before he wakes up. He will be furious, and I'd hate seeing you get into trouble on my account."
I frown. "I'm not scared of him. Didn't you see me lay his ass out?"
She rolls her eyes. "Yes, Action Jackson, we all saw you, but do you even know who you knocked out?"
Exasperated, I step closer and breathe her in. She smells like cherries and doesn't flinch away like she did with the man lying on the ground. Instead, she subconsciously steps closer to me.
That's because she's mine.
I brush the back of my knuckles over her arm. "No, sweetheart, I don't know, and I don't care."
Her sister Selene snorts and speaks up. "Well, you should care Romeo because he's Richard Harris, the Chief of Police. What do you have to say now?"
I give her an incredulous look but say nothing.
This can't be life.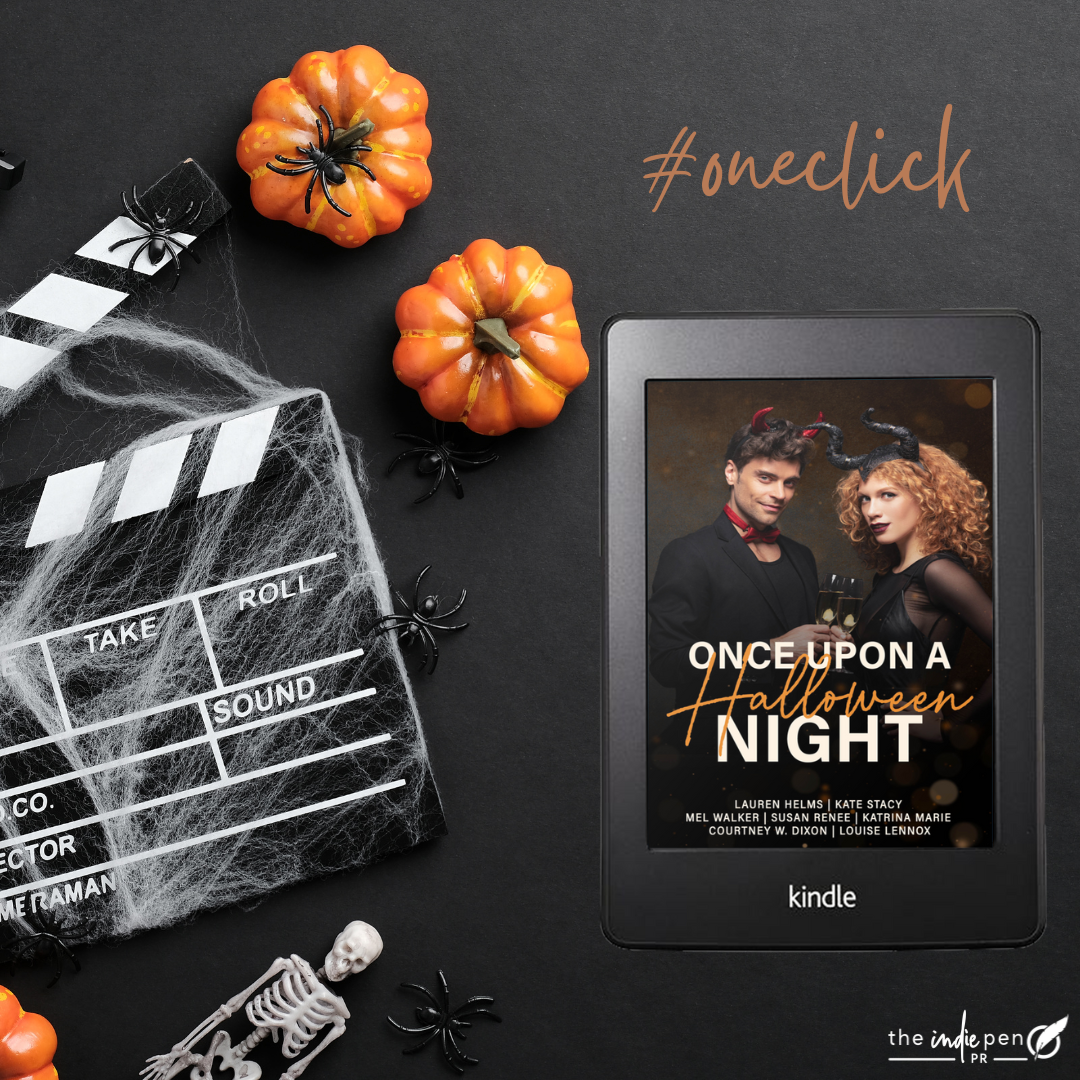 About Lauren Helms
Lauren Helms is a romance author her nerdy and flirty contemporary words. Lauren has forever been an avid reader from the beginning. After starting a book review website, that catapulted her fully into the book world, she knew that something was missing. While working for a video game strategy guide publisher, she decided to mix what she knew best–video games and romance. She decided to take the plunge and write her first novel, Level Me Up. Several published novels later, Lauren created PR company, Indie Pen PR, to help other authors promote their books.
Lauren lives in Indianapolis, Indiana sharing her love of books and video games with her own Gamer Boy husband and three young kid nerds who will hopefully grow up to share the love of things that united Lauren and her husband on their own happily ever after.
Follow:
Facebook
|
Reader Group
|
Instagram
|
Goodreads
|
Amazon
|
BookBub
|
Newsletter
|
TikTok
About Kate Stacy
Author of emotionally-gripping, contemporary romance, Kate Stacy's novels feature sassy heroines, swoony heroes, life, love, friendship, and all the angst. When she's not writing or spending time with her family and friends in small-town North Carolina, Kate can most likely be found nose deep in her Kindle. She stays up too late, swears too much, and loves too hard.
Follow:
Facebook
|
Twitter
|
Instagram
|
Pinterest
|
Goodreads
|
BookBub
|
Website
|
Newsletter
|
Amazon
About Mel Walker
Mel Walker has been writing fiction most of his adult life. Specializing in Short Stories and Contemporary fiction and Romance Novels. A native New Yorker and life-long frustrated NY Mets fan. He loves to write about ordinary people placed in difficult situations, especially as it relates to their closest relationships.
Mel Walker is a rare bird, the male romance author. Specializing in heartfelt small town romance, he enjoys telling compelling romances with all the feels. A native New Yorkers and life-long frustrated NY Mets fan, he enjoys long walks, bike rides and taking in the energy of the city.
Follow:
Website
|
Facebook
|
Instagram
|
TikTok
|
Reader Group
|
Goodreads
|
BookBub
|
Newsletter
|
Amazon
|
BingeBooks
About Susan Renee
Susan Renee wants to live in a world where paint doesn't smell, Hogwarts is open twenty-four/seven, and everything is covered in glitter. An indie romance author, Susan has written about everything from tacos to tow-trucks, loves writing romantic comedies but also enjoys creating an emotional angsty story from time to time. She lives in Ohio with her husband, kids, two dogs and a cat. Susan holds a Bachelor and Masters Degree in Music Education and a self-awarded Doctorate in Sass and Sarcasm. She enjoys laughing at memes, speaking in GIFs and spending an entire day jumping down the TikTok rabbit hole. When she's not writing or playing the role of Mom, her favorite activity is doing the Care Bear stare with her closest friends.
Follow:
Facebook
|
Reader Group
|
Twitter
|
Instagram
|
TikTok
|
Goodreads
|
BookBub
|
Website
|
Newsletter
|
Amazon
|
About Katrina Marie
Katrina Marie lives in the Dallas area with her husband, two children, bonus child, grandchild, and fur babies. She is a lover of all things geeky and nerdy. When she's not writing you can find her at her children's sporting events, curled up reading a book, or binge watching her favorite shows.
Follow:
Facebook
|
Reader Group
|
TikTok
|
Instagram
|
Pinterest
|
Goodreads
|
BookBub
|
Website
|
Newsletter
|
Amazon
About Courtney W. Dixon
Courtney W. Dixon loves to write steamy romance, but in each story, she gives her character's challenges and struggles. She writes m/f and m/m stories within one series to add a variety to her characters. And she writes her characters as having flaws, imperfections, and who don't always do the right thing. Humans are never perfect, and make a lot of mistakes in their lives. In the end, she tries to help them grow to be better as they achieve their HEAs.
You can find Courtney working in Central Texas with her husband, two boys, and two crazy dogs, none of whom know how to knock on a door while she's working.
Follow:
Facebook
|
Reader Group
|
TikTok
|
Instagram
|
Goodreads
|
BookBub
|
Website
|
Newsletter
|
Amazon
About Louise Lennox
Contemporary romance Author Louise Lennox is a hopeful romantic writing steamy romances full of heart and healing.
A Spelman College and Georgetown University graduate, Louise provides women with diverse and meaningful representation in romance novel pages. Not seeing enough women like herself headlining positive love stories, she launched #HappyBlackRomance; a community of readers and writers committed to the creation and sharing of positive romance stories featuring Black heroines.
Louise Lennox plots highlight the joys of Black relationships across the diaspora; pushing readers from all cultural backgrounds to admire them for their strength and downright sexiness. In her novels sparks always fly; the sex amazes; and the characters always leave the world better than they found it through their love.
When she's not writing, Louise is enjoying her work as a school leader, wife, and mother of the two cutest dragons to ever walk the earth!
To learn more about #HappyBlackRomance and to score a free book or two, check out her website www.lovelouiselennox.com.
Follow:
Facebook
|
Facebook Group
|
Twitter
|
Instagram
|
Goodreads
|
Bookbub
|
Amazon
|
Website
|
Newsletter
This promotional event is brought to you by Indie Pen PR