Today we have the blog tour for Adorkable by Cookie O'Gorman! Check it out and be sure to grab your paperback copy today!
Book info: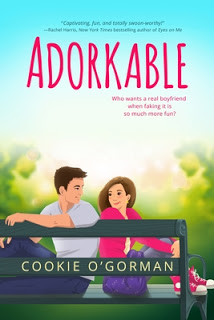 Title: Adorkable
Author: Cookie O'Gorman
Genre: YA Contemporary Romance
Release Date: December 3rd, 2019
Publisher: Entangled Teen

Source: E-galley from publisher which did not influence my opinion
My rating: 5 stars
About Adorkable:
"Captivating, fun, and totally swoon-worthy! This is the kind of story my reader heart craves." ―Rachel Harris, New York Times bestselling author of Eyes on Me
Available in print for the first time, and with exclusive bonus content only found in the print version! Fall in love with Sally and Becks all over again.
Adorkable (ah-dor-kuh-bul): Descriptive term meaning to be equal parts dorky and adorable. For reference, see Sally Spitz.
Seventeen-year-old Sally Spitz is done with dating. Or at least, she's done with the horrible blind dates/hookups/sneak attacks her matchmaking bestie, Hooker, sets her up on. There's only so much one geek girl and Gryffindor supporter can take.
Her solution: She needs a fake boyfriend. And fast.
Enter Becks, soccer phenom, all-around hottie, and Sally's best friend practically since birth. When Sally asks Becks to be her F.B.F. (fake boyfriend), Becks is only too happy to be used. He'd do anything for Sal―even if that means giving her PDA lessons in his bedroom, saying she's "more than pretty," and expertly kissing her at parties.
The problem: Sally's been in love with Becks all her life―and he's completely clueless.
This book features two best friends, one special-edition Yoda Snuggie, countless beneath-the-ear kisses, and begs the question:
Who wants a real boyfriend when faking it is so much more fun?
My Review

:
This book started off so adorably and I was hooked from page one! And I don't know if I can gush enough about how much I loved it, how happy I was when I finished! I loved Becks so much, and I love where his name came from, Baldwin Eugene Charles Kent, and that it was leftover from how they were naming all the kids after their uncles but there were four left! But sigh, Becks, he's like the book boyfriend I would have if I was still in high school and not an old high school librarian. But let's talk about Sally here too. You see, I was kind of like Sally. Totally felt like a nerd, had all the same feelings of inadequacy that she had, crushes on guys like Becks, (although none of them were my best friend). Also I didn't really date in high school. I had a blind date or two set up by friends that totally didn't work out. The banter was cute, the romance was sweet, and I even liked Ash, even if he wasn't going to be the guy for Sally. So many times I was with Sally and wanted to just slap her best friend Lillian who wouldn't quite trying to set her up. So much cuteness and sweetness in this book, I finished with a big goofy smile on my face!
About the Author: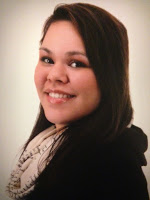 Cookie O'Gorman writes YA romance to give readers a taste of happily-ever-after. Small towns, quirky characters, and the awkward yet beautiful moments in life make up her books. Cookie also has a soft spot for nerds and ninjas.

Connect with Cookie:
Giveaway: