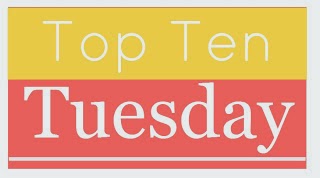 So, twice in one year I'm joining back into the Top Ten Tuesday, which is now sponsored by That Artsy Reader Girl. This week the topic was a freebie about things we are thankful for. I'm choosing to do things in the bookish or blogging world that I am thankful for.
1. Fellow book bloggers, I am thankful for you! I love that you are out there for me to talk to about the books I love and learn about new books and events from you. While I do have people in my life who read, no one reads or loves books and reading as much as you guys do!
2. This might sound kind of strange, but I am thankful for social media. If it wasn't for Twitter, I might never have had the chance to meet many authors. One of them met up with me in NYC the first time I visited my sister when she moved there. Another time a local librarian saw a post I made about an author and tweeted me to let me know that author was going to be at their library and I could go meet them. Facebook is awesome for getting to talk to authors and also learning about different types of book conventions like NOLA Storycon, Apollycon, and Book Bonanza.
3. Following off that last one, I am thankful for book conventions like NOLA Storycon, Apollycon, and Book Bonanza. Not to mention Book Expo and ALA. If it wasn't for wanting to meet Jennifer L. Armentrout I might not have gone to NOLA Storycon, and if I hadn't went to that, I wouldn't have ended up reading a lot of who are now some of my favorite authors that I only started because I wanted to read authors attending that event like Jay Crownover and Samantha Young to name a few.
4. I am thankful to finally have a library job. I love books and reading and I have always loved sharing my love of books and reading with my students. But finally being in a library where that is my specific job is heaven.
5. I am thankful that my dad decided to start me reading when I was three years old. And I'm also thankful for that sale at the JCPenney Outlet when I was a kid on a bunch of Nancy Drew books that my mom bought them and got me really hooked on reading.
6. I am thankful for my years of working at the bookstore. As much as I hate having to have a second job, the bookstore is really a great place for me. I love seeing all the new books. And I got my very first ARC from the bookstore where I work many years ago.
7. Speaking of the last one with ARCs, I am thankful for e-books and all the opportunities for even more advanced copies I've gotten to read because of that.
8. I am going to say that I am thankful for the Twilight series because those books brought me and my sister closer together because of our love of the books. It is part of the reason I visited NYC two more times than I might have otherwise, because we had to carry on our tradition of going to see the movies on their opening weekend.
9. I am thankful to the people who made the Harry Potter series into movies for doing such a good job and bringing our favorites to life, as well as Universal Studios for creating that amazing amusement park!
10. And finally I am thankful to the bloggers who sponsor fun weekly posts like Top Ten Tuesday, Can't Wait Wednesday, etc. You give us a place to all come together and share our thoughts and fun book ideas!
To all my fellow American bloggers, hope you have a great Thanksgiving this week! I'm enjoying a full week off from school this year! Great for writing and reading!