Book info: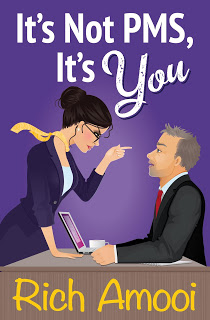 Title: It's Not PMS, It's You
Author: Rich Amooi
Genre: Adult contemporary romance
Release Date: October 31st, 2019

Source: E-galley from Rachel's Random Resources which did not influence my opinion
My rating: 5 stars
Synopsis:
"Romantic Comedy of the Year!"
"I loved every second of this book!"
"Warning: This author causes book hangovers."
"Oh my. Be still my heart."
"Laugh out loud of epic proportions."
"Loved it. Still laughing."
Ruth
"Ruthless" Harper is on the verge of becoming managing partner at her
all-male consulting firm and she won't let anything stand in her way.
That includes men, relationships, and that dreaded F word,
FEELINGS—distractions she eliminated long ago.
After the worst
day ever (a near-death experience and a public wedgie, for starters),
Ruth realizes she doesn't want to live and die alone. She puts together a
business plan to find the perfect man and dives head first into the
murky online dating pool. All she wants is a high-powered executive who
understands how important her career is. If only it were that easy.
Problem
is most men are intimidated by Ruth's confidence and shocked by her
bluntness. The exception being her landscape designer, Nick, whose cool
demeanor and unsolicited dating advice are driving her nuts. He's the
antithesis of the business-oriented man Ruth envisions for herself, so
why do all signs keep pointing back to him?
A romantic comedy novel for the ages. Order now. Don't delay. Operators are standing by.
My Review:
I've really become a fan of this author after the last two that I read and loved. And let's just say I'm not getting any younger instead of talking about how I'm getting older, three years away from 50 as of this past October. So the title and of course synopsis of this one called to me. It still makes me feel old to have a character that is 45 years old with an adult daughter like Nick has, but I guess it's only true! Now, while I may not be quite the workaholic that Ruth is, I definitely get where she's coming from. I do work two jobs, and could probably quit one and just stop buying as much stuff as I do, but I am lonely and can't seem to meet anyone, so I think my stuff makes me happy, so I have to keep working in order to buy it. It's a vicious circle.


But about the book, Ruth was hilarious, and her dating misadventures even better! I loved her friend Dee, and it was impossible not to fall in love with Nick. While I wish we'd maybe had a few more chapters from his point of view towards the middle, we always got his chapters when we needed him. Their whole relationship development was perfect, how it started as acquaintances with attractions to each other, to friends who were attracted to each other, to finally giving in and just accepting that everyone around them was right and they were meant for each other. The big end obstacle to overcome came right when I expected it to, and almost at the exact moment I expected, but even though it started out as what I thought would do it, it quickly changed and I was definitely surprised and saddened. I do like that the author was able to fix or wrap up the issue in a way that was quick and not over drawn out like they can be sometimes.


Once again, I'll say that this author is going to be one I'll be checking out all his new stuff, and I need to find time to go back and ready his books I've missed out on.
About the Author:

Rich Amooi
is a former radio personality and DJ who now writes romantic comedies full-time
in San Diego, California. He is happily married to a kiss monster imported from
Spain. Rich believes in public displays of affection, silliness, infinite
possibilities, donuts, gratitude, laughter, and happily ever after.
Social
Media Links –
Giveaway to Win a $25 Amazon Gift Card (Open
INT)
*Terms and Conditions
–Worldwide entries welcome. Please
enter using the Rafflecopter box below. The winner will be selected at
random via Rafflecopter from all valid entries and will be notified by Twitter
and/or email. If no response is received within 7 days then Rachel's Random
Resources reserves the right to select an alternative winner. Open to all
entrants aged 18 or over. Any personal data given as part of the
competition entry is used for this purpose only and will not be shared with
third parties, with the exception of the winners' information. This will passed
to the giveaway organiser and used only for fulfilment of the prize, after
which time Rachel's Random Resources will delete the data. I am not
responsible for despatch or delivery of the prize.
a Rafflecopter giveaway