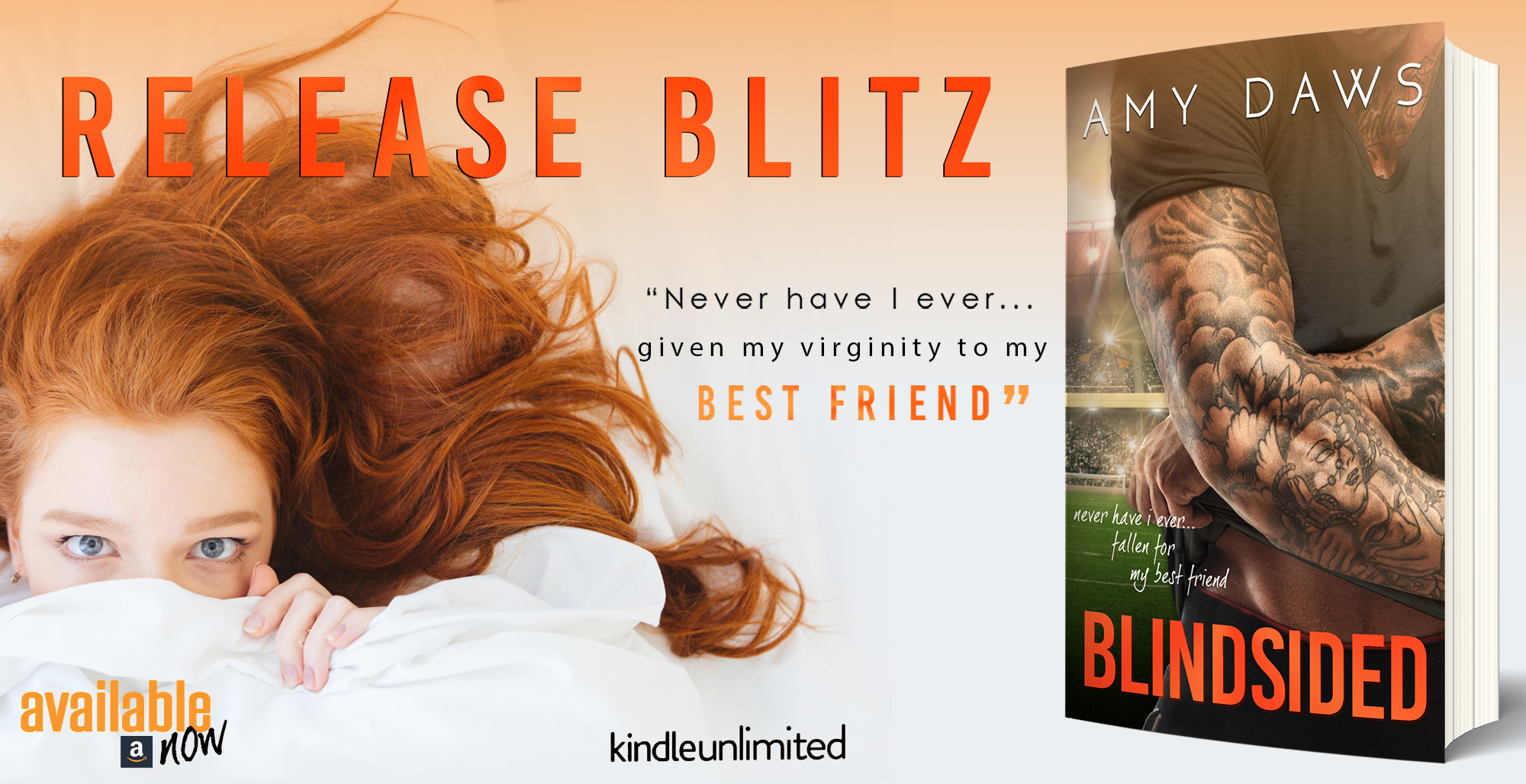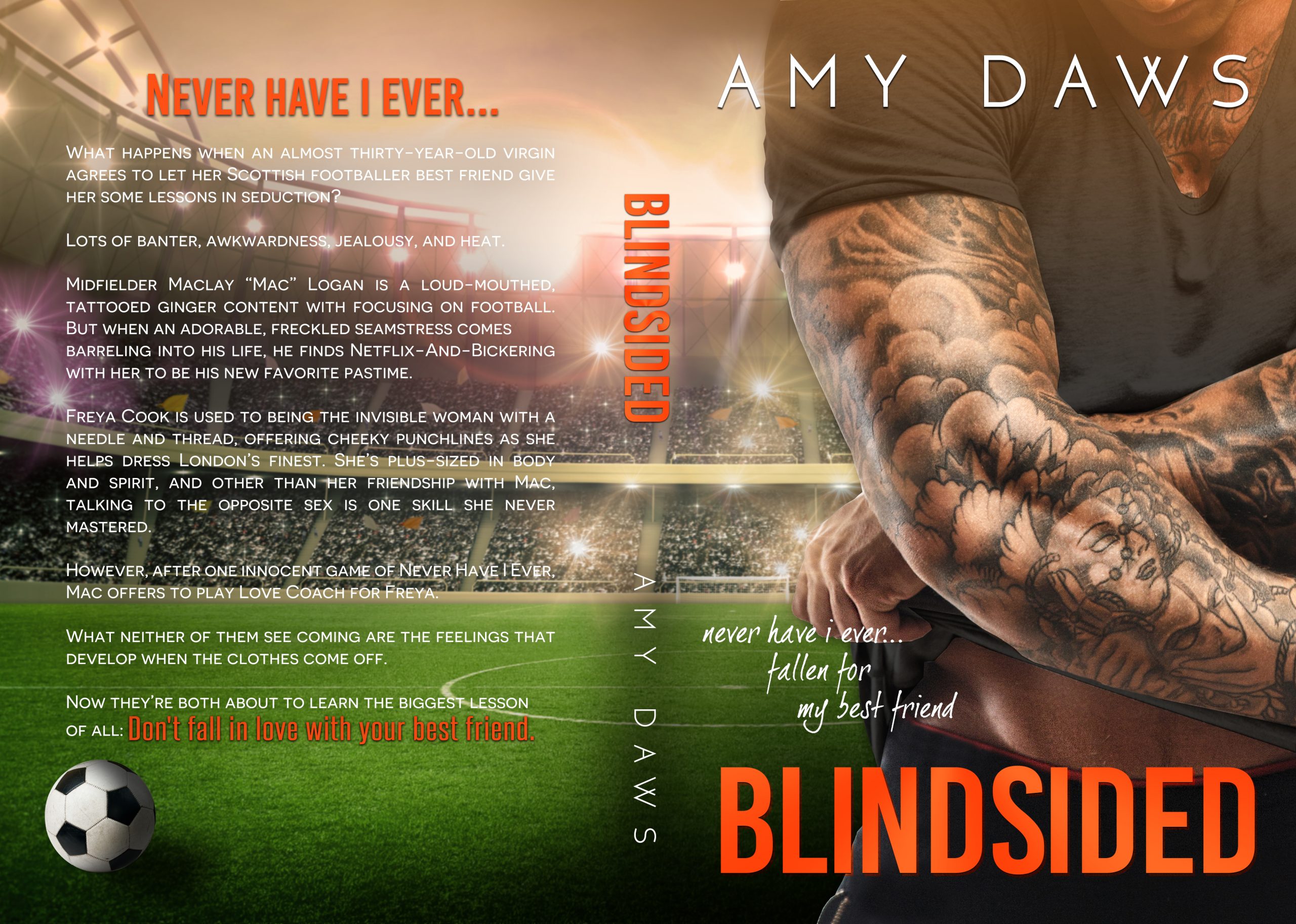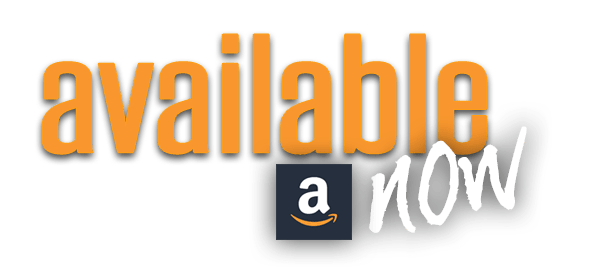 Book info: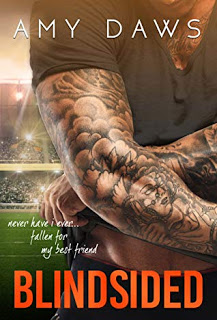 Title: Blindsided
Author: Amy Daws
Genre: Adult contemporary sports romance
Release Date: November 21st, 2019
Cover Designer: Amy Daws

Source: E-galley from author which did not influence my opinion
My rating: 5 stars
Synopsis:
What happens when an almost thirty-year-old virgin agrees to let her Scottish footballer best friend give her some lessons in seduction?
Lots of banter, awkwardness, jealousy, and heat.
Midfielder Maclay "Mac" Logan is a loud-mouthed, tattooed ginger content with focusing on football. But when an adorably-freckled seamstress comes barreling into his life, he finds Netflix-And-Bickering with her to be his new favorite pastime.
Freya Cook is used to being the invisible woman with a needle and thread, offering cheeky punchlines as she helps dress London's finest. She's plus-sized in body and spirit, and other than her friendship with Mac, talking to the opposite sex is one skill she never mastered.
However, after one innocent game of Never Have I Ever, Mac offers to play Love Coach for Freya.
What neither of them see coming are the feelings that develop when the clothes come off.
Now they're both about to learn the biggest lesson of all: Don't fall in love with your best friend.

Starting a new book by Amy Daws is like putting on your comfy flannel pj pants and curling up under a soft, warm blanket in your favorite cozy reading spot. I know I'm going to laugh, and laugh I did throughout this entire book, the sexy scenes will leave me hot, and there's a very good chance I will be in tears at some point in the story, which I was full blown tears streaming down my face, sniffling too.
The funnies began with Freya and Mac's relationship and when they would be "in a fight". And then it went on to Freya's fumbled conversation with the barista that she was kind of interested in. Oh my gosh, and then the Never Have I Ever game, and learning what a dirty Sanchez is, and that's just eww, no, what is the point of that even?
Of course since I love the soccer players that this author writes, and all the family and friends, getting to spend so much time with the Harris clan and friends is part of what makes this like cuddling up with a good book, or going back to that bar where everyone knows your name. Mac, I adored him! And then there is all the similarities to Freya that I felt. The way she felt that after her month with Mac, she'd probably never get to experience that again. I'm in a stage of my life where I feel the same. That I had a fun time when I was younger, and now it's all over and doesn't ever seem like it will change. So when Mac pushed her away at the end because of things changing, even though he knew he loved her, that's when my tears started.
But the way he went about winning her back at the end was perfect, I just think I'd love a relationship like that, with the arguing and being "in a fight" all the time.
There was definitely a little bit that reminded me of one of my all time favorite books with one of my top book boyfriends, Nate Sawyer from Before Jamaica Lane by Samantha Young. So I loved that. I usually adore all the ways that this author fits in the different jargon and unique phrases used by the characters based on where they're from. But in this case, the bleddy bit didn't make a ton of sense, it bugged me too much. And then there was some "ag" thing at the end that I also didn't really get. None of that matters though, because I love, love, loved the book, the story, and also, I think we need Mac's sister's story next!

I wake the next morning to a rough tongue touching my nipple. A smile spreads across my face as I open my eyes and expect to find Freya. My face falls when I see it's her fucking demon of a cat laving at my pec like it's going to produce milk at any moment.
"Fuck off, you wee bastard!" I bellow and shove the animal off my chest.
Hercules takes off down the hallway, and a snort echoes in the room. I turn my gaze to find Freya perched on a chair in the corner of her bedroom. She's dressed in a long nightshirt, her red hair a wild mess of curls, and her makeup smudged like she was properly fucked last night. And she looks positively entertained.
"Did you just sit there and watch your cat violate me?" I croak, sitting up and rubbing my tender nipple.
She giggles and steadies herself so as not to spill the two cups of coffee in her hands. "I came in to bring you a coffee, but Hercules looked like he was warming up to you, so I just sat down here to not interrupt. I had no idea he was going to lick your tit." She bursts out laughing all over again.
"You and I are in a fight then," I reply gruffly, propping myself up on the headboard of her bed. "That was disturbing."
She nods, her face still tormented with poorly concealed laughter. "For us all."
Check out Amy's Facebook page for an awesome paperback giveaway!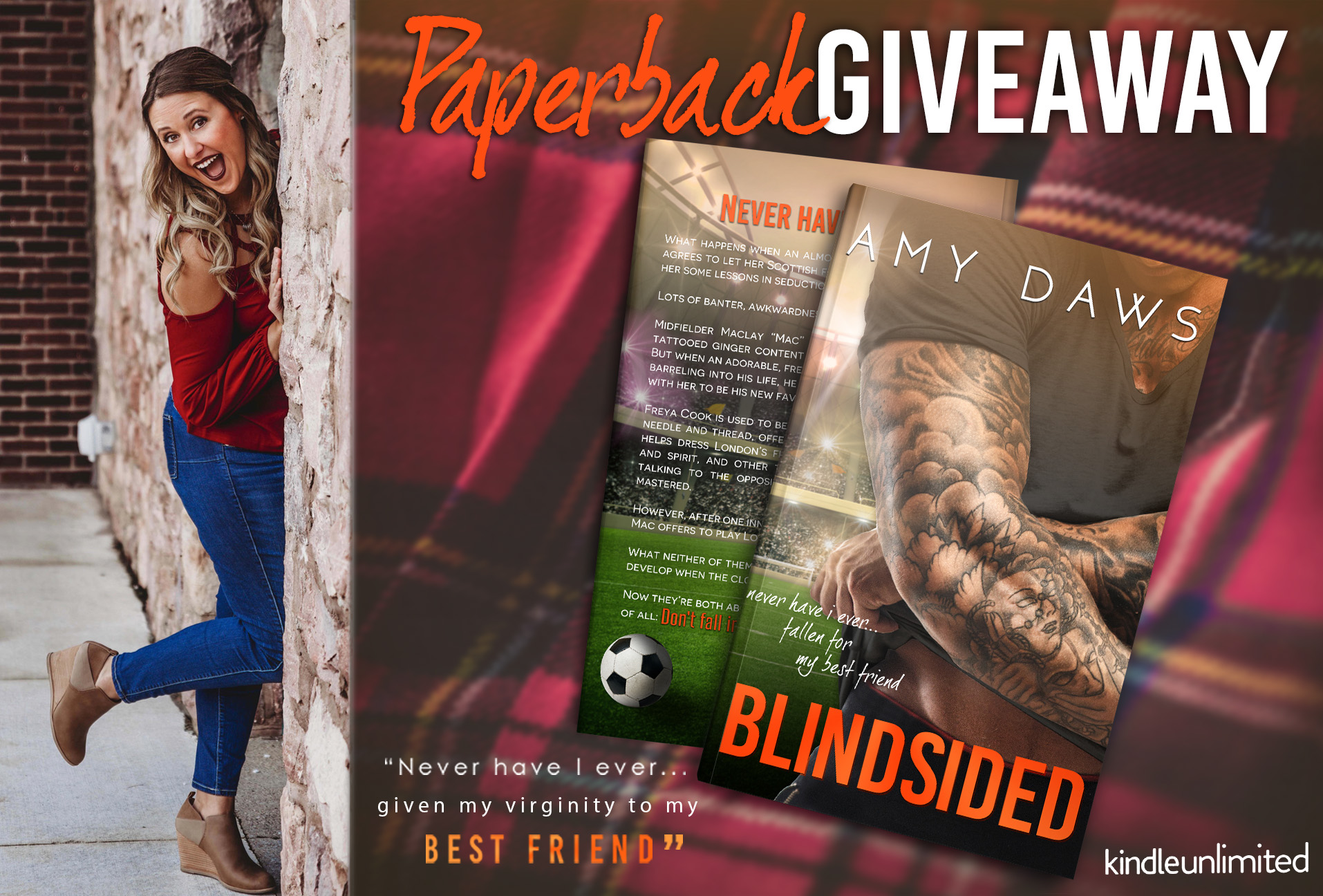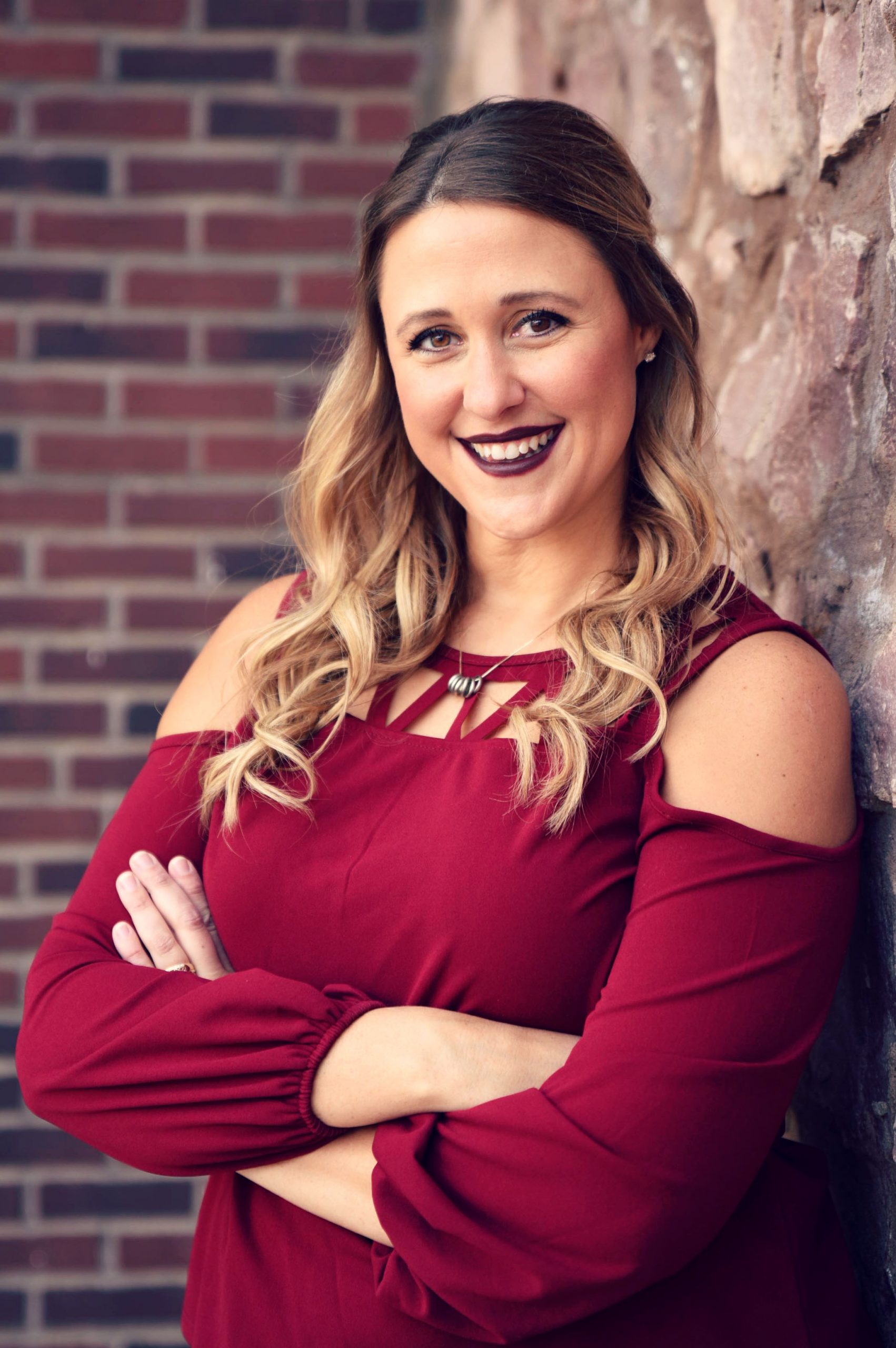 Amy Daws is an Amazon Top 25 bestselling author of sexy, contemporary romance novels. She enjoys writing love stories that take place in America, as well as across the pond in England. When Amy is not writing in a tire shop waiting room, she's watching
Gilmore Girls
, or singing karaoke in the living room with her daughter while Daddy smiles awkwardly from a distance. For more of Amy's work, visit:
http://www.amydawsauthor.com