Book info: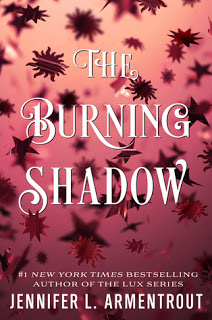 Title: The Burning Shadow
Author: Jennifer L. Armentrout
Series: Origin #2
Genre: NA paranormal romance
Release Date: October 8th, 2019
Publisher: Tor Teen
Source: ARC received through books for trade on Twitter
My rating: 5 stars
Synopsis:
#1 New York Times, USA Today, and internationally bestselling author Jennifer L. Armentrout returns to the world of the Lux with The Burning Shadow, the steamy, shocking second installment of the Origin series that will leave readers reeling.
When
Evelyn Dasher crossed paths with Luc, she was thrown headfirst into the
world of the Lux―only to discover that she was already far more
involved in their world than she ever suspected.
Because the
Luxen aren't the only ones with a hidden past. There's a gap in Evie's
memory, lost months of her life and a lingering sense that something
happened, something she can't remember and nobody is willing to tell
her. She needs to find out the truth about who she is―and who she was.
But every answer she finds only brings up more questions.
Her
search for the truth brings her ever closer to Luc, the Origin at the
center of it all. He's powerful, arrogant, inhumanly beautiful,
extremely dangerous…and possibly in love with her. But even as Evie
falls for him, she can't help but wonder if his attraction is to her, or
to the memory of a girl who no longer exists.
And all the while,
a new threat looms: reports of a flu-like, fatal virus that the
government insists is being spread by Luxen. A horrifying illness that
changes whoever it touches, spreading panic across a country already at
its breaking point.
My Review:
I hate that I got so behind on reading once school started back because I was so excited to read this one! Of course once I did pick this one up, it was so hard to put down, well, other than how big the book is, so it was hard to hold for too long either! LOL!! There were so many new obstacles and things with the Luxen and Arum and Origins and even some new people/creatures/beings/secret organizations thrown in. And yeah, all four of those things, not me just trying to be random. I was also so excited when there was something that happened in the book that took place in my city of Kansas City, and I knew exactly where it was supposed to be happening! So much back story learned during this one, but also so many more questions and things we need to know! And that ending! Wow! Total cliffhanger. I still adore Luc of course, but maybe still Daemon more though. But now we need to know exactly what is happening to Evie. I will say I got a little annoyed with her whole wondering if he only loved the girl he remembered and that his feeling weren't really for her now. Hopefully she'll move on from that in the next book. Which, do I have to wait a whole year? Because I don't know if I can wait! Well, my arms can, they did get a little tired holding this one in bed at night. Honestly, this size of book is exactly why e-books are sometimes better! Oh yeah, and I loved seeing the name of a former book blogger that I know is friends with the author for one of the characters.