"A sexy, heartwarming read!" —Elle Kennedy, New York Times bestselling author
A Lie for a Lie, an all-new sexy second chance romance from
New York Times
bestselling author Helena Hunting is available now!
Book info:
Title: A Lie for Lie
Author: Helena Hunting
Series: All In #1
Genre: Adult contemporary romance
Release Date: October 15th, 2019

Publisher: Montlake Romance
Source: E-galley from Pitch Lit/Social Butterfly PR which did not influence my opinion
My rating: 5 stars
Synopsis:
From the New York Times bestselling author of the Pucked series comes a romantic comedy about instant attraction, second chances, and not-so-little white lies.
Sometimes I need an escape from the demands, the puck bunnies, and the notoriety that come with being an NHL team captain. I just want to be a normal guy for a few weeks. So when I leave Chicago for some peace and quiet, the last thing I expect is for a gorgeous woman to literally fall into my lap on a flight to Alaska. Even better, she has absolutely no idea who I am.
Lainey is the perfect escape from my life. My plan for seclusion becomes a monthlong sex fest punctuated with domestic bliss. But it ends just as abruptly as it began. When I'm called away on a family emergency, I realize too late that I have no way to contact Lainey.
A year later, a chance encounter throws Lainey and me together again. But I still have a lie hanging over my head, and Lainey's keeping secrets of her own. With more than lust at stake, the truth may be our game changer.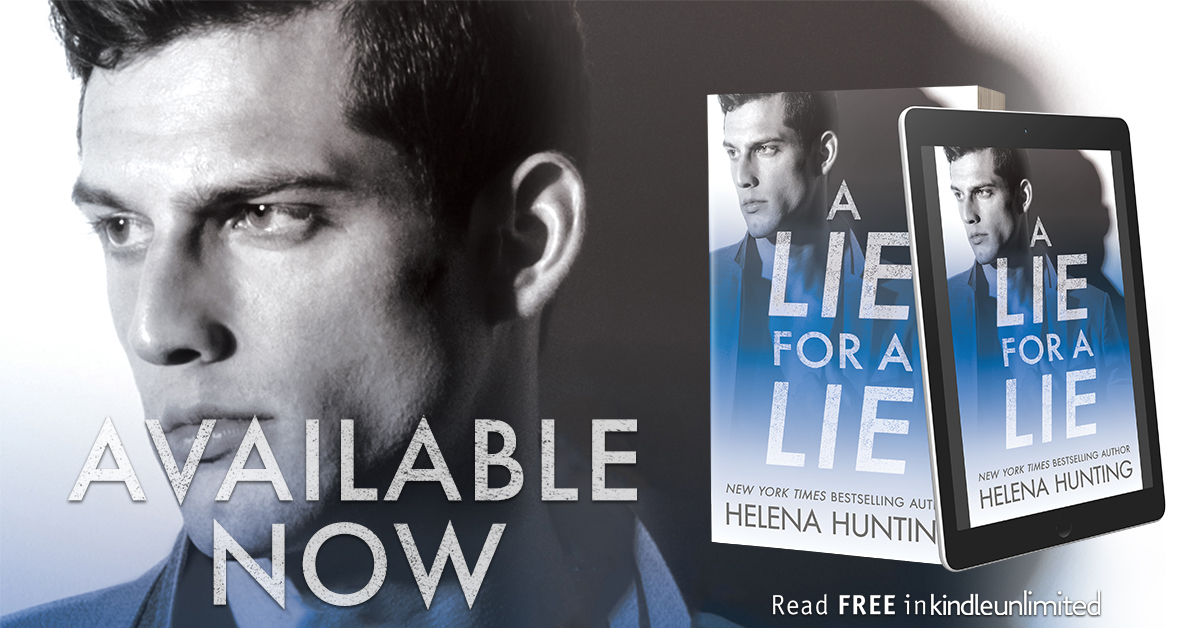 I don't know how she does it, but I was sucked right into this book within the very first page. Of course it probably helped having a few of my favorite characters from the Pucked series to ease me into these characters. But it wasn't just the familiar ones that made me love this story, it was that once again Hunting has created characters that you can't help but fall in love with. I'm almost positive that Rook, or RJ, is going to be my new book boyfriend. In Hunting's hockey world, he's pretty close to beating out Randy for me. Of course it is obvious right away what RJ's lie is going to be, even from the synopsis above you know it will have something to do with who he is. And in the story, we're pretty much figuring it out pretty quickly. However, Lainey's lie isn't quite as straight forward, we go almost half way through the story before we find out. And honestly, her lie doesn't really count like his lie does, in my opinion. I like the way Hunting handled this side of the story, and I want to say how much I adored certain things, but can't do it without giving away Lainey's lie. We also get some new characters added, RJ's family for instance, and I see that his sister is going to be one of the main characters in the second book. I have a guess at who her love interest will be, which of RJ's new teammates, and I think I'm really looking forward to book 2, so, is it 2020 yet?
Oh yeah, and I forgot to mention how much I love when Violet is around. I adore her and her sense of humor. So happy that the author includes her and that she'll be in the next book too!
Download your copy today or read FREE in Kindle Unlimited!
Excerpt
I stuff my earbuds in and cue up a movie on my entertainment console. After the last flight, I deserve three hours of brain candy.
Just as I settle on an action flick, a body lands in my lap. At first, I think I'm being accosted—yet again. It's not unusual for women to literally throw themselves at me. Typically I'm not on a plane, though, but considering my last flight I shouldn't be surprised by anything right now. "What the—"
"I'm so sorry!" says the voice attached to the body in my lap. She scrambles to right herself but jerks back, gagging, her tidal wave of silky, dark hair slapping me in the face. It smells like mint and cucumber, which would be nice if it weren't in my mouth.
She grabs my shirt with one hand and catches my earbuds, yanking them free. The other hand curls under the fabric wrapped tightly around her throat. She's sprawled across my lap, legs hanging over the armrest, face level with mine. She's totally blocking the aisle, making it impossible for anyone to get by and creating quite the spectacle. "My scarf is caught," she rasps. "Oh my God. I'm choking myself. I'm so sorry. This is so embarrassing." The more she struggles, the more the scarf tightens, which in turn causes her to flail.
I slide a supporting arm behind her. "Stay still for a sec."
She freezes, still gripping my shirt, eyes wide with panic. I turn my head to the side and lean forward. Her lips connect with my cheek.
"Oh!" She tries to turn away, but she really is stuck, so her nose ends up in my ear and her lips are still pressed against my jaw.
"Just give me a few more seconds, and you'll be free." She exhales heavily against my jaw, warm breath making my skin prickle. I lift her carry-on and use my foot to pull the scarf free from the wheel.
She loosens the fabric around her throat, dragging in a long, deep breath. "Thank you. So much. Choking to death on an attractive man's lap really isn't the way I wanted to go." She squeezes her eyes shut and pushes to a stand. "I'm so sorry."
She keeps her gaze averted as she gathers up the scarf that never seems to end. It gives me time to check her out. Well, shit. This woman is hot. Like Pour a gallon of gasoline on me and light me on fire hot. She has long dark hair, a shade of brown so deep it's nearly black. Her eyes are the color of coffee or chocolate—something with caffeine in it. Something that would amp me up. And her face . . . daaaaamn. High cheekbones, full lips, a dainty nose, arched brows, thick lashes.
I take in the rest of the package, which gives me pause because her outfit is just . . . out there. She's wearing a full-on parka, hiding her figure, but based on her legs I'm thinking she's probably slender. That's a guess, though, with all the layers she has going on. And that scarf has to be a mile long with how many times she winds it around her neck, hence the near strangulation.
Her little wardrobe malfunction has resulted in a line of people waiting to board, so she rushes down the aisle, throwing another "So sorry" over her shoulder as she disappears into coach.
I'm almost disappointed. Almost, but not quite. I plug my earbuds back in and veg out to movies for the next three hours.
About Helena Hunting
New York Times
and
USA Today
bestselling author of PUCKED, Helena Hunting lives on the outskirts of Toronto with her incredibly tolerant family and two moderately intolerant cats. She's writes contemporary romance ranging from new adult angst to romantic sports comedy.
Connect with Helena