Book info: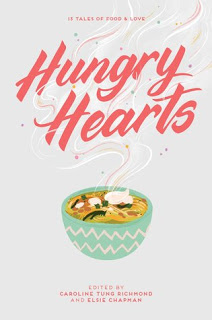 Title: Hungry Hearts
Author: Elsie Chaptman – Editor
Genre: YA anthology
Release Date: June 18th, 2019
Publisher: Simon Pulse
Source: E-galley from Netgalley/Publisher which did not influence my opinion
My rating: 5 stars
Synopsis:
From some of your favorite bestselling and critically acclaimed authors—including Sandhya Menon, Anna-Marie McLemore, and Rin Chupeco—comes a collection of interconnected short stories that explore the intersection of family, culture, and food in the lives of thirteen teens.

A shy teenager attempts to express how she really feels through the confections she makes at her family's pasteleria. A tourist from Montenegro desperately seeks a magic soup dumpling that could cure his fear of death. An aspiring chef realizes that butter and soul are the key ingredients to win a cooking competition that could win him the money to save his mother's life.

Welcome to Hungry Hearts Row, where the answers to most of life's hard questions are kneaded, rolled, baked. Where a typical greeting is, "Have you had anything to eat?" Where magic and food and love are sometimes one and the same.

Told in interconnected short stories, Hungry Hearts explores the many meanings food can take on beyond mere nourishment. It can symbolize love and despair, family and culture, belonging and home.
My Review:
So, I haven't completely read all the stories in this book, but I know that I'll probably not get back to it. So I'm going to count it as finished, and go ahead and post a review. I have to say that I really enjoyed this a lot, and will definitely recommend for teens to read it. Basically from what I read, the first story was short and sweet. I also decided after reading it that I had to actually Google some of the different food types to get an idea what they were. The second story was really dark, but in a good way! The third story was a bit predictable, but still very sweet and enjoyable. The fourth story was dark again, but this time the food wasn't anything I thought I'd want to try, but it fit perfectly into the story. Add Alsaid's story was really good, and made me wish that the setting in the book was real, because I wanted to go to that place! The Slender One story made me do a lot of googling to find out more about food, that one about some Asian foods. One story talked about deep fried foods, like I've always wanted to try deep fried butter ever since a story on the summer fairs that had that kind of thing. That story made me really want again to try it, and try it dipped in both chocolate sauce and melted peanut butter. Yummy! There was a story about fried chicken, as well as a story about a recipe needing more heart. All the stories I got through were great, and I hope to have time some day to go back and finish. But I doubt there is anything that is disappointing in this wonderful anthology, just more stories to make your mouth water!