Book info: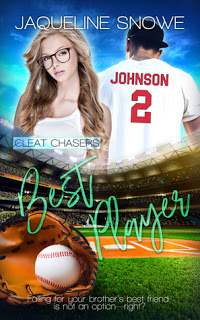 Title: Best Player
Author: Jaqueline Snowe
Series: The Cleat Chasers #3
Genre: NA sports romance
Release Date: August 6th, 2019
Publisher: Finch Books
Source: E-galley from YA Bound Books which did not influence my opinion
My rating: 4 stars
Synopsis:
Falling for my brother's best friend is not an option—right?
Kenzie
Hill needs a place to stay the summer before college, so when a spot
opens up at her brother Aaron's 'baseball' house, she accepts. Living
with a bunch of dudes who walk around shirtless won't distract her—she
has plans and nothing will get in her way. Not even her brother's best
friend.
Tanner Johnson has one thing on his mind—his future in
the MLB. After choosing to wait another year before entering the draft,
he now dedicates every second to getting better on the field, or letting
loose. His best friend's sister shouldn't even register on his radar.
The
first kiss is an accident and the second leads to more. They agree
it'll just be a fling and that Aaron can never know. Kenzie's just
starting her future, while Tanner's is already planned.
Falling for her brother's best friend was never an option—but what happens when suddenly, it is?
Reader
advisory: This book contains scenes of underage characters drinking.
There are abusive and absent parents and a parent with cancer.
My Review:
So, this is a harder review to write than the one I did for book 2 in the series, The Game Changer. But, while I had some of the same issues in this one that I had with the first book, Challenge Accepted, I really did like the characters and the story in this one enough that I still gave it a full 4 stars instead of the 3.5 stars I was debating. I totally got all the issues that Tanner and Kenzie had with having more than a fling. And I feel the way that they handled all of it actually was pretty realistic. Neither wanting to give the other the wrong idea in order to not scare them away. The sex scenes were very steamy, although I found some of the dialog in them to be kind of hokey and a little over the top. Especially for a girl who is just barely a freshman in college. The only thing I feel was left a little unresolved was Tanner's dad. And since we didn't really have anything major happen with Kenzie and Aaron's dad, (thank goodness, they need a little break from that), it was just a little bit of sadness with that, but more for what they'd dealt with so far. Now, the reader advisor – Yes, there was underage drinking, but again, that was realistic for a college freshman. Sorry. I'm not going to get upset about that, it fit the story. This was another that I was turning pages constantly whenever I had time to read, because I wanted to know how the story would go. I love all the characters, and hope there will be another in the series, especially since there is at least one more roommate in this house that was gone for the summer, and he needs a woman still, right?