Book info:
Title: Resist
Author: K. Bromberg
Series: Wicked Ways #1
Genre: Adult contemporary romance
Release Date: July 30th, 2019
Publisher: Montlake Romance
Source: E-galley from Pitch Lit PR which did not influence my opinion
My rating: 5 stars
Synopsis:
From the New York Times bestselling author of the Driven series comes a powerful romance about reaching great heights through low depths.
Resist, the first in an all-new irresistible duet by
New York Times
bestselling author K. Bromberg is coming July 30th!
Who says you have to play by the rules to get what you want?
Agreeing to meet Ryker Lockhart is my first mistake. Rich, handsome, and more than intriguing, he thinks blackmail will bend me to his will.
I may have done a few things that weren't exactly legal, but I have my own reasons for that. The last thing I'm going to do is let some high-powered divorce attorney come into my life, have my body, and rule my heart. Not to mention ruin everything that I have carefully built in just a short amount of time.
But as much as I try to resist him, and against my better judgment, there is something about him that has me agreeing to his proposal.
I'm putting everything on the line for him. I just hope I won't lose everything when this is all over.
Pre-order your copy today!
Excerpt:
The
lobby is elegant, with its large chandeliers, but they're kept dim so
as to allow each of its patrons some privacy. Almost as if they know I'm
trying to hide some from the rest of the room for a bit. Soft classical
music flows from the overhead speakers as people mill about in evening
wear. There are hugs given among people, and laughs echo off the walls
and marble floors.
I
stand in the corner, surveying the crowd as nerves I don't want to
admit to run a riotous act within, and my mind tries to grapple for the
nth time with what I'm about to do.
You're keeping your reputation intact.
That's how I have to look at this. That's how I have to justify this.
Just
like that, my breath catches when Ryker Lockhart waltzes into the
lobby. I'm rarely affected by a man—sure, I can say one is handsome or
sexy or gorgeous, but rarely does a man really catch my eye.
But there he is . . . standing in the middle of the lobby, surveying everyone around him, making my pulse race.
He's
tall, his shoulders are broad, and there's an air about him that
screams authority while a magnetism about him makes people look his way.
And he hasn't even spoken a word to anyone yet.
He's
in a well-tailored tuxedo, everything black save for the crisp white
dress shirt beneath it. His hair is styled, and an expensive watch
glints at his wrist when he holds it up to look at the time.
Of course, that's my cue that I'm not there exactly on time, but I give him a few more seconds to make him wait.
It's all about power, even when I'm in a different pair of shoes.
With
a deep breath, I walk toward him, shoulders square, head high, and
remind myself that I'm not Vee right now. I can't act like we're on an
equal playing field.
He has hired me. I am his.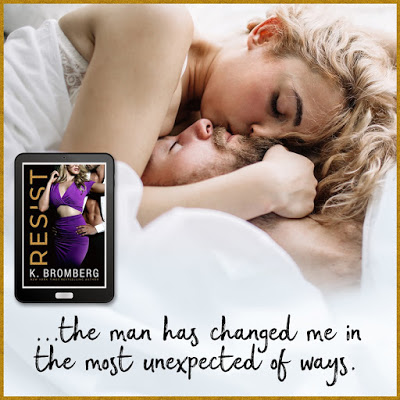 My Review:
No, you're not seeing double, but I somehow signed up to review this one for two different PR groups, so enjoy both posts today!
You know that I love K Bromberg if you've followed my blog for awhile now, and I'll read pretty much anything she writes. This book takes me back to the series that originally introduced me to her books. It has the emotion and the angst and all the feels that I got from reading Driven for the first time. Fortunately for me, unlike with that book, I know that there is another book, and that Bromberg likes to leave us hanging and needing the next book. Unfortunately for me, unlike with that book, the sequel isn't out yet, and so now I have to wait until September to find out where it is going!
I loved Vaughn, and I even loved Ryker right away. I could see all the problems that Vaughn was going to have though with her plan to try to adopt her niece. There's just so many ways her plan to raise the money to pay off her debt quickly could go wrong. Not to mention that we get some hints as we go through the book that she may have a stalker out there, someone we just don't know who it is. Although I have my suspicions of course. I also have my suspicions on what was really going on at the end, and I'm very anxious to read on and see if I'm right! Because I need my love for Ryker to be restored.
Hopefully I'll get to see the author at Book Bonanza a week from today and I can let her know what she's done to me with another cliffhanger.
Guest Post: A Pretty Woman With Power by K. Bromberg
Ryker Lockhart: Powerful. Unrelenting. Stubborn.
Vaughn Sanders: Defiant. Strong. Unyielding.


With
those two sets of characteristics, Ryker and Vaughn are definitely oil
and water one moment and then an ember met with gasoline the next. That
dynamic is what made writing them and their story so much fun in my
latest book, Resist. Their tale was a delicate dance though because the push and pull of the chase better be worth the reward for readers.
I
often enjoy taking characters and painting them with broad strokes
(i.e. Vaughn's profession) so that readers initially question them. Then
over the next 100,000 words, I love to smash their preconceived notions
so that they root for the heroine. So that they are right beside her
cheering her on and falling in love with the hero just like she is.
It's
not often an easy task to write a heroine, because women are often
harsher on female characters than they are males. Heroes can be over the
top alphas who are dominant and say all the wrong things, but once they
show vulnerability, we somehow forgive them. Heroines on the other
hand, are judged more fiercely. She's too weak. She's too strong. She's
too wishy- washy. She's being a b*tch for pushing him away. Making a
reader like a strong-willed female character isn't always an easy task.
So when you put two characters together who embody all of these things,
it's a delicate balance to have enough push and pull. Enough sexual
tension. Enough redeemable qualities so you can love them despite their
faults.
This challenge is one of the reasons I loved writing Resist (and its sequel Reveal).
I don't quite remember where the storyline came from, but I recall the
furious scribbling on paper as Ryker and Vaughn's story came to life in
my imagination. Take a strong-willed woman with a risqué job and give
her a real reason to need that job. Take a domineering divorce attorney
who deals with love gone wrong day-in and day-out, and force him to see
that there can be more than just sex between a man and a woman. That
love is, in fact, possible.
Challenge accepted.
Is Resist a subtle nod to the Pretty Woman trope?
I never really thought of it that way, but I can see the similarities
being drawn. Vaughn (my character) and Vivian (movie character) have
names that both start with the letter V. They both wear a red dress in a
scene. The both work in fields that deal with selling sex for profit . .
. but that's where the comparisons stop.
Vaughn
Sanders is a force to be reckoned with. Sure, she's a madam, but once
you get beneath the moniker, readers find a strong-willed woman taking
measures into her own hands for the benefit of someone else. Readers
will find a woman with a strong backbone and a take no prisoners
attitude. A woman they can't wait to see succeed. Sure, we throw in our
hero–Ryker, a senator you know is dirty somehow, an adorable niece, and
whole cast of other characters and situations and we're left trying to
figure out how it's all going to play out . . . but the one thing we
know for sure, is that we want Ryker and Vaughn to end up together.
Because hopefully when you finish Resist, like Ryker and Vaughn, you start to believe true love does in fact exist.
About the Author: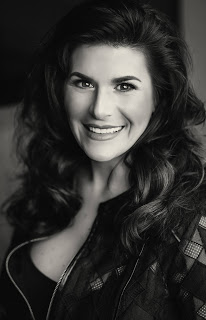 New York Times bestselling
author K. Bromberg writes contemporary romance novels that are sweet,
emotional, a lot sexy, and a little bit real. She likes to write strong
heroines and damaged heroes that readers love to hate but can't help
loving.

Since publishing her first book on a
whim in 2013, Bromberg has sold over 1.5 million copies of her books
across eighteen different countries and has repeatedly landed on the
bestseller lists for the New York Times, USA Today, and Wall Street Journal. Her Driven trilogy (Driven, Fueled, and Crashed) is currently being adapted for film by the streaming platform Passionflix, with Driven available now.

You
can find out more about this mom of three on any of her social media
accounts. The easiest way to stay up to date is to sign up for her
newsletter (http://bit.ly/254MWtI) or text "KBromberg" to 77948 to receive text alerts when a new book is released.
Social Media Links
Giveaway: