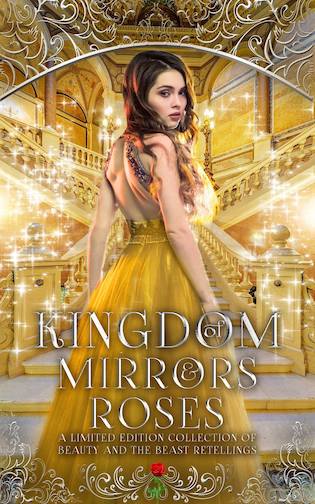 Book info:
Title: Kingdom of Mirrors and Roses: A Limited Edition of Beauty and the Beast Retellings
Publication date: August 1st 2019
Genres: Fairy Tales, Fantasy, New Adult
Synopsis:
Beauty and the Beast, but not how you remember it.
Deep in the forest, a castle hides. No one knows who lives there, but rumors of a beast keep people away.
Cloaked in shadows, hidden from view, a prince destroyed by a curse shuts himself away from the world, ashamed of the beast he's become.
And in the village, a beautiful girl with her nose in a book, yearns for something more.
True love is the only thing that can break his curse. True love is the one thing she's looking for, but how can they find true love when neither knows the other exists?
Find out if love really can defy all odds in this set of thirteen captivating retellings of the classic fairytale, filled with love, hope and the strength of two people willing to do whatever it takes…
One click now for your happily ever after.
Other books in the Kingdom of series…
Kingdom of Glass and Ashes (Cinderella retellings)
Kingdom of Salt and Sirens (Little Mermaid retellings)
Kingdom of Sand and Wishes (Aladdin retellings)
Kingdom of Mirrors and Roses (Beauty and the Beast retellings)
Kingdom of Thorns and Dreams (Sleeping Beauty retellings) coming soon
—
GIVEAWAY!