I got two great horror books to read and it just so happened they were coming out the same week, so I'm combining them in one post.
Five Midnights by Ann Davila Cardinal:
Release Date: June 4th, 2019
Publisher: Tor Teen
Source: ARC received from publisher which did not influence my opinion
My rating: 4 stars


Synopsis:
Five friends cursed. Five deadly fates. Five nights of retribución.

If Lupe Dávila and Javier Utierre can survive each other's company, together they can solve a series of grisly murders sweeping though Puerto Rico. But the clues lead them out of the real world and into the realm of myths and legends. And if they want to catch the killer, they'll have to step into the shadows to see what's lurking there—murderer, or monster?

Five Midnights is a "wickedly thrilling" (William Alexander) novel based on the el Cuco myth set against the backdrop of modern day Puerto Rico.

"A frightening, fast-paced thriller." —Julianna Baggott, Alex Award-winning author of Pure



My Review:
Right off the bat I got the total vibes of some of the horror movies I've seen in the theaters lately. And I could totally see this one at the theaters some day. This book was so much of exactly how I think some teenagers feel about adults and older people. For instance one part where the main character thought someone over the age of 30 was ancient. But the characters were very neat, I loved the atmosphere of Puerto Rico, and it definitely had a lot of misdirection to keep me on the edge of my seat as I read. Now one thing that really was fun was all the talk of the authentic Puerto Rican food. There are so many things I want to try now! I definitely will be recommending this at the bookstore where I work this summer, as well as purchasing it for my school library. I get those teens asking for good horror stories and I have been searching for some good YA books, and this fits in! As much as I do like Stephen King and recommend him, it is nice to have a really good YA horror story to fall back on for those intimidated by the size of his books.
The Haunted by Danielle Vega: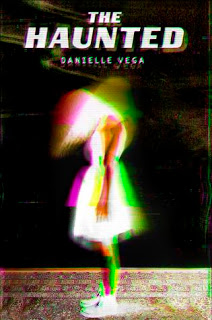 Release Date: June 4th, 2019
Publisher: Razorbill
Source: ARC won from Bookish First raffle which did not influence my opinion
My rating: 5 stars

Synopsis:
From Danielle Vega, YA's answer to Stephen King, comes a new paranormal novel about dark family secrets, deep-seated vengeance, and the horrifying truth that evil often lurks in the unlikeliest of places.

Hendricks Becker-O'Malley is new in town, and she's bringing baggage with her. With a dark and wild past, Hendricks doesn't think the small town her parents moved her to has much to offer her in terms of excitement. She plans on laying low, but when she's suddenly welcomed into the popular crowd at school, things don't go as expected.

Hendricks learns from her new friends that the fixer-upper her parents are so excited about is notorious in town. Local legend says it's haunted. Hendricks doesn't believe it. Until she's forced to. Blood-curdling screams erupt from the basement, her little brother wakes up covered in scratches, and something, or someone pushes her dad down the stairs. With help from the mysterious boy next door, Hendricks makes it her mission to take down the ghosts . . . if they don't take her first.
My Review:
Another book that reminded me so much of a horror movie. And the ending was perfect! Fit in again with today's horror movie endings, in that it wasn't quite what you'd expected, even with solving the haunting the way they did. There were the moments that were so scary and horrifying. People really getting hurt or attacked. This is my first book by Danielle Vega, although I've wanted to read her books before. Now she'll be higher on my list to check out. I started adding her other series in my school library, and I'll be sure to finish adding all of the books in the series, as well as this one, for those students looking for a good horror story.