Title: Boyfriend Bargain
Author: Ilsa Madden-Mills
Genre: New Adult Hockey Romance
Release Date: May 5th, 2019
Source: E-galley received from Enticing Journey Book Promotion which did not influence my opinion.
My rating: 5 stars

"Who can turn down a bad boy hockey star with a big . . . stick? Zack is hot hot hot, and Sugar is the perfect blend of sweet and sassy! Their chemistry sizzles in Boyfriend Bargain!" — Melanie Harlow, USA Today bestselling author
"A sports romance that has an emotional past, present, and future filled with love, lust and so much understanding moments between the characters that Ilsa has so beautifully created…" –Cristina Reads
"Ilsa Madden-Mills has once again KILLED me with her writing. Boyfriend Bargain is the PERFECT new adult college sports romance." –Mells View
"It's a definite must read and in the running for my "Best Reads of 2019!" –Bibliophile Chloe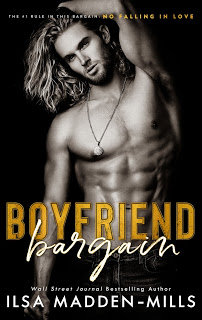 Wall Street Journal bestselling author Ilsa Madden-Mills returns with an all-new swoon-fest of a novel about what happens when you take a chance on love.
Wanted: one hot guy with rock-hard abs and a big stick
Broke and desperate, Sugar Ryan has no use for arrogant, bad boy athletes . . . until she's forced to bargain with the cockiest of them all.
If only he knew she was alive.
Her mission? Get on this hockey player's radar any way possible.
Zack Morgan is the king of the ice and the bedroom—but nothing prepares him for the mystery girl who shows up everywhere he does—frat parties, his favorite bar, and finally his front door with an offer he can't refuse. The only rule in her boyfriend bargain: no falling in love.
But after one smoking-hot hook-up, he's done with pretending and vows to make their fake relationship real. Too bad she can't trust a player with a reputation for breaking hearts.
Will this hockey star score his forever girl or will their Boyfriend Bargain end in heartbreak?
It's been a while since I read a book by this author, who is one of my favorites, but I was hooked from page one! It seemed a bit long before we did find out just exactly how having Zack as her boyfriend would be something to help her with her law school goals, that is probably part of what kept me on the edge of the seat as I read. I also seemed to have forgotten just how hot and steamy this authors books are, and was very happy to read and enjoy the naughty bits in this story. And then, Zack, hot, sexy, sweet, I want him for myself! I loved so many little things about this book as well though. I loved that Sugar's guardian or only family left ran a strip club, and that it was used in this story not as a sleazy drug-filled place, but as a respectable (or as much as possible) type of place. Another little tidbit that I felt was perfect was how when the hockey guys walked into a party after a game, it mentioned that one of them was missing a tooth, and you rarely seem to hear that kind of thing in hockey romances it seems. Yeah, sure, part of the mention was that he just hadn't fixed it yet and was going to, but I like the realism of that little bit.
Loved this book, and if you love steamy new adult romance with hot hockey players, this is the book for you!

Wall Street Journal, New York Times, and USA Today best-selling author Ilsa Madden-Mills is best known for her contemporary romances ranging from new adult angst to romantic sports comedy.
Seven of her ten novels have placed in the Amazon US Store Top Six Best-seller List: Dirty English hit #1; Fake Fiancée and I Dare You hit #2; I Bet You, Filthy English, and Very Bad Things all placed #6 in the Amazon US Store.
The Last Guy, her collaboration with Tia Louise, hit #4.
A former high school English teacher, she adores all things Pride and Prejudice, and of course, Mr. Darcy is her ultimate hero.
She's addicted to frothy coffee beverages, cheesy magnets, and any book featuring unicorns and sword-wielding females. Feel free to stalk her online.