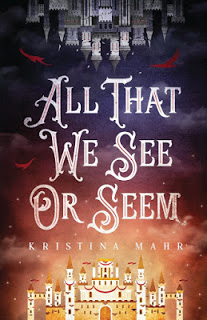 Title:
All
That We See or Seem
Author
:
Kristina Bahr
Series: Dreamworld Duology #1
Genre: YA Dark Fairy
Tale
Release Date: May 2018
Publisher: Uncommon Universes
Press LLC
Summary:
Every night,
seventeen-year-old Reeve Lennox finds herself under a noose.
By day she is a lady
of Acarsaid's royal house, daydreaming of adventure and love. But every night
in sleep she wanders through a nightmarish city, an invisible witness to the
screeches of monsters and the screams of their victims. Her only consolation is
Bran, a battle-torn young man with a selfless heart and eyes that reflect the
stars.
Yet while Reeve falls
deeper into her dreams, in truth she is engaged to Arden, a mercurial nobleman
who has long been cured of his belief in love and breathes fire and flattery
like other people breathe air.
Torn between two
lives, Reeve struggles to remember what's real, until night and day collide,
with a revelation that threatens all of Acarsaid.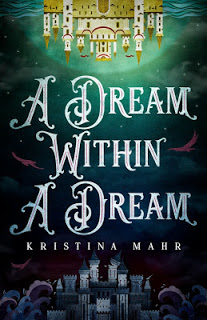 Title: A
Dream Within a Dream

Author: Kristina Mahr
Series: Dreamworld Duology #2
Genre: YA Dark Fairy
Tale
Release Date: March
2019
Publisher: Uncommon Universes
Press LLC
Summary:
Invisible to the man
she loves, Reeve Lennox fights to reclaim him from a dark world.
As her wedding day
nears in Acarsaid, her betrothed Arden offers only his wayward soul and saucy
tongue. At night she desperately tries to reach Bran, the young soldier of
nightmarish Tenebris who holds her heart. However, her king insists that the
realms of Tenebris and Acarsaid must remain separate, lest the evil wizard
Rancore brutally conquer all.
But the dark magic of
Tenebris defies mere distance. A war is coming, one only Reeve may be able to
prevent, if she can reunite her family on opposing sides.
With two kingdoms at
stake, Reeve must discover her strength and her family's legacy before all is
lost. Yet righting the wrongs of the past may require the sacrifice of her
truest love.
1. What does your writing process look like? Do you know the whole story when you start? Or do you just start writing and go with it (seat of the pants writing)? If you plan it out, how do you do that? Outline, notecards, post-it-notes, etc.?
I like to write with an outline, although I give myself plenty of freedom to stray from it. Typically, I will create an outline in an Excel spreadsheet. (I'm an accountant in my day job, so I live in Excel!) Each row will be a scene, and the columns will be broken into a general description of the scene, the characters within it, and some key details or lines I want to incorporate.
Then, once I've written about 25k-30k words, I will take a step back. Now that I've spent some time with my characters, I reevaluate my outline. Have I stuck to it or do I need to edit it to reflect different decisions I made along the way? Does it still feel true to the characters?
At this point, once I've reconfigured the outline, I like to make a plot map as a visual aid. I write each scene on an index card, pin them on a bulletin board, and use color-coded post-its beneath each index card with the elements I'd noted on my outline. I keep that bulletin board right in the middle of my living room for the rest of my drafting, so that I can look at it, visualize and get excited for upcoming scenes, and just turn it over in my mind in any free moment.
2. Do you edit as you go, or wait till you're finished before you edit? How many times would you say you go over it yourself before having another set of eyes look it over?
I do edit as I go! Typically, when I sit down for a writing session, I reread what I wrote in the prior session and see how it sounds, tidy it up, get back into where I'd left off, and then continue on. The perfectionist in me has a hard time moving on unless I'm happy with what I've written! This means that my first drafts are typically pretty clean, so I do one read-through when I'm done, revise what I think needs revising, and then send it off to my beta readers.
3. Are you part of a writers group that gets together and helps each other with their writing?
I have the world's best writing partner, Jenna, who I met at a writing workshop three years ago and who lives across the country from me, but we schedule Skype sessions at least once a week, but usually more like three times a week. We use that time to write, bounce ideas off of each other… and sometimes slack off. But for the most part, this holds me hugely accountable and ensures that I'm devoting a good amount of time to writing throughout the week.
4. How do you come up with your ideas for your stories?
A variety of places! The idea for All That We See or Seem came from a dream my sister had that she told me about. Two of the other books I've written came from short stories I've written when my writing partner and I were doing a weekly short story project. I knew when I finished them that I wanted to explore them more deeply. The project I'm working on right now comes from something I've been turning over in my head in my own life that felt like it could be explored through fiction.
5. How long have you been writing?
I dabbled in writing in high school and college, but I didn't truly begin writing until after college. And then it wasn't until a few years later that I started taking it seriously!
6. What tips do you have for aspiring writers?
Don't give up. Not before you start, not after you've started when the glow of starting a new story has worn off, not when you're in that messy middle where it feels like there's no light at the end of the tunnel. That's usually where you're one turn away from a breakthrough, so keep going! Also, it really helps me to treat it like a part-time job. Schedule out dedicated writing time each week. And, I know this is a common tip, but its importance cannot be overstated: read. Keep reading. Don't stop reading. It'll refill your creative well and give you so much inspiration and motivation.
7. How important are names in your books? Do you choose the names based on liking the way it sounds, or the meaning? Do you have any name choosing resources you recommend?
Names are so important to me! But the problem is — I am terrible at generating them. Luckily, I have a sister who loves names, so I'll throw some key details about a character at her (personality, appearance, etc), and then she'll throw back some names until she lands upon one that sounds right to me.
For locational names, I like to have some sort of meaning in there, which is why I chose Acarsaid (which means "harbour" in Gaelic) and Tenebris (which means "dark" in Latin) as the kingdom names in the Dreamworld Duology.
8. What are your favorite: Books/authors/genres Movies/TV Show?
Books: The Scorpio Races by Maggie Stiefvater and Belong to Me by Marisa de los Santos
Authors: Maggie Stiefvater, Tahereh Mafi, and Marisa de los Santos
Genres: Fantasy and Contemporary
Movies: The Philadelphia Story, Red Eye
TV Shows: The Office, Parks and Recreation, Peaky Blinders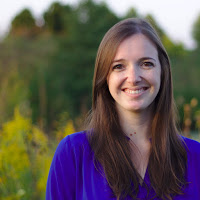 About the Author
:
Kristina Mahr devotes
her days to numbers and her nights to words. She works full-time as an
accountant in the suburbs of Chicago, where she lives with her two dogs and two
cats, but her true passion is writing. In her spare time, she enjoys spending
time with her family and friends, reading, and waking up at the crack of dawn
every weekend to watch the Premier League.
Blog Tour Organized By: