Book info: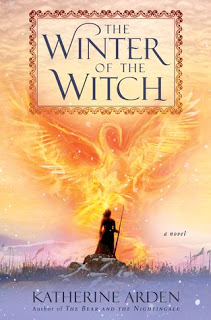 Title: The Winter of the Witch
Author: Katherine Arden
Series: Winternight Trilogy #3
Genre: Fairy tale retelling, historical fantasy
Release Date: January 8th, 2019
Publisher: Del Rey Books
Source: Finished copy received from publisher which did not influence my opinion
My rating: 4 stars
Synopsis:
Following their adventures in The Bear and the Nightingale and The Girl in the Tower, Vasya and Morozko return in this stunning conclusion to the bestselling Winternight Trilogy, battling enemies mortal and magical to save both Russias, the seen and the unseen.

Reviewers called Katherine Arden's novels The Bear and the Nightingale and The Girl in the Tower "lyrical," "emotionally stirring," and "utterly bewitching." The Winternight Trilogy introduced an unforgettable heroine, Vasilisa Petrovna, a girl determined to forge her own path in a world that would rather lock her away. Her gifts and her courage have drawn the attention of Morozko, the winter-king, but it is too soon to know if this connection will prove a blessing or a curse.

Now Moscow has been struck by disaster. Its people are searching for answers—and for someone to blame. Vasya finds herself alone, beset on all sides. The Grand Prince is in a rage, choosing allies that will lead him on a path to war and ruin. A wicked demon returns, stronger than ever and determined to spread chaos. Caught at the center of the conflict is Vasya, who finds the fate of two worlds resting on her shoulders. Her destiny uncertain, Vasya will uncover surprising truths about herself and her history as she desperately tries to save Russia, Morozko, and the magical world she treasures. But she may not be able to save them all.
My Review:
This is a series that definitely needs attention while you read it. You can't read this and watch tv or read a couple pages at a time and then do other stuff. It is a story that requires you to be able to sit and read for at least a good 15 minutes or more at a time. Not that this is a bad thing. It's just something you need to know. Overall, I'd say this was a really great ending to a trilogy that has a lot of interesting ideas as well as historical aspects in it. Now, if you haven't read the first two books, you should probably read those reviews first, and maybe not go on in this review, as I might spoil some things for you. My reviews are here: The Bear and the Nightingale and The Girl in the Tower.
Now the one thing that still annoyed me a bit in this one, even though by this third book I knew who all the names referred to for the most part, was having the same character called by two of three different names, often within the same page or paragraph at time. And sometimes those different names didn't match up like normal nicknames might, or they didn't refer to their position, like King or Prince, or whatever. Even though the author did address this point in the back notes of this book, and I understand her reasoning, it still made it a little difficult at times for the story to flow as easily for me. Of course, that may be something that is only a problem for me, but I like to point it out, since it is one of the things that kept me from speeding through it, even if the story was really good. I was definitely very happy for what finally happened in the bath house with Vasya and the Winter King. I'd been rooting for that for so long! The ending was good, and I liked again how the author talked about the actual history behind what had happened in this book and how she took her liberties with fitting the story around those things.
A great fantasy, with some great history and mythology/fairy tale retelling in it. A series I keep in my high school library, and recommend to anyone who wants more Russian themed stories.