They say the grass is greener on the other side…
As a good girl, I have to wonder if it's better on the naughty side of the fence.
BEST LAID PLANS, a sexy new standalone romance from #1 New York Times bestselling author Lauren Blakely, will be releasing on March 1, 2019 on all retailers! A friends-to-lovers romantic comedy with a fantastic twist on lessons in seduction, don't miss the stunning cover below, and pre-order your copy today!
About BEST LAID PLANS (Coming 3/1/2019):
That time I had the brilliant idea to ask my good friend for lessons in sex-ploration…
Awkward? Maybe. But how else is a good girl going to find out if she likes being naughty? I might be sweet as cherry pie, but I'm also bold and damn curious. And Gabe is charming, trustworthy, aces at seduction (or so I hear) and—bonus!— willing to give me lessons. But to guarantee it won't ruin our friendship, I have some specific requirements for his instruction. I want these classes to be hypothetical more than hands-on. So what if he's hella sexy? I can handle that, no problem.
***
I have it bad for Arden. She's bright, brilliant, insanely fun, and I want to take her home and spend all night together—and then spend the day with her, too. When she asks for my help, I see my chance to win her sweet heart by showing her how much fun we can have getting spicy. Trouble is, she has a different idea of what "sex-ploration" should mean. Now I'm going to have to get really clever to win her over.
Good thing I know exactly how to upend her best laid plans.
PRE-ORDER YOUR COPY TODAY!
✦Kindle LIVE alert (via Lauren's newsletter) ➜ https://blkly.pub/news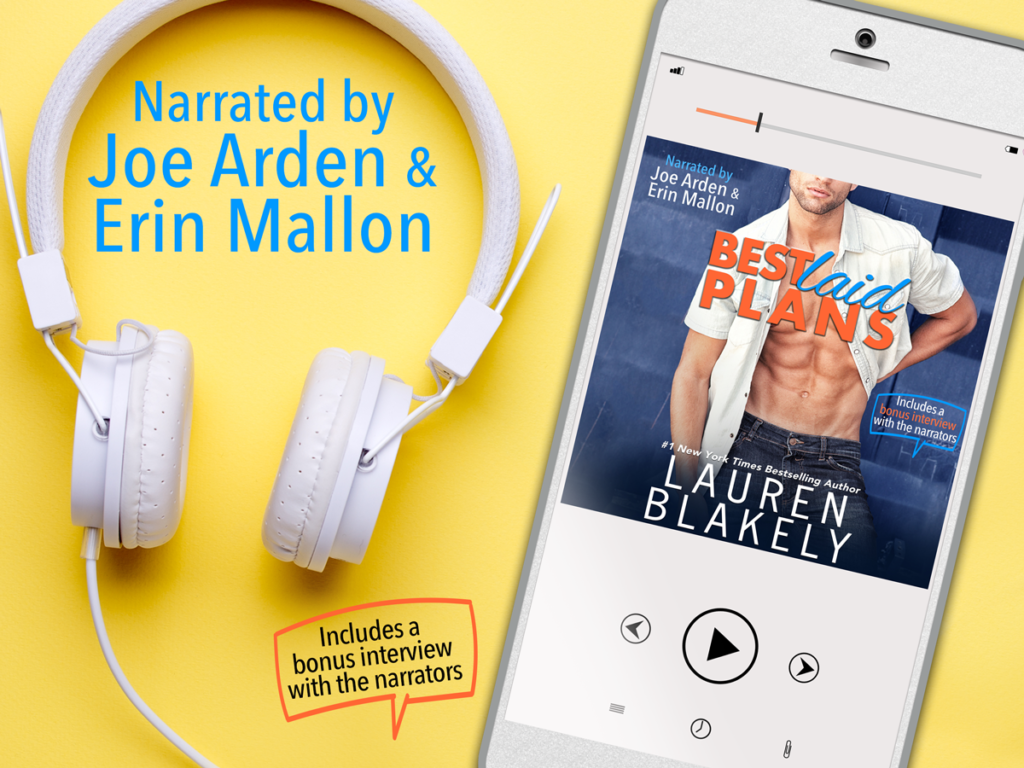 ---
What's better than one Audie-nominated romance narrator? Two of them!
Joe Arden and Erin Mallon team up to bring you Lauren's latest standalone rom-com

Best Laid Plans

, plus they recorded a bonus behind-the-curtains conversation with all sorts of juicy details about audiobooks!
Get the latest audio news from Lauren Blakely here: https://blkly.pub/news
---
About Lauren Blakely:
A #1 New York Times Bestselling author, and #1 Wall Street Journal Bestselling author, Lauren Blakely is known for her contemporary romance style that's hot, sweet and sexy. She lives in California with her family, including her smoking hot and funny husband and her two brilliant and kind children. She has plotted entire novels while walking her dogs — she might have four dogs, or maybe five. If she's lucky, she'll soon have six dogs. With fourteen New York Times bestsellers, her titles have appeared on the New York Times, USA Today, and Wall Street Journal Bestseller Lists more than 100 times, and she's sold more than 2.5 million books. In December she'll release UNZIPPED, in January BIRTHDAY SUIT, and in March BEST LAID PLANS.
To receive an email when Lauren releases a new book, sign up for her newsletter! laurenblakely.com/newsletter