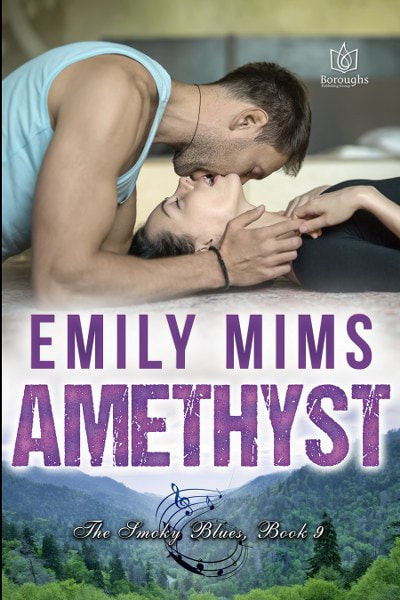 Amethyst
The
Smoky Blues Book 9
by
Emily Mims
Genre:
Contemporary Romance
CAN'T
GET HER…
Deke
Gregory has a type – petite, feminine, pliable. His ex-wife was his
ideal, but she wasn't his, obviously. Faced with the realities of
joint custody and a family "village" raising his son, Deke sets
out to find a woman who ticks all his boxes and thinks he walks on
water. Enter Doctor Taylor De Witt: tall, strong, willful,
opinionated, and too busy to be bothered with soothing his rough
edges. Imagine his surprise when he falls for her – hard.
OUT
OF HIS HEART
Taylor
De Witt knew she would be a heart surgeon since college. Now a single
mother with a schedule that requires roller blades, she has little
time for her family, never mind a social life. When she meets Deke
Gregory she thinks he's a Neanderthal – yummy, but from a
different era. Little does she know what their mutual attraction will
bring, including examining her life to include an everlasting love.
. Taylor and the man sat down with their children beside them furthest from each other. Mr. Jenkins introduced the man and his son as Deke and Brian Gregory. "And you're Dr. DeWitt? Charlie's mother?"
Taylor nodded. "Please tell me what happened."
"I'd like to hear it as well," Deke Gregory murmured.
"There's not a lot to say. For whatever reason, Charlie punched Brian in the face this morning." Mr. Jenkins looked grim.
"That's it? That's all you have to say?" Taylor demanded. "My son wouldn't walk up and hit a kid out of the blue."
"It looks like that's exactly what happened," Deke murmured. "And I for one don't appreciate it, not one little bit. This kid needs to be punished."
"And he will be, I can assure you of that." Mr. Jenkins turned to Taylor and Charlie. "We have a zero-tolerance policy for bullying on this campus. We will be dealing with this in the strongest of manners."
"And you wonder why I hate this school," Charlie ground out.
Taylor looked from her son to Principal Jenkins to the irate father sitting next to the small blond boy with the darkening shiner. Deke Gregory looked like he was about to blow. Brian Gregory was small and pale and a good thirty pounds lighter than Charlie, and to her professional eye he looked like he might be contending with health issues. On the surface it didn't look too good for her son, hitting a child so much smaller than him. But something niggled in the back of her mind. Something had been going on with Charlie ever since school started. Did Brian Gregory have something to do with that? Was that why Charlie had slugged him?
"As I was saying, we will have to deal with this in the strongest manner," Mr. Jenkins intoned. "We have a zero-tolerance policy on bullying here at Mountainside Middle School.
Charlie will have to—"
"Wait a minute," Taylor broke in. "We're not through discussing what happened this morning."
Deke looked at her unbelievingly. "It's pretty clear what happened this morning. Your kid gave my kid a shiner. That's all that matters, lady."
She shot him a look of disgust. "No, it's not all that matters. And that's Dr. DeWitt to you. Or Dr. Lady if that's all you can manage." She ignored Deke's glare and turned back to the principal. "Did you ask Charlie what prompted him to hit the other young man?"
"Well, no—"
"Why not?" she snapped. "Was it easier to blame Charlie than to get to the bottom of what happened?" She turned to her son. "Charlie, why did you hit Brian this morning? Does it have something to do with why you haven't wanted to go to school for the last two weeks?"
Charlie nodded. His lower lip trembled and his eyes filled with tears. "He and his friends wait for me every morning. They watch me come out of Mrs. Foster's room and say I'm stupid. They call me a dumb jock and say I'm not good for anything since I'm in special ed. I tried telling Mrs. Foster but she said to ignore them, they weren't hurting anything and there was nothing she could do about it." He raised tear-filled eyes and looked at Taylor. "I couldn't stand it anymore, Mom. I couldn't stand it and I hit him." Charlie collapsed into noisy sobs.
"Weren't hurting anything? That teacher's out of her mind." Taylor reached out and held her son. "It's going to be okay, Charlie. I'll get it stopped." She looked at Mr. Jenkins with disgust. "Zero tolerance, huh? Looks more like zero give-a-damn from where I'm sitting." She turned to Brian's father. "Does your kid know what verbal bullying is? Haven't you taught him that words hurt as badly as fists?"
"It's still no excuse for hitting Brian." Deke Gregory's lips were set in a firm line.
"The hell it wasn't," she shot back. "There wasn't much else Charlie could do. He'd already gone to the teacher and gotten zip. Maybe if you'd taught your son how to behave, my boy wouldn't have had to hit him. Your parenting skills leave a lot to be desired."
She ignored Deke's sharp intake of breath and turned back to the principal. "Mr. Jenkins, I don't know how you intend to handle this. But Brian Gregory is equally as guilty of bullying as Charlie, and whatever you do to one you'd better damned well do to both. Do you understand? And while you're at it, you might want to counsel your teachers about what constitutes bullying, so the next time a kid comes to them for help, they get it."
Mr. Jenkins had the grace to look embarrassed. "Yes, I understand, Dr. DeWitt. And you're right, of course." He turned stern eyes on Brian. "Charlie's mother is right. You are guilty of bullying. Are you aware of that?"
Brian slunk down in his chair, guilt and embarrassment all over his face. "He's certainly aware of it now," his father ground out.
Mr. Jenkins looked from Brian to Charlie and then to Deke Gregory and Taylor. "You know, I'm not sure punishment is the route to go today. I think the name calling and hitting would come to a swift halt if these two young men had a chance to get to know one another. They're both good kids coming from different worlds who maybe can't appreciate what the other boy has to offer. So what we'll do is this. The boys can do in-school suspension tomorrow. Then sometime over the weekend, the boys, under the supervision of the two of you"—he looked from Taylor to Deke—"can take them on a four-hour outing of some sort. Not a movie, but something where the boys can interact and get to know each other."
"It will have to be Saturday," Deke said. "I have to work all day Sunday."
"Let me check my schedule." Taylor punched up her iPhone calendar. "As far as I can tell at this point, I'm free on Saturday afternoon." She held up her hand when Mr. Jenkins started to speak. "But I'm on call this weekend. If I get a call from the hospital, I'll have to cancel." She
looked at Mr. Jenkins and Deke Gregory. "Does everyone understand?" "I hope you'll make it a priority," Mr. Jenkins said archly.
"I hope I can make it a priority," she shot back.
Deke smirked but said nothing.
The boys were escorted out of the office. She and Deke walked to the visitors' parking spaces together. "Tell me. Do you always tell other parents and your child's principal how to do their job?" he asked dryly.
Her lips twitched as she tried and failed to bite back a snicker. "Only when they need it."
"I see." If Deke was amused, it didn't show. "Would you like me and Brian to pick you and Charlie up for the outing?" He looked at her BMW convertible and his Tahoe.
"That might be a good idea." He programmed her contact information into his telephone and they agreed he and Brian would pick them up about one. "Talk to Brian about what he'd like to do, and I'll do the same with Charlie. We'll decide on something when we get together."
"Works for me."
She followed his Tahoe out of the parking lot.
Brian Gregory was nothing like his father. The boy was small-boned and delicate to the point of being pretty, and if it hadn't been for their matching set of vivid blue eyes she would have wondered about Brian's paternity.
Deke Gregory, on the other hand, was one tough cookie. Big, tall. Vivid blue eyes shining out of a face carved from granite. Probably all kinds of muscles under the sport coat tailored to conceal a shoulder holster. Did he carry because he thought it was manly, or was it part of his job?
Whatever the case, he'd made her tummy do a few flips, and that hadn't happened for a long, long time.


Author
of eighteen romance novels under the pseudonym 'Emily Elliott', Emily
Mims combined her writing career with a career in public education
until leaving the classroom to write full time. 'Solomon's Choice' is
her first romantic suspense and the first novel she has published
under her own name. The mother of two sons, she and her husband
Charles split their time between Central Texas and eastern Tennessee.
For relaxation she plays the piano, organ, dulcimer, and ukulele. She
says, "I love to write romances because I believe in them.
Romance happened to me and it can happen to any woman-if she'll just
let it."

Follow
the tour HERE
for exclusive excerpts, guest posts and a giveaway!