Book info: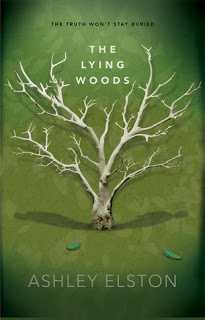 Title: The Lying Woods
Author: Ashley Elston
Genre: YA Thriller
Release Date: November 13th, 2018
Publisher: Disney-Hyperion
Source: ARC received from publisher which did not influence my opinion
My rating: 5 stars
Synopsis:
Owen Foster has never wanted for anything. Then his mother shows up at his elite New Orleans boarding school cradling a bombshell: his privileged life has been funded by stolen money. After using the family business, the single largest employer in his small Louisiana town, to embezzle millions and drain the employees' retirement accounts, Owen's father vanished without a trace, leaving Owen and his mother to deal with the fallout.
Owen returns to Lake Cane to finish his senior year, where people he can barely remember despise him for his father's crimes. It's bad enough dealing with muttered insults and glares, but when Owen and his mother receive increasingly frightening threats from someone out for revenge, he knows he must get to the bottom of what really happened at Louisiana Frac–and the cryptic note his father sent him at his boarding school days before disappearing.
Owen's only refuge is the sprawling, isolated pecan orchard he works at after school, owned by a man named Gus who has his own secrets–and in some ways seems to know Owen better than he knows himself. As Owen uncovers a terrible injustice that looms over the same Preacher Woods he's claimed as his own, he must face a shocking truth about his own past–and write a better future.
My Review:
The synopsis of this was definitely one that sounded good, but concerned me as one I wasn't quite sure how much I would like it. However my doubts were definitely misguided, because I really enjoyed this one. The author did a great job in throwing in lots of hints and clues throughout the story, including chapters from Owen's father's viewpoint. Obviously those chapters were there to help you figure things out, or to at least add details to the story that would have been just an info dump from characters in Owen's present day. Even with those additional details, I was still surprised at some of the twists and what exactly Owen's father was guilty of, as well as why he did the things he did. It was hard to see just how his mother could be so believing of his father being guilty, based on the entries from his father, and how much they seemed to be in love. But then when you find out just what really was happening, it all clicked into place. A lot of "A-HA!" moments for me.
This was very hard to put down as I was reading. Each chapter gave just enough new drama or clues that I had so much trouble putting it down when I wanted to know the answers to whatever new question had arisen, or figure out where those clues could take the case. I always get irritated with characters being treated poorly for something someone else in their family did, like in this case, Owen getting pushed around because of what his father did. I liked how the author did bring in the other teens and their opinions and feelings, and how some of them did understand that about him, even if it took them a bit to come to the realization. And of course I enjoyed all the New Orleans and Louisiana tidbits in the story, since it is one of my favorite places!