Book info:
Title: Toxic
Author: Lydia Kang
Genre: YA Scifi
Release date: November 6th, 2018
Publisher: Entangled Teen

Summary:

Hana isn't supposed to exist. She's grown up hidden by her mother in a secret room of the bioship Cyclo until the day her mother is simply gone. Along with the entire crew. Cyclo tells her she was abandoned, but she's certain her mother wouldn't leave her there to die. And Hana isn't ready to die yet—she's never really gotten to live.

Fenn is supposed to die. He and a crew of hired mercenaries are there to monitor Cyclo as she expires, and the payment for the suicide mission will mean Fenn's sister is able to live. But when he meets Hana, he's not sure how to save them both.

Because Hana knows the ship's secret—and Hana and Fenn falling for each other may be what ultimately kills them.
Pre-Order links available
HERE
!
My heart is beating so fast I can barely stay standing. I have clawed my robe until it has holes in the edges.
It has been six hours now. I am absolutely forbidden to leave my room, a room that does not exist in the consciousness of any crew member except my mother, hidden as it is in the most unused part of
Cyclo's
body, the northeast quadrant, alpha ring.
For the last two hours, I've raised my hand countless times, poised a few inches from the door, before dropping it. Even touching the door is strictly forbidden. But I can't wait here for much longer. Where is Mother? Where could she be? I'd even read the last entry in her diary, looking to see if anything was off, but there was nothing but our last discussion on why hedgehogs are not related to sea urchins. My eyes are full of tears, and I've already cried several times out of sheer panic.
I keep my voice steady and say, "
Cyclo
. Please open the door."
Cyclo
, not bothering to speak because the message is too urgent, blanches with white that moves in waves over the door.
"
Cyclo
. Please open the door," I say again, this time my voice cracking. I'll only just peep my head outside, just a little look. I won't step a foot out there. I know people will be walking the hallways. But if no one is there…maybe I can make my way to her lab and see why she's delayed. I know exactly where it is. I've spent much of my life studying
Cyclo's
every detail—the story of her birth, the way she harvests starlight energy, the layout of the ship down to every single storage vacuole and crew member unit.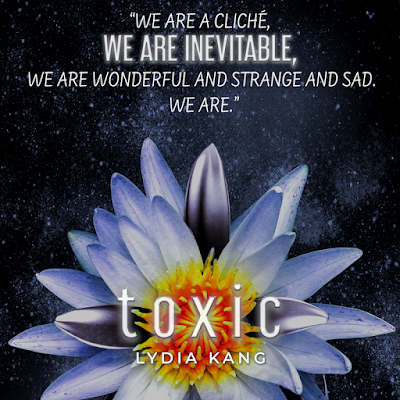 About the Author
Lydia Kang is an author of young adult fiction, poetry, and narrative non-fiction. She graduated from Columbia University and New York University School of Medicine, completing her residency and chief residency at Bellevue Hospital in New York City. She is a practicing physician who has gained a reputation for helping fellow writers achieve medical accuracy in fiction. Her poetry and non-fiction have been published in JAMA, The Annals of Internal Medicine, Canadian Medical Association Journal, Journal of General Internal Medicine, and Great Weather for Media. She believes in science and knocking on wood, and currently lives in Omaha with her husband and three children.

Author Links:

GIVEAWAY:
Signed copy of
TOXIC
plus a swag bag, including enamel pin, signed print of a hand painted
TOXIC
artwork, bookmarks, and signed book plates.
Open in US only (a $20 Amazon e-gift card will be substituted for an international winner)