Book info:
Title: Mammoth
Author: Jill Baguchinsky
Genre: YA Contemporary
Release Date: November 8th, 2018
Publisher: Turner Publishing
Source: ARC received from author for review, which did not influence my opinion
My rating: 5 stars
Synopsis:
The summer before her junior year, paleontology geek Natalie Page lands a coveted internship at an Ice Age dig site near Austin. Natalie, who's also a plus-size fashion blogger, depends on the retro style she developed to shield herself from her former bullies, but vintage dresses and perfect lipstick aren't compatible with prospecting for fossils in the Texas heat. But nothing is going to dampen Natalie's spirit — she's exactly where she wants to be, and she gets to work with her hero, a rock-star paleontologist who hosts the most popular paleo podcast in the world. And then there's Chase the intern, who's seriously cute, and Cody, a local boy who'd be even cuter if he were less of a grouch.

It's a summer that promises to be about more than just mammoths.

Until it isn't.

When Natalie's hero turns out to be anything but, and steals the credit for one of her accomplishments, Nat has to unearth the confidence she needs to stand out in a field dominated by dudes. To do this, she'll have to let her true self shine, even if that means defying all the rules for the sake of a major discovery.
My Review:
So, something people may not know about me is that my college degree was a Bachelor of Science in Education with Earth Science as my Major and Biology as my Minor. I have always been a bit obsessed with dinosaurs and fossils. The release of the original Jurassic Park movie, well the book first, coincided with when I was taking some classes that were about fossils and such, and really got me very excited in being a paleontologist or something similar. My family could tell how much I loved it, and so for my college graduation they paid for me to go work on a real dinosaur dig in Montana through the Museum of the Rockies at Montana State University in Bozeman, Montana. Here's a picture of me working at the dig.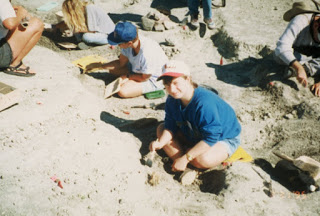 So as soon as I read the synopsis for this book I knew that I HAD to have it! And from the very first time I picked it up, I wasn't disappointed at all! I immediately started geeking out over all the dinosaur and other paleontology stuff the first time I picked it up. It wasn't just the science stuff though, I felt a kinship with the main character, Natalie, and her weight issues. Although from theh very start I did wonder how in the world she thought she would be wearing her fashionable clothing on a fossil dig internship. Unlike Natalie, I'm still a fan of dinosaurs more than prehistoric mammals, but really I love them all.
I loved how she mentioned the bone licking test, I remember showing it to my students whenever I taught about fossils in the past. There was so much other great science in it, and so many neat things about how a museum might work with the fossils and specimens. There was all the teenage peer pressure as part of the story, and while I know there were things that I would never have let sway me, I get that some of it was needed to add the drama and conflict in the story.
The lawsuit in the book was very realistic in that there have been cases so close to what was part of this story. I mean a lot of people have heard of Tyrannosaur Sue, but do they know the whole story behind where she came from? And then there was the stealing of credit, done by Dr. Carter, who had been Natalie's idol. Again, a realistic part of any field, including science.
Such a great book. Made me want to go back and work on a dinosaur dig again some day myself. Great book!