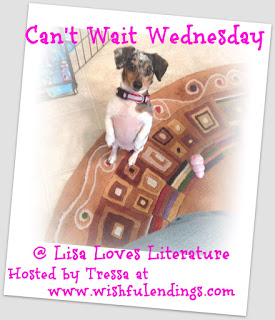 Can't-Wait Wednesday is a weekly meme hosted by Tressa at Wishful Endings to spotlight
and talk about the books we're excited about that we have yet to read.
Generally they're books that have yet to be released. It's based on
Waiting on Wednesday, hosted by the fabulous Jill at Breaking the Spine. I haven't done this since April, I've had a pretty busy blog schedule, plus wasn't sure of any I wanted to share. Then I saw this conclusion to a very popular series was coming soon, so I decided to share this post. Here is the blurb:



At
first, the mystery they're tasked with seems to have nothing to do with
Aerin or her kidnapper. But as Seneca, Maddox, and Madison hit the
Jersey Shore to gather clues, they begin to uncover the true background
of the killer and the horrors that shaped him into who he is. The
scavenger hunt leads them to the family of a recently kidnapped boy, a
serial child-snatcher, and dark secrets they could never have seen
coming.

As
Aerin struggles to play nice with the person who killed her sister in
order to buy herself time, her friends work feverishly against the
ticking clock that could mean her life, and every clue they uncover
leads Seneca to suspect she's more connected to the killer's history
than she ever realized.
Praise for The Amateurs:
"Chilling and romantic and full of surprises."
—Cecily von Ziegesar, New York Times best-selling author of the Gossip Girl series
"A delicious and suspenseful page-turner. I want more!"
—I. Marlene King, Executive Producer, Pretty Little Liars
SARA SHEPARD
is the author of the first and second book in this series, The Amateurs and Follow Me, as well as two New York Times bestselling
series, Pretty Little Liars and The Lying Game, and the series The
Perfectionists. She graduated from NYU and has an MFA from Brooklyn
College. Visit her online at @sarabooks on Twitter and Snapchat, and
@saracshepard on Instagram.
So, is this a series or author you read? Are you excited for this one? What book are you eagerly awaiting this week?