Book info: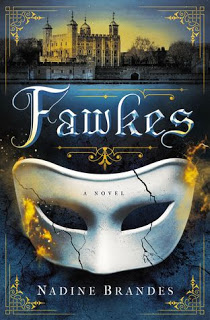 Title: Fawkes
Author: Nadine Brandes
Genre: YA historical fiction/fantasy
Publisher: Thomas Nelson
Release Date: July 10th, 2018
Source: Purchased physical copy of book
My rating: 4 stars


Synopsis:
Thomas Fawkes is turning to stone, and the
only cure to the Stone Plague is to join his father's plot to assassinate the
king of England.
Silent wars leave the most carnage. The wars that are never
declared, but are carried out in dark alleys with masks and hidden knives. Wars
where color power alters the natural rhythm of 17th century London. And when
the king calls for peace, no one listens until he finally calls for death.
But what if death finds him first?
Keepers think the Igniters caused the plague. Igniters think the
Keepers did. But all Thomas knows is that the Stone Plague infecting his eye is
spreading. And if he doesn't do something soon, he'll be a lifeless statue. So
when his Keeper father, Guy Fawkes, invites him to join the Gunpowder
Plot—claiming it will put an end to the plague—Thomas is in.
The plan: use 36 barrels of gunpowder to blow up the Igniter
King.
The problem: Doing so will destroy the family of the girl Thomas
loves. But backing out of the plot will send his father and the other plotters
to the gallows. To save one, Thomas will lose the other.
No matter Thomas's choice, one thing is clear: once the decision
is made and the color masks have been put on, there's no turning back.
•
Goodreads
•
Amazon
•
Barnes & Noble
•
Book Depository
•
Kobo
•
IndieBound
My Review:
I had been hearing about this book around the blogosphere all summer, and noticed when it showed up on the shelves in the bookstore where I work. Then one night as I was working, the author showed up in my store to see her books on the shelves, as well as maybe autograph them for us. It was so cool to meet her, and of course since she was there, I had to buy a book right away to get autographed. It was a couple weeks after that before I was able to finally pick it up and read it, but it was definitely one that grabbed me from the get-go, and was a wonderfully unique and creative rewriting of a historical time and figure. The author kept me on my toes throughout most of the book with not knowing if Thomas was on the right side in working with his father and the Keepers, or if the Igniters, the ones who wanted people to be able to open up to the White Light when it spoke to them, were the ones we should be rooting for. With the fact that Martin Luther was mentioned in the story, and that I grew up in a Lutheran church school, when he was mentioned, I immediately was pretty sure which side I needed to be rooting for, no matter what that did to my views of the characters as they were and as they related to Thomas.
This is the kind of story that always weaves just enough historical details within, without just being the actual history you might read in a textbook, and having obvious changes – magical light and masks, duh – that makes me want to learn more about the time period and people features in the story. Because while I'd heard of Guy Fawkes, I was immediately more interested in learning about his true contribution and involvement in that time period. I loved that the author touched on the history and how she took her own liberties for her story with it in the end section of the book. I can say that this is now an author I look forward to reading more from, and that she will be on my radar for future books.
About the Author:

Nadine Brandes
once spent four days as a sea cook in the name of book research. She is the
author of the award-winning Out of Time Series and her inner fangirl perks up
at the mention of soul-talk, Quidditch, bookstagram, and Oreos. When she's not
busy writing novels about bold living, she's adventuring through Middle Earth
or taste-testing a new chai. She and her Auror husband plan to live in a Tiny
House on wheels. Current mission: paint the world in shalom.
•
Prize: 1 copy of
FAWKES by Nadine Brandes
•
INT!!!
•
Starts: 8/19
-->
a Rafflecopter giveaway
Check out the rest of the tour
HERE
.