Still catching up! For a change though, I've actually got two physical copies of books I've read to share.
Infraction (Players Game #2) by Rachel Van Dyken:
Genre: Sports romance
Published: January 9th, 2018
Source: Won physical copy of book on Facebook giveaway which did not influence my opinion
My rating: 4 stars
When I picked this book up one night before bed, it was so good that I had to force myself to put it down and get sleep for work the next day. I took it on my vacation to Branson the following week, and often stayed up later reading it there as well. This definitely works as a standalone, because I hadn't read the first book in the series, and didn't need to have read it in order to enjoy this story. However, I now want to go back and read the first one, because of getting to meet those characters in this story. I also am going to be ready to read the next book, as I assume it will be Kinsey's brother who takes center stage in that one. This was a sweet, quick read, with a few steamy parts. I look forward to getting to meet this author next weekend at Book Bonanza.
Here is the blurb from Goodreads:
New York Times bestselling author Rachel Van Dyken proves that everyone scores to win. But off the field, a fumble can change the entire game.

Pro footballer Miller Quinton would do anything for his best friend and teammate—including "fake dating" his friend's sister. What no one knows is that seven months ago in Vegas, Miller and Kinsey did a whole lot more than just kiss. Miller knows that this cheerleader is off-limits to him and any guy on the team. Still, he can't stop himself.

Kinsey's whole world is on the verge of crumbling. Her dad has cancer. Her overprotective brother is falling apart. Dating Miller may be a fake-out, but he's the one guy who can make her forget about everything—including all the reasons she stayed away from football players. With each heated moment, Miller feels more like a safe place…even though he's not safe at all.

Now temptation is testing every rule in the game of love. But how long can they go on playing when winning is a harder goal than either of them imagined?
Misadventures on the Night Shift (Misadventures #5) by Lauren Rowe: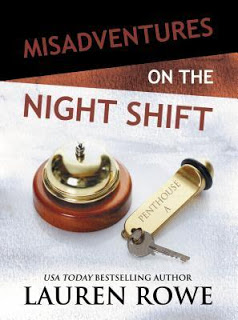 Genre: Rock star romance
Published: November 7th, 2017
Source: Purchased physical copy
My rating: 4 stars
I love a good rock star romance, and this one had the makings to be a little bit original, which it definitely was. It took a turn quite quickly, not going down the path I'd expected, but in a good way. As I said, definitely an original story. The sex scenes were quite spicy, and I liked just how honest Abby was. This was my first book by Lauren Rowe, but I am sure I'll be back to read more. The ending was also quite a good one. Totally felt the bit of if you love something, set it free. And if it loves you, it will come back, and their love totally worked that way. A sexy, quick read. I want to point out that while this is part of a series, each book in the series is completely different characters that have nothing to do with any other book. Not only that, but almost every single book is written by a different author, while there may be a few by the same author, but again, all standalones. Which works well for me, as some of the stories don't sound like ones I'd enjoy at all, so this way I won't feel bad about skipping those.
Here is the blurb from Goodreads:
Hotel clerk Abby Medford has always enjoyed the quiet solitude of the night shift. The long, boring hours allow her time to study her law books. But when bad-boy-rocker Lucas Ford checks into the penthouse suite one night and demands Abby personally deliver his room service request, her formerly quiet nights are quickly filled with Lucas's erotic games.
But as Abby soon learns, if she thinks she can indulge her innermost desires with Lucas without giving him her heart, she's dead wrong.