The Sunday Post is a weekly meme hosted @ Caffeinated Book Reviewer. It's
a chance to share news ~ A post to recap the past week on your blog,
showcase books and things we have received and share news about what is
coming up on our blog for the week ahead. See rules here: Sunday Post Meme. I haven't posted one of these since January! Between being booked almost solid with tours and my own reviews, I also spent a lot of Sundays working this past spring at my part time job. And while I could do these posts ahead and schedule them like I do most other posts, it just feels like I should actually write these on a Sunday. A lot of things have gone on since January, obviously, but even beyond that, this coming week is one I've been waiting for and excited about since probably about that same time!
I've been out of the classroom and in the library as a high school librarian for the past 5 years. Before I got the job, I was teaching in Missouri, and attended several Missouri Association of School Librarian conferences, that were really great. This year I'm going to attend the American Library Association Annual Convention, which is taking place in New Orleans! Now, I've wanted to go to ALA for a long time. I know that it's not just librarians who go, a lot of bloggers go as well. But now, well I'm going as a librarian and a blogger. I'm hoping to get a lot of good library resources, but have a feeling that all the author signings might draw me away from those actual sessions. We'll see how it goes. The reason I decided to go this year, is that it is taking place in New Orleans and I have a place to stay thanks to one of my friends from college. Plus, it's NOLA! If you haven't been, you totally should go at least once in your life. And not just for the drinking and partying. No, there is such great history and so many sights to see. The first time I went, I got to go on a swamp tour, a plantation tour, and also did the tour of the cemetery where Voodoo queen Marie Laveau is. While I know my days will be packed full with conference stuff, I look forward to peaceful evenings. Hopefully one night will be dinner with a former colleague. Another night hopefully dinner with my friend who is letting me stay in his place. The other nights I'll probably wander the town, or relax in my room, maybe get some writing done.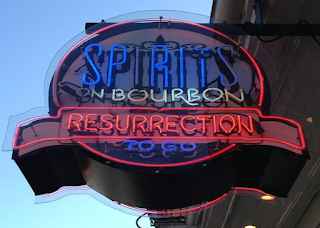 So, you should be prepared for maybe some impromptu posts from the convention. If you're not following me on Twitter or Instagram, or even Facebook, I'll probably share stuff there as well, so go follow me. Lisa Loves Literature on Facebook, buffywnabe on Twitter and Instagram.
Some other happenings on my blog. Well, first let's talk about my horrible progress on my Goodreads Reading Challenge. I already dropped it down 5 books, back to what last year's goal was. However, I'm still 16 books behind. Not sure exactly why I'm not doing as well as last year. But that's okay. I'm still reading a lot of good books I think!
Instead of just doing a specific to last week list of posts, instead I think I'll leave you some links to some of my reviews I've done since my last Sunday post that I think you should check out, if you haven't yet, or maybe just some other fun posts.