I am a teensy bit behind on getting the reviews posted for these books. They came out this past week, and I meant to have them read ahead of time. I'm hoping that the new plan I've set in place with my blogging calendar will help me to get things posted before the publishing date. I'm good if I've set an actual review date with a tour or the publisher, but I don't always hold myself to the same standard when the review is not part of a schedule that someone else has given me. Bad me, as long as I've been blogging, I should know better. But I will now be putting those reviews on my calendar for myself. Anyway, both of these books were suggested and sent to me from Disney-Hyperion. One was the sequel to a book I'd read this same time last year, and the other was by an author that is new to me. I enjoyed both.
*The gifting of these advanced reader copies did not influence my opinion in any way.
Little Do We Know by Tamara Ireland Stone: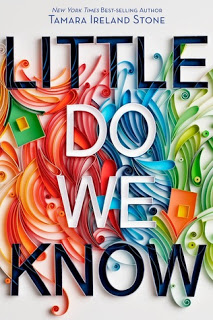 Genre: YA Contemporary
Published: June 5th, 2018
Source: Physical ARC from publisher
My rating: 4 stars
Synopsis:
Next-door neighbors and
ex-best friends Hannah and Emory haven't spoken in months. Not since
the fight—the one where they said things they couldn't take back.
Now,
Emory is fine-tuning her UCLA performing arts application and trying to
make the most of the months she has left with her boyfriend, Luke,
before they head off to separate colleges. Meanwhile, Hannah's strong
faith is shaken when her family's financial problems come to light, and
she finds herself turning to unexpected places—and people—for answers to
the difficult questions she's suddenly facing.
No matter how
much Hannah and Emory desperately want to bridge the thirty-six steps
between their bedroom windows, they can't. Not anymore.
Until
their paths cross unexpectedly when, one night, Hannah finds Luke
doubled over in his car outside her house. In the aftermath of the
accident, all three struggle to understand what happened in their own
ways. But when a devastating secret about Hannah and Emory's argument
ultimately comes to light, they must all reexamine the things they hold
true.
In alternating chapters, a skeptic and a believer piece
together the story of their complex relationship and the boy caught
somewhere in the middle. New York Times best-selling author Tamara
Ireland Stone deftly crafts a moving portrait of faith, love, and
friendship.
My Review:
My first book by this author is not a disappointment. I really enjoyed it, had trouble putting it down as I was reading. There was a lot of great character interaction in this story. I had a tiny inkling what might have happened to cause the rift between Hannah and Emory, although really, it was pretty much downplayed because of how the talk with Hannah and her dad sounded. I couldn't quite imagine what Hannah would have whispered in Luke's ear that could have caused him to think what he did, until he said what it was. In that instant, things made sense. Everyone's lives and stories were woven together so seamlessly that it ended up being a great ending, happy, yet realistic, in my opinion.
I could totally see why and how Hannah's doubts developed. It seemed fair to me. And I mean, come on, she was a teenager! That's the time all of that usually does take place. Emory's detachment and negativeness toward her relationship with Luke was frustrating, until we find out just what had happened the day she and Hannah's friendship ended. Then, it was understandable, even if I don't agree with how she always dealt with things. Again, probably what she did was more realistic than the romantic in me that wanted her to give a chance to things that weren't likely for couples of that age, couples getting ready to go away to college, in different states.
I do wish we'd gotten a little more about Emory's mother earlier in the story. As it was, not knowing kind of made me not like her more throughout the book, whereas if I'd known, I might have been more understanding with her decisions much earlier.
Overall, a good story, and I look forward to reading more by this author in the future.
City of Bastards (Royal Bastards #2) by Andrew Shvarts: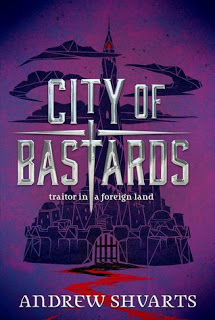 Genre: YA Fantasy
Published: June 5th, 2018
Source: Physical ARC from publisher
My rating: 4 stars
Synopsis:
Tilla, bastard of House Kent, has it made. Safe from her murderous father in the dazzling capital of Lightspire, she lives a life of luxury under the protection of the Volaris King, alongside her boyfriend Zell and best friend, Princess Lyriana.

So why isn't she happy? Maybe it's the whispers and stares that follow her wherever she goes, as the daughter of the traitor waging war against Lightspire. Or maybe it's the memories of her beloved brother, Jax, who lies cold in his grave even as she tries to settle into a life in the city's prestigious University.

Then, Tilla stumbles upon the body of a classmate, a friend. The authorities are quick to rule it a suicide and sweep it under the rug, but when Tilla herself is attacked by a mysterious man with terrifying powers, she's convinced of a conspiracy. Her friends beg her to stay silent; what she's suggesting is impossible… and treasonous.

But Tilla can't, won't, let it go. And the deeper she digs, the more questions she uncovers. How is the West beating the supposedly invincible Lightspire Mages in battle? Is it connected to the shadowy cult wreaking havoc in Lightspire? Nothing is as it seems in the glorious capital, and Tilla's presence might just be the spark that sets the Kingdom aflame.
My Review:
First, if you haven't started this series yet, you may want to stop here before I give any spoilers, and go check out my review of the first book in the series, Royal Bastards. If you're caught up, please, read on!
One nice thing was that the author did a great job of weaving details from book one throughout the story as it started, so that I got caught up quickly with what happened in the first book, even thought it had been a year since I'd read it. I will concur with a fellow blogger, Nicole over at Feed Your Fiction Addiction who said that this one did not suffer from the usual sophomore slump that a lot of second books in a series have. There were a lot of twists and turns in this that I didn't necessarily see coming. There were betrayals galore! Some from people that made you very sad, and some from others. And in the end, some of those weren't quite as bad as I'd felt at first, and then the others were pretty major! Lots of mystery and intrigue in the court of the Lightspire king. Not to mention that the whole myth and reality of the magic the mages and people of this capital used was a big lie.
This was a good fantasy story, continuing an original idea from book one, and I'm now going to be eager to read book three. I guess I've got a year to wait!